CEDIA Expo 2021, the global trade event where residential technology integration, designers and construction professionals connect, learn, and engage, will play host to national and international lighting brands making their debut to the custom electronics industry, along with brands returning to the show.
As the home technology market continues to grow beyond the enthusiast market, the next generation of lighting is forging its way to the top of many homeowners' wishlists.
The annual trade event takes place September 1-3, 2021 at the Indiana Convention Center, and to showcase this rapidly growing market category, CEDIA Expo 2021 will provide the platform for residential lighting technology manufacturers to showcase their products and to educate residential market professionals.
Highlighting those educational opportunities the show will present is the Lutron sponsored, "Tune into Bright Business: The Spectrum of Key Lighting Topics and Challenges" presentation. During this seminar industry experts will share with attendees what they need to know about selling human-centric lighting, as well as next-level features and fixtures, and the most effective way to train their staff to have in-house expertise.
Other lighting-focused activities at the show include the Coastal Source Destination Backyard outdoor event on South Capitol Avenue & West Georgia Street.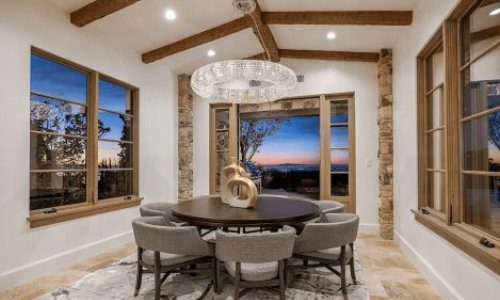 As a custom integrator, lighting is in demand. Effective communication, education and showcasing the value proposition of LED light fixtures in conjunction with integrative control systems are the keys to overcoming challenges and closing sales in this specialized market. Join us as we discuss the future of digital lighting and control with David Warfel from Light Can Help You and Patrick Laidlaw and Mark Moody from AiSPIRE.
Register Now! 
New Lighting Companies at CEDIA Expo 2021
DMF brings its own approach to lighting and offers technologies that set a high level of performance. The company's in-house R&D team designs products that provide high levels of aesthetics and flexibility, which allows the company's lights to adapt easily to future room redesign. DMF lights produce accurate color rendering and smooth dimming. They complement and enhance how a room looks and feels without sacrificing energy efficiency. 
The lighting manufacturer leverages 30 years of lighting industry experience to develop fixtures optimized for the CEDIA channel. The in-house Research and Development team designs products that are adaptable and modular, allowing for ease of installation and room redesigns. DMF LED lights produce also prioritize accurate color rendering, smooth dimming, and have low power consumption. Additionally, the lighting offers exceptional aesthetics that complement and enhance how a room looks and feels.
Moreover, DMF emphasize that it stands behind its lighting with the DMF Promise that guarantees compatibility with lighting controls, access to advanced technical support, and a 10-year warranty. On display at CEDIA Expo will be new and improved product housings and trims with more to come in future upgrades to the DID Modules.
Environmental Lights transform environments with LED lighting technology by engineering its customers' visions into innovative solutions. Environmental Lights partner with customers from project inception, through planning, specification, and installation of their LED lighting systems to ensure they create solutions that match their exact needs. Environmental Lights work transforms environments in an array of industries including retail display, entertainment, trade show/exhibit, hospitality, casino gaming, and audio-visual integration.
Think all lighting systems are the same … they're not, according to Garden Light LED, which offers homeowners a range of unique products. Garden Light LED explains that while many low-voltage LED lighting fixtures are manufactured in foreign countries, Garden Light LED proudly builds all LED products in its Tampa, Florida factory. Garden Light emphasizes that its LED fixtures are engineered, designed, and assembled in the United States to allow it to maintain the purity of its performance and quality standards.
PoEWit Technologies was founded by custom electronic industry veterans with over 40 years of combined experience. PoEWit's founders Victor Pak & Dusan Jankov also founded Pakedge Device and Software, a successful networking company that was later sold to Control4. PoEWit's mission is to revolutionize how high-voltage products are powered and networked by using Power-Over-Ethernet (PoE). The company's solutions includes PoE Smart-Cloud Outdoor Security Lighting, PoE Smart-Cloud Recessed Lighting, and PoE Smart-Cloud Networking Switches & UPS.
Returning Lighting Manufacturers Exhibiting at CEDIA EXPO 2021
Colorbeam Lighting delivers low-voltage lighting systems that create immersive and controllable lighting experiences for residential, commercial, and hospitality spaces. With low-voltage lighting solutions and a patented GATEway Processor, Colorbeam is building new innovations in human-centric lighting, the tunability of light, and flicker-free dimming that gives users complete control over lighting their spaces.
Coastal Source is a manufacturer of outdoor audio and lighting systems. Coastal Source coastal tough outdoor products and systems are engineered to improve the quality of outdoor life from coast to coast and all points in between.
Founded in 1961, Lutron Electronics is headquartered in Coopersburg, Pennsylvania. From dimmers for the home to systems for entire buildings, the company offers more than 17,000 energy-saving products, sold in more than 100 countries around the world. In the U.S. alone Lutron products are said to save an estimated 10 billion kWh of electricity or approximately $1 billion in utility costs per year. The company's early inventions— including the first solid-state dimmer invented by Lutron's founder, Joel Spira—are at the Smithsonian's National Museum of American History in Washington, DC.
Savant is covering the lighting category from the entry level to the high end. The company made a big splash last year when it acquired GE Lighting. It has subsequently rebranded GE Lighting's C by GE as CYNC. There is a new CYNC app and several new CYNC products have also been announced to coincide with the rebranding, including smart plugs and smart switches. The new CYNC is powered by the Savant app and is a platform that includes enhanced personalization and control of all past and present C by GE products, as well as present and future CYNC products.
Meanwhile, Savant's Daylight Mode human-centric lighting system uses advanced logic to adjust intensity and color temperature to support a healthy sleep and wake cycle. The company is working closely with partners like USAI lighting and Robern luxury bathroom furnishings to showcase the technology.
Vantage, a brand of Legrand, is a manufacturer of intelligent, energy-efficient lighting control systems for luxury residential applications. For more than 35 years, Vantage has employed the latest technologies in its products to create fully integrated, easy-to-use automated lighting control solutions. Their systems are smart, reliable, simple to install and provide precise dimming and control with intuitive and sophisticated interfaces.
WAC Lighting's new dedicated lighting fixture brand for the CI channel, AiSPiRE, is set to showcase several lines for integrators at show,. Its yop-of-the-line AURORA line of upscale luminaires include full Visible Spectrum color tuning LEDs with color correcting optical technology to offer human centric recessed downlighting. The fixtures can control saturation and hue for full color gamut control with gradients of saturated colors from 1% to100% and a Tunable White CCT range from 1650-8000K. More is available with HCL programming.
Meanwhile, AiSPIRE's ASTRO is new line of Dim-to-Warm lighting that re-creates the incandescent dimming curve with no required programming. By mimicking an incandescent lamp's dimming appearance, AiSPiRE is able to shift color temperatures and create a visually comfortable and innately familiar emotion while still benefitting from the energy savings and long life of LEDs. ASTRO offers several dim to warm options that are easy to install and easy to use, delivering a range from a 3000K White Light- the color of halogen—to a warm 1800 Kelvin. Traditional LED does not change color or warm up when you dim the light down. like incandescent light sources.
Lastly, the company's ATMOSPHERE is a sophisticated line of Natural Tunable White Fixtures for the discerning client as it mimics the natural light of the Sun and offers a full blackbody curve with a CCT range of 2700K to 6500K.
ATMOSPHERE luminaires can be programmed to change throughout the day to coordinate with natural light or statically programmed to enhance the interior finishes. ATMOSPHERE brings the dynamic power of natural light indoors, allowing the Custom integrator to select and program the color temperature that best enhances their lifestyle, by room or by time of day.
If you enjoyed this article and want to receive more valuable industry content like this, click here to sign up for our digital newsletters!