The owners of this 15-acre luxury estate in New York's Hamptons, Long Island, area were already very familiar with wellness benefits of circadian and advanced lighting, but they had not seen it within a residential space yet.
Elevated Integration made regular visits with the client to the USAI Lighting showroom in New York City to see how the technology looks in real-life applications and within a variety of fixtures, explains Nick DeClemente, founder and CEO of the Armonk, N.Y., integrator.
Additionally, the homeowners had Savant control systems in their other homes and loved the intuitive experience, he recalls.
"They knew they wanted to use Savant's control system with this new house with USAI Lighting's Infinite Color+ WRGB [limitless color and tunable white light] technology to create the perfect balance between artificial and natural light that can be manually controlled and automated," DeClemente says.
Typically, this is a quick-turnaround project. However, the pandemic presented obstacles, he notes. Elevated Integration lost two months due to the shutdown and had to coordinate most of the project remotely as installation and building restrictions remained in place.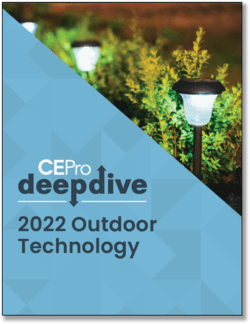 The 2023 CE Pro Outdoor Technology Deep Dive reveals unique set of impediments, including explaining pricing and interacting with outdoor-centric trades.
Get your copy now to take a "deep dive" into the trends and challenges of outdoor technology.
Download the report now!
USAI Options, Savant System Balance Natural & Artificial Light with Ease
Importantly, the Savant system allows easy end-user scene control and creation — allowing for one touch controls that range from simple, one-room light settings, like "Energize" for optimized lighting in the gym, to an "Entertainment" scene that sets lights in a fun party mode along with turning music on in specific zones.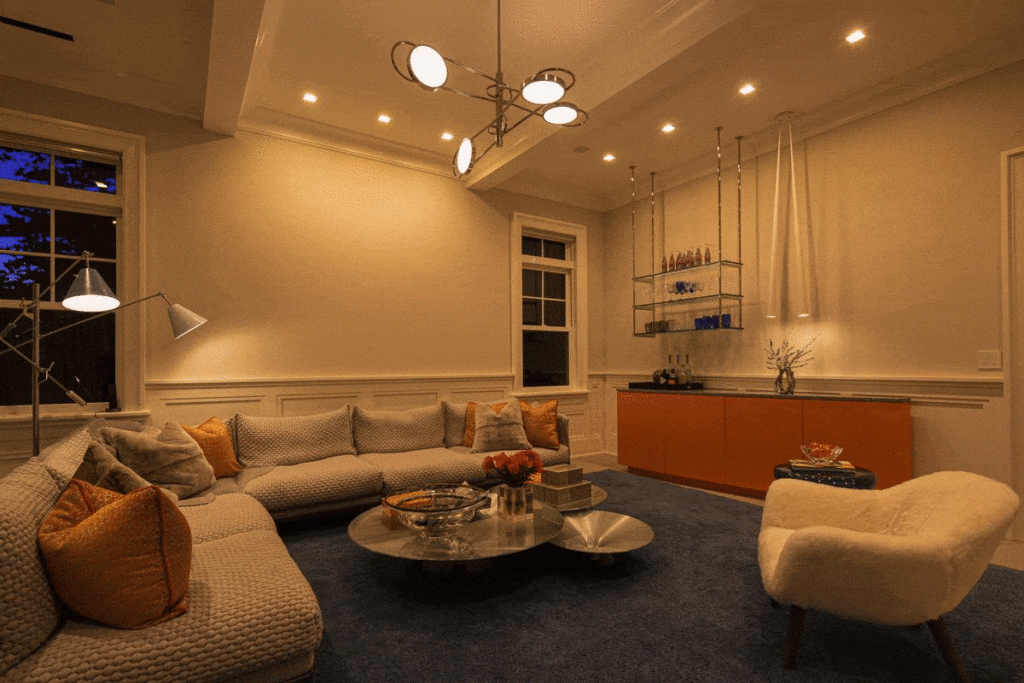 Public spaces (kitchen, living room, dining room, bar, game room, entrance/foyer) feature trimless BeveLED Mini fixtures with Infinite Color+ to yield flexible and sophisticated lighting to go with the owner's daily routines, for instance.
Bedrooms have trimless BeveLED Mini fixtures with Warm Glow Dimming to create warmer tones that match the color experience of traditional incandescent and halogen lights.
Warm Glow Dimming is ideal for getting ready early in the morning with a cool bright setting that dims down to a warm candlelight to induce sleep at night.
The homeowners can adjust and manage those scenes right from their app, which includes Savant's Daylight Mode and also lets the owners to find their own favorite customized light settings.
Savant Audio over IP System Sends Music Everywhere
The owner valued wellness throughout the home. Constant views of greenery blur the lines of the inside and outside for the perfect biophilic environment.
The air and water quality is just as highly considered with an Internet-connected water filtration systems to optimize usage, air filtration controls, and energy management programs to make the house as efficient as possible.
DeClemente adds that the AV aspects are equally impressive. "We used all of the technology in the Savant Ecosystem," he says. "Audio over IP is deployed throughout the home, using traditional speakers powered by AudioControl amplifiers, Savant/Artison small-aperture speakers that are powered by POE and are AVB 'end points' with Artison subwoofers.
Most bedrooms have IP Audio Soundbars from Savant with custom-sized grilles. A 7.2.4-channel immersive theater uses Artison Masterpiece Line Array in-wall speakers, 2x RCC-640 subwoofers, all powered by an AudioControl Concert XR series receiver.
Exterior audio is Coastal Source Bollard Ellipse 3-way model. As part of the distributed audio system there are eight streams of Savant Music available, ensuring everybody can listen to whatever music they want throughout the house.
Savant's Video over IP distributes 4K HDR to all of the TVs, which are Samsung Frame, Terrace and Q80 displays, as well as an Epson projector with Screen Innovations screen in the media room. Sources include TiVos, Kaleidescape, and Apple TVs.