For a home automation company, Savant sure has a lot to say about audio these days – smart audio.
Actually, that's Smart Audio with capital letters, as in the line of products the company introduced at CEDIA Expo last fall and was excited to announce during last month's Integrated Systems Europe show in Amsterdam that they are now shipping.
"We're keying very heavily on Smart Audio," says Angela Larson, Savant's senior VP of customer operations.
"Last year, we did a lot of investment in taking our IP audio architecture and moving it into the speaker. Certainly the installation piece of that is huge and the networking side, but also sound quality when you can do that is amazing because you're not putting so many different stops in the way," she explains.
The Expo in Denver last fall saw Savant's introduction of its Smart Audio 55-inch L/C/R soundbar, wireless powered surround speakers and Nano 1X subwoofer. They leveraged designs from industry veteran Cary Christie, who joined the company when it acquired Artison back in 2017.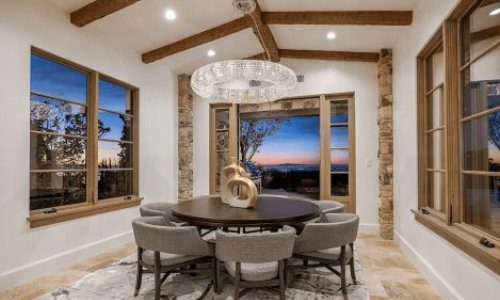 As a custom integrator, lighting is in demand. Effective communication, education and showcasing the value proposition of LED light fixtures in conjunction with integrative control systems are the keys to overcoming challenges and closing sales in this specialized market. Join us as we discuss the future of digital lighting and control with David Warfel from Light Can Help You and Patrick Laidlaw and Mark Moody from AiSPIRE.
Register Now! 
But also, as noted during ISE, Smart Audio brings together wired and wireless technologies and then in the soundbar and compact IP Audio 1 device marries them to the company's home controls and music server/streaming functionalities.
Truly Smart Soundbar
"At CEDIA we announced an entire family we call Smart Audio, which takes it one step further, not only IP and AVB (audio video bridging) but it's WiSA compatible," Larson says, referring to the Wireless Speaker & Audio platform and certification. "That's the next generation for us, and that first family of products that we showed at CEDIA is now shipping, which is big news."
Beyond the IP and wireless advantages, the soundbar's inclusion of Savant Host and Savant Music integration truly enables it to become a home control hub.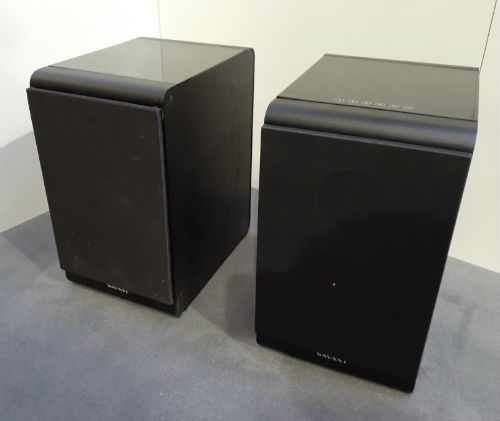 "The big message from us is, a lot of soundbars say they're 'smart' but what they mean is they stream music – they can't actually control the home. We're really kind of the first soundbar that lets you have home control right out of it," Larson says.
"Whole-home control out of the soundbar is huge, and then we're introducing some complementary freestanding speakers we did not introduce at CEDIA. We're just continuing to evolve the line."
And when it comes to control these days, Savant has been as busy as audio, pushing lighting, shades, energy, security, wellness and more.
Meanwhile, for integrators designing extensive systems, Savant's ability now to make its audio solutions IP/AVB and WiSA friendly enable quite a bit of flexibility.
"One thing we're doing is we have WiSA, which is wireless technology, and AVB, which is wired technology, and we're bridging that gap now with a converter box where we can send AVB audio to WiSA speakers, which is amazing," says Kevin Huppert, technical sales, distribution & international manager at Savant.
Powerful Single-Zone Unit
Along with the Smart Audio speakers, Larson and Huppert were excited to highlight the new IP Audio 1 single-zone system device that offers similar functionalities baked in; not a "visually sexy" product but important one for integrators.
"The component combines 125 watts of amplification with Savant's Music 2.0 server and Host built in, with analog and digital outs – so it's its own system as well, but it can also be a subordinate to a system with a master host," Huppert notes. "This has become a really popular item, it's a great starter."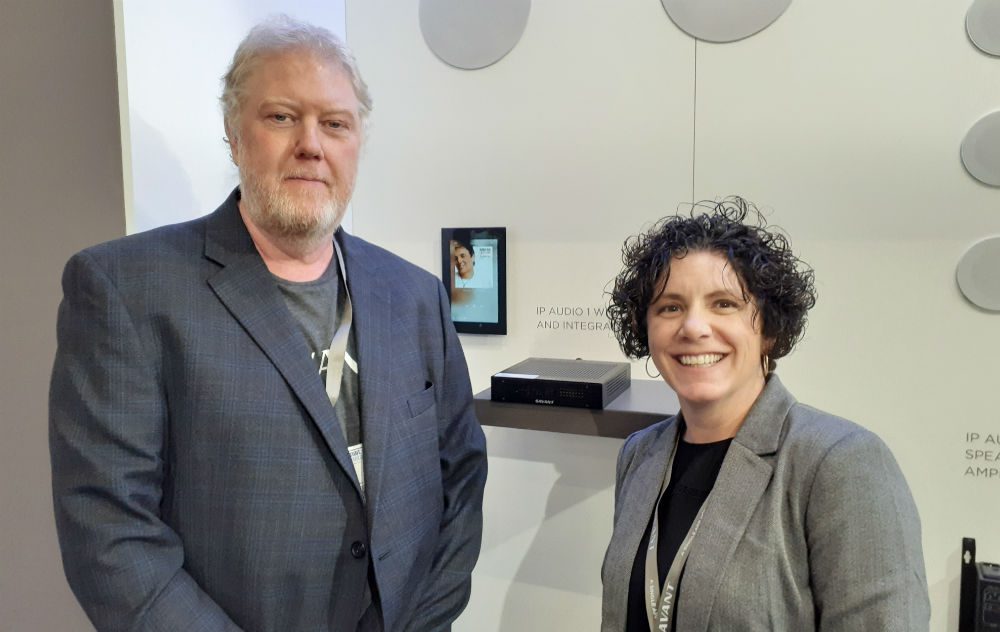 So a powerful ecosystem can now feature versatility like having a WiSA wireless surround-sound theater audio with all the music anyone could want from streaming services or locally served content in addition to plentiful control capabilities, and then also shared with other wired network components because of the AVB Ethernet connectivity.
"It's a pretty big story for us, with a couple of layers to it," Larson says. "It's the first time we're shipping products with the Host built in, starting in the soundbar and single-zone product, so that's one layer –this can compete at a Sonos level but has all of our control technology built in, so it's a level above."
The other part is that AVB/IP/WiSA story enables flexible system design for dealers, who can employ Savant's Studio or Blueprint software to do so.
"It offers incredible resolution, low latency near zero, it's all clocked, all synchronized and it also ties into our video-over-IP – we're extracting audio from our video-over-IP," Huppert adds.
Netgear Bolsters Cloud Management Capabilities
Dealers can also tie systems into the company's Central Management cloud-based management tool, which recently has also gotten a boost from the announcement of a partnership with Netgear.
It aids dealers with abundant information on two fronts – both the Savant side as well as the Netgear side, from the network provider's own Insight Cloud Portal for its managed switches that devices are connected to during installation.
"Once you're inside our Central Management software you'll be able to see network health and other things, and on the flip side, inside of Insight you'll be able to see all of your Savant components," says Larson.
Between highlighting Netgear offerings and the remote management abilities, Savant showed the fruits of the Netgear partnership for the first time at a tradeshow to integrator attendees after announcing it at the company's dealer conference earlier this year.
Additionally, for the international ISE crowd in particular, the company announced that its Savant App now offers language support for Spanish and Chinese.
"It's a small feature but a big feature," Larson says.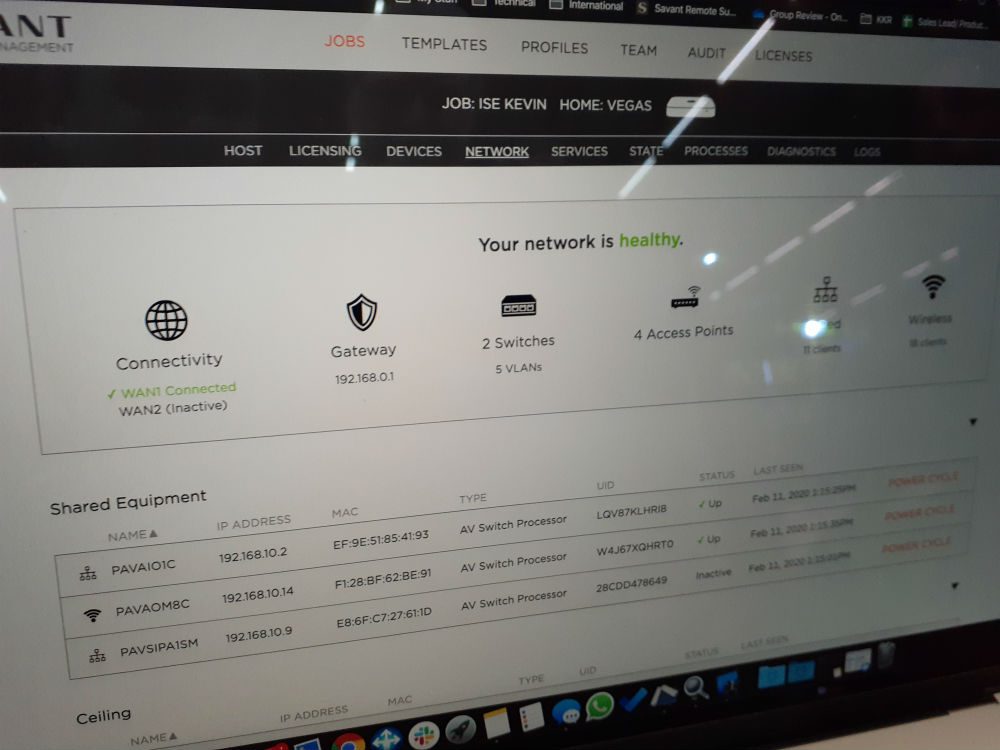 If you enjoyed this article and want to receive more valuable industry content like this, click here to sign up for our digital newsletters!