Recently, CE Pro sat down with Angela Larson, Sr. VP of customer operations, Savant, to discuss human-centric lighting, why the company started focusing on the circadian lighting space, and more.
Savant has gone a few directions in lighting over the years. About a year ago, you really went all-in with lighting. Why?
The lighting industry has released major technical innovations in the past decade, including LEDs that can be tuned to specific color temperatures and set to specific WRGB values. That innovation, along with increased consumer awareness towards energy automation and healthy living, has opened the door for control companies and integrators to deliver advanced smart home solutions that offer more value to consumers.
---
The company really started focusing on circadian lighting. Why the investment?
We quickly saw that integrators were being asked to deliver advanced solutions with lighting, but often left to do it without the support of the control manufacturer. Savant's mission is to support the integrator in delivering repeatable solutions without the burden of complex programming. By leveraging the strength of Savant's award-winning user experience and scene engine inside the Savant Pro App, homeowners have limitless lighting control options.
---
What did it take in terms of resources?
The effort to deliver circadian solutions was designed in partnership with the leading architectural manufacturer, USAI Lighting. They, along with the Lighting Research Center, helped define the circadian defaults that drive the 24-hour circadian cycle inside the Savant Pro App, all of which can be personalized for the individual user.
---
Can you describe options you offer in human-centric lighting?
We offer an end-to-end solution to our clients that includes fixtures, shades and control solutions, all thoroughly tested for driver compatibility, dimming quality at low levels, etc. Our TrueImage image-based user experience is the most intuitive and innovative lighting control interface available, and we offer a complete array of keypads as well for easy in-room control.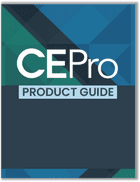 CE Pro's 2022 Product Guide showcases some of the latest and innovative solutions from manufacturers serving the custom electronics industry in a cross-section of categories.
Download the guide now!
Our new Daylight Mode allows for circadian lighting based upon scientific data that highlights time-of-day settings for Kelvin temperature and lighting intensity shifts seamlessly throughout the progression of each day. The Savant app intelligently adjusts for related factors such as geography, time zone and season.
Users can effortlessly personalize their lighting experience by adjusting timing, intensity and color temperature settings to perfectly suit their daily habits. Users can turn on/off Daylight Mode in specific rooms from within the Savant App, plus have keypad buttons to override circadian settings for specific task lighting (e.g., washing dishes at night), entertainment settings and more. Savant's Daylight Mode is most effective when using advanced tunable white LED lighting or WRGB fixtures that have dynamic color temperature capabilities; however, Daylight Mode also supports fixtures that are not dynamic, precisely dimming the intensity of each fixture in sync with the tunable LED lighting.
---
Can you describe your support programs for dealers and trade partners?
Savant offers a Dynamic Lighting Demonstration Kit that enables integrators to showcase how dynamic lighting can positively impact designed spaces, including the elements and people within them. The kit showcases all applications of lighting that Savant offers, including Classic White, Warm Glow Dimming, Tunable White and WRBG Infinite Color+. Sample finishes are provided, but designers and clients are encouraged to evaluate their own swatches and finish samples as impacted by various lighting solutions.
Paired with the Savant Pro App, the integrator can personalize a Daylight Mode for the client and reproduce a full 24-hour cycle within a one-minute preview. Savant offers online design tools that enable integrators to easily and efficiently order the proper fixtures for any project.
Savant has made thousands of USAI Lighting recessed fixtures available, as well as pendants, linear fixtures and beyond. Savant also offers a line of DMX light strips for indoor and outdoor applications, plus smart bulbs for retrofit or decorative lighting. Integrators will appreciate access to Savant's appointment-only education space within their New York City Experience Center
---
Savant has begun pushing biophilic design, incorporating not just circadian lighting but other technologies that can be used to simulate nature indoors. What can you say about some of your progress?
With a Savant smart home, we see lighting as a key component, but we remain highly focused on integration with other intelligent systems such as audio, climate and other emerging technologies designed to promote wellness. This integrated approach has been well received by architects and designers as well as our integrators and their clients.
Additionally, Savant is committed to offering solutions in new categories that create profit opportunity for integrators, especially as some other market segments become commoditized. Savant will continue to develop new technologies and solutions including those with a biophilic focus and our vision of a healthier and more efficient lifestyle.