The Savant Smart Family of loudspeakers proves the Cape Cod-based manufacturer of control and automation systems knows a little something about audio.
Savant's Smart Family of products is a line that includes a 55-inch, three-channel soundbar, as well as an optional powered surround speaker and the companion Smart Audio Nano 1x Subwoofer.
The products can be used for a range of installation scenarios and are highlighted by home theater installs. Part of the product line's versatility is through its built-in WiSA wireless surround sound system functionality. Naturally, the products also complement Savant's range of control and automation solutions.
Why Choose the Savant Smart Family of Products?
Arguably the biggest buzz word in today's home audio market is "smart speakers."
Most of these "smart" products incorporate some voice control system—usually Amazon Alexa, Google Home or if it's an Apple product like Siri. Savant's Smart Family of products takes smart to a new level however through the inclusion of streaming services such as Spotify, Pandora, TuneIn and TIDAL.

CE Pro's Email Newsletters deliver timely news, industry-leading content, product information, and downloadable resources directly to your email inbox.
Sign Up Today!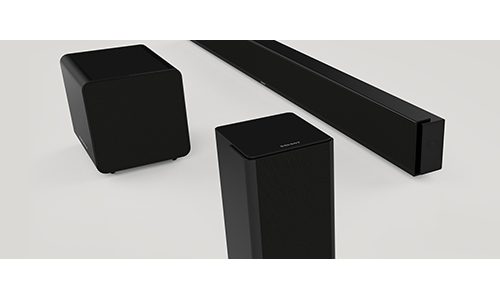 Moreover, the speakers incorporate the latest DSP technologies optimized through the design of Cary Christie.
Supporting the setup of the speakers and their usage is the Savant Pro App. The app enables the speakers' setup and the customization of shortcuts to homeowners' favorite music and artists.
Some of the other features built into the products include built-in Savant processing that can deliver up to six zones of streaming audio and two zones of video. The speakers also provide Ethernet and Wi-Fi network connection options, and the products provide control provisions for IP audio over AVB (audio-video bridging).
Savant adds that integrators can also order the soundbar with custom-sized grilles to match the dimensions of flat-panel TVs, and the products are also compatible with the Savant Home App for Apple TV and Apple Home Kit.
"We're here to talk about the Savant Smart Audio Soundbar family of products and wireless product family. So, the smart audio soundbar is a 55-inch soundbar; it is designed by Cary Christie, our founder and legendary speaker designer behind Infinity Speakers and Artisan," says George Katsiris, Vice President, product evangelist, Savant.
"It is an LCR soundbar that also has built into it a lot of technology from Savant that we are very proud of that we'll tell you about today. Included in it is active [technologies] so it has amplification; it has an included music server, which gives you all of the music services from Spotify to TIDAL, and Pandora to TuneIn, SiriusXM and AirPlay, etc. It gives you high res audio at 24-bit/96kHz. It also has built into it WiSA technology, which is a wireless antenna and protocol that lets you distribute surround wirelessly to ur Smart Audio speakers, as well as our smart audio Nano Subwoofer. It is also the world's smartest soundbar and the first and only one that lets you control the TV and it has Savant Control Automation built-in."