Recently I referred to Savant as a leading home-automation and lighting controls provider in the home-technology channel. How dare I make such a claim, one reader commented. It is true that Savant is a relative newcomer in the category compared to other top manufacturers with decades in the business, but the company has made remarkable progress in lighting – and the closely related energy and motorized shade categories – in just a few short years.
At CEDIA Expo 2019, Savant defied the doubters with a rich display of lighting fixtures, controls, wellness (biophilia and circadian lighting) and other lighting solutions. Biophilia through the TV on-screen display? That, too.
Let's go back a few years. In 2012, Savant acquired leading lighting-controls manufacturer LiteTouch. While Savant moved away from LiteTouch's panelized lighting a few years ago, it used LiteTouch technology to jump into a more accessible lighting-control platform built mostly on Wi-Fi: Wi-Fi keypads, Wi-Fi plugs, switches, dimmers, apps, remotes, and integration with select DIY products like Sonos.
Savant's full-fledged TrueControl home-automation system, meanwhile, would continue to integrate with third-party control systems at the higher end.
A Thousand Points of Light
Somewhere along the way, though, Savant went whole-hog holistic in the lighting department. Seemingly overnight, the company had embraced a wide range of lighting-device types, architectures, control options, communications protocols, integrations ….
They gave us Bluetooth bulbs, Wi-Fi keypads, low-voltage options including DMX, Siri voice control, HomeKit compatibility, USAI Lighting fixtures perfectly aligned with Savant controls, elegant end-user tools for system personalization, smart circuit-breaker modules for lighting control and energy monitoring … and one of the best circadian-lighting platforms we've seen for the residential market.
Savant puts the entire mishmash under one roof – into one Blueprint programming environment, one Savant Pro app (with an assist from DIY-friendly TrueImage platform for configuring LEDs), and one seamless user interface for control and personalization.
Neither the dealer nor the client needs to know much about what types of fixtures are installed in the home, and how they're connected. Blueprint essentially sucks up the attributes of all connected devices and spits them back out into a drag-and-drop environment for dealer programming.
For the end user, lighting devices simply appear in the Savant Pro app – all configurable in the same way, whether they're Bluetooth bulbs, PoE fixtures, breaker-box controlled lamps or a random LED controlled via wallbox dimmer. For any given device, Savant presents only the available options, so users can't accidentally set dim levels for non-dimmable fixtures, or expect color-tuning effects from ordinary white LEDs.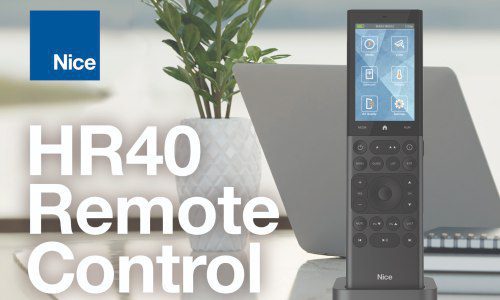 Remote controls continue to evolve at a rapid pace. The days of integrators providing remote controls simply for the TV have migrated to full home automation control of lights, shades, security, HVAC and audio/video in a single form factor. Join this free one-hour CE Pro webinar to hear from a panel of experts who will delve into finding the right remote that can effectively control all the subsystems in a home and empower consumers to customize the solution, while at the same time allowing integrators balance their service requirements.
Register Now! 
Lighting Breaks out in Health; Distribution Models Crack
Savant's two-year frenzy to incorporate so many different lighting options into one smart-home platform coincided with two significant happenings in the lighting industry: 1) a circadian-lighting craze, and 2) cracks in an unseemly distribution racket that long protected the lighting establishment and blocked would-be disruptors like home-technology integrators.
Both factors drove Savant to up its lighting game … and fast … just as the home-technology channel braced for exciting new opportunities in the category, energized by their future roles in lighting design, specification and integration.
Let's start with circadian lighting, human-centric lighting, and other wellness-themed applications for illumination.
"Tunable" white lighting fixtures started hitting the consumer market about three to five years ago, long after systems were deployed in commercial environments. The LED technology became cheap enough and small enough to deploy in screw-in bulbs, and the research on healthy lighting started to resonate with consumers (and the bulb manufacturers who enticed them).
RELATED: Savant Demos Circadian Lighting, Wellness Apps in New Lighting & Energy Education Center
Studies in peer-reviewed journals consistently point to the health benefits of so-called "circadian lighting" – referring in this case (with apologies to purists) to the adjustment of lighting to roughly emulate the brightness and color temperature of the real-life sun.
The obligatory biophilia backgrounder
The logic is simple: We evolved to live outdoors all day, every day, like our closest ancestors did for a few hundred thousand years. Human chemistry today is still hardwired to the same 24-hour day/night (diurnal) cycles that hominids lived by: work during the bright daylight hours, sleep when the sun goes down, arise naturally at dawn with a little solar nudge.
The only problem is that we're now indoors 90% of the time, devoid of natural cues like the sun's daily course, which is supposed to direct our biological function. As a result, our circadian rhythms fall hopelessly out of sync with nature's clock, and we're sicker for it.
To address this very real issue, mass marketers began selling tunable fixtures with apps that let users adjust color temperature and intensity, ostensibly for circadian reinforcement. Companies like Philips started selling dawn and dusk simulators to "properly" rouse sleepers in the morning and lull them to bed at night.
These standalone daylight simulators might provide some circadian support when they're actually used, but our chemistry prefers a more regular and sustained "exposure" to predictable patterns of nature, especially the rising and setting of the sun, and the spectral variances in between.
Savant was ready to deliver, with some of the most precisely tunable fixtures on the market from a leader in human-centric lighting, USAI. Savant also had the hardware and software to incorporate less expensive RGB and tunable white fixtures into housewide circadian scenes.
RELATED: Human-Centric Lighting: Show Us the Circadian Algorithms!
Now, the past few years building a lighting enterprise come down to this for Savant: an impressive demonstration at CEDIA Expo 2019 showcasing how all the disparate parts and pieces coalesce for the user within a single control environment.
Specifically, Savant demonstrated circadian lighting system powered by a series of algorithms that determine the precise lighting intensity and color temperature to replicate the sun's natural characteristics at any given time, in any given geography.
Then we see the real strength of the Savant Pro app: Users can run with the suggested circadian settings, tweak them according to their own schedules or special needs, return to "natural" with the press of a button, delay the virtual sunset, request an extended wakeup routine … or … coordinate the circadian lighting with other stimuli that reinforce our innate connection to nature.
The significance becomes especially clear when you recognize how these settings can simplify whole-house controls. For example, set the nighttime pathway lighting to the natural circadian setting, "with no extra programming," says Angela Larson, Savant VP of sales operations. "Any scene can incorporate circadian settings."
Let more nature into a wake-up scene by simulating the sounds of birds chirping (audio system), the warmth of the sun (thermostat or smart-bed controls), smells of the great outdoors (aromatherapy), maybe visuals of a sunrise (via projector or display), morning breezes (air motion simulators), and whatever else might stimulate the senses at wake-up time in the great outdoors.
Who Needs Lighting Control from a Circuit Breaker?
With sister company Racepoint Energy, Savant introduced smart Breaker Companion Modules last year that snap into most standard circuit boxes.
These modules are "electrical friendly," Larson says, because they install just like a breaker into a standard panel that can be purchased from any local electrical wholesaler.
"There's no need to ship large, expensive, not to mention empty, boxes across the country," Larson says.
The modules wire from the box to the load to control dimmers and relays directly, bypassing a keypad or some other local controller.
It's not a particularly new concept, but previous implementations from other manufacturers have failed to gain traction in the marketplace. So why is Savant so determined to make its own version?
One key development since the smart breakers of yore is the ability to incorporate dimming technology into the breaker module itself, without the need for a wallbox dimmer or centralized panel. Savant offers two phase-dimming companion modules, a dual adaptive model (dims two loads up to 500 VA) and a dual forward model (two loads up to 300 VA or one load up to 600 VA).
Two relay modules also are available for appliances and other electrical devices. The modules communicate via Bluetooth to a Panel Bridge, which connects to the networking for integration into the Savant App ecosystem.
In addition, the Savant companion modules serve double duty as energy monitoring devices, delivering energy consumption data across the whole home to the Savant Pro app. During peak usage times or other electrical events, homeowners can review power consumption and make real-time adjustments through the app, or rely on their Savant system to make adjustments automatically on their behalf.
Importantly, the Breaker Companion Modules allow monitoring at the load level – not just the entire breaker-box level like some other solutions.
"Load-level energy management is required across many energy certification programs," Larson says.
At CEDIA Expo, Savant showcased the next-gen integration of Racepoint Energy with Sonnen's ecoLinx smart energy-storage systems. Sonnen made a separate announcement at CEDIA about integrating ecoLinx with third-party control systems – and a new hardware module to control circuit breakers – via next-gen software from PanTech design.
The Savant/Sonnen integration is different, says Larson: "The integration is native, directly speaking to the Savant Pro App to deliver an energy service right from our service dock."
Of course, Savant also integrates natively with Racepoint Energy's huge honking microgrid system, also showcased at CEDIA.
Lighting, Energy & Shades: Savant's Awesome Threesome
Savant has been on a lighting tear lately, churning out a variety of versatile lighting components, applications and integrations. But Savant's lighting activity doesn't stop there. Any complete lighting-control story should also include energy management and motorized shades – energy because lighting consumes a lot of it; motorized shades because lighting considerations in any given space also involves natural light streaming through windows.
CHECK OUT THE SLIDESHOW FOR MORE SAVANT HAPPENINGS AT CEDIA EXPO 2019
And also: Motorized shade control helps households exploit the heat and warmth from natural light to reduce consumption from artificial varieties. Energy again for the win.
We know Savant has the lighting goods. The company also has a growing line of motorized window coverings with partner J Geiger. In the energy department, Savant has the Racepoint Energy smart companion modules that snap into any standard circuit-breaker panel to control connected loads and monitor/report energy consumption housewide to produce actionable insights.
Savant CEO Bob Madonna says this trio of applications gives Savant a leg up on the competition.
"Now there is a complete lighting and lighting control ecosystem available from Savant that includes shades, fixtures in partnership with USAI Lighting, and a level of control capability and energy management unprecedented in the smart home market," he says.
---
Related Savant News from CEDIA Expo 2019
---
Savant and Racepoint Energy Automation Training
INTRODUCTION TO ENERGY AUTOMATION, 90 MINUTE – SPECIAL SESSIONS
Monday, October 14th | 10:00 – 11:30am Azione Unlimited Fall Conference, Seattle, WA
HANDS ON ENERGY AUTOMATION – REGIONAL WORKSHOPS
Tuesday, November 5th | 10:00am – 2:00pm sonnen, Inc. HQ – InnovationHub
Thursday, November 7th | 8:00am – 12:00pm Savant West Coast Training Center, Irvine, CA
Thursday, November 7th | 1:00pm – 5:00pm Savant West Coast Training Center, Irvine, CA
Wednesday, November 13th | 10:00am – 2:00pm Savant Experience Center & Lighting & Energy Lab, NYC
Thursday, November 14th | 10:00am – 2:00pm Savant Experience Center & Lighting & Energy Lab, NYC
Wednesday, December 4th | 10:00am – 2:00pm CEDIA Headquarters, Fishers, IN