Samsung will not let the fact that there is no physical CES event prevent them from releasing a wealth of new product this year, including 4K and 8K QLED displays, a new residential version of The Wall MicroLED, updated features for The Frame TV, and new soundbars, speakers and remotes. The company is also using Digital CES 2021 to showcase new smart appliances and eco-friendly packaging.
Here's a look at what to expect from Samsung once Digital CES 2021 is live on January 11th:
---
Samsung Displays to Watch at Digital CES 2021
---
New Micro LED
In 2021, the promise of MicroLED comes home. Samsung first introduced consumers to MicroLED technology in 2018 in the form of "The Wall," a system of configurable modules requiring professional installation. This year, MicroLED is available in a traditional TV form factor that requires no professional installation—simply take it out of the box and mount, just like any other TV.
Samsung says the new MicroLED delivers all of the benefits of individually controlled pixels, a 20-bit Active Matrix glass backplane, and its MicroLED processor. With a 99.99% screen to body ratio, the display is designed with viewing in mind. Available in 110-inch, 99-inch, and 88-inch sizes, every screen can also become 4 screens thanks to Samsung's Multi View technology. Users can watch 4 different content sources at the same time, meaning a 110-inch screen can become four 55-inch sized split screens.
Neo QLED
Samsung's new line of QLED TVs look to upgrade the viewing experience by utilizing an all-new light source technology— for much more focused, precise lighting. With smaller LED lights, more lights can be packed in the same space. According to the company, the Q900 eliminates lenses that capture and transmit light from the backlight. Instead, each compact LED chip is designed to emit light on its own.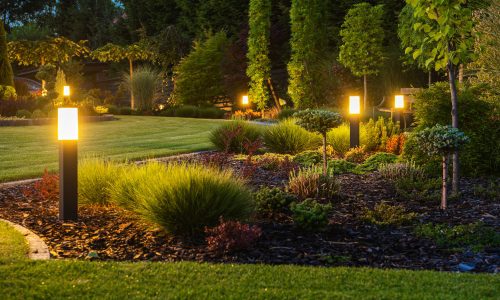 We are thrilled to present a lecture topic that delves into the connection between light and our surroundings, exploring how landscape lighting can transform a space from ordinary to extraordinary. Our keynote speaker, Janet Lennox Moyer, will share her extensive knowledge on the complexities of landscape lighting in design, commissioning, and maintenance and provide participants with the tools to identify good versus bad practices and techniques. Join us for an enlightening session that will unlock the secrets to success in landscape lighting design with one of the industry's most respected experts, Janet Lennox Moyer.
Register Now! 
The company's new Quantum Processor harnesses the power of artificial intelligence to upgrade the entertainment experience, from optimized 8K picture and Multi-Intelligence AI Upscaling, to making sound correspond to onscreen movement with Virtual Object Tracking Sound and delivering audio tailored for any environment with Space Fit Sound.
The Frame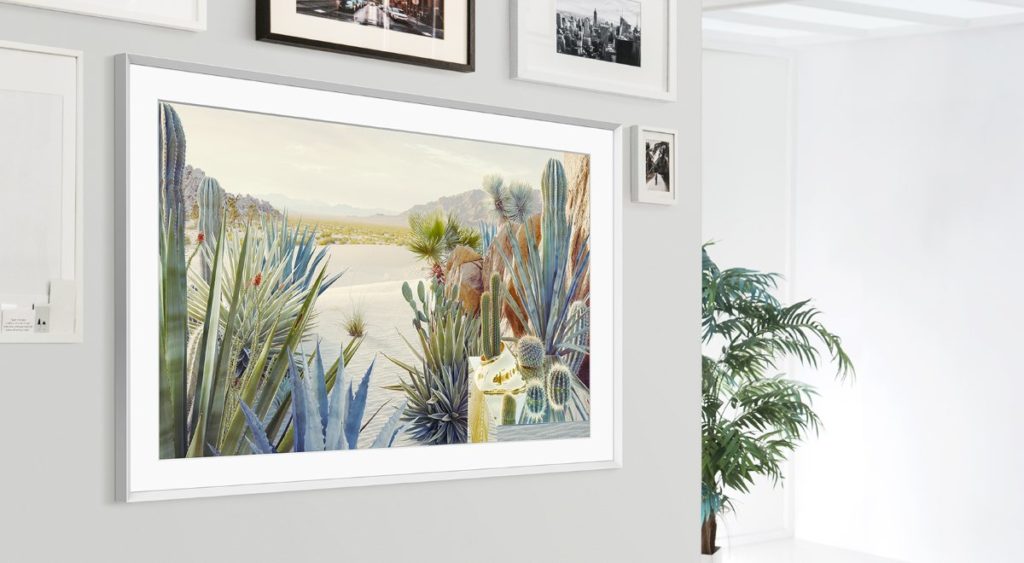 The 2021 version of The Frame builds on its legacy, offering a more customizable experience in a slimmer form. At just 24.9 millimeters thick, The Frame is thinner than ever, mirroring the depth of a traditional picture frame. For the first time, with the 43-inch model, integrators can rotate the orientation to either landscape or portrait. Plus, Samsung says its AI-based auto-curation technology has been retooled to better analyze user preferences to recommend artwork.
Finally, with new accessory bezel options— including a wide variety of offerings by third-party companies—owners can literally frame The Frame. There are more bezel choices than ever, from slim, neutral, and minimalist to big, ornate, and bold.
---
Samsung Adds New Services and Features to Existing Lineup
---
In addition to a wealth of new products, Samsung is also debuting several new services and features for its existing lineup of products. Here's a quick list of some of the more notable inclusions for integrators:
Google Duo Screen Mirroring
With Google Duo, users can use their phone to initiate a high-quality, high-speed video call that up to 12 people can join no matter which operating system they're using. Just tap Duo to start a video call and enjoy FHD quality. And now, with screen mirroring, users can make video calls with Google Duo directly through the TV's optional camera.
Remote Access Plus
Remote Access on Samsung devices allows customers to connect various devices to Smart TVs, meaning they can surf the web or play games from a TV screen with a connected mouse, keyboard, and PC. If users need to get some work done, they can also directly access MS Office 365 through the TV's web browser.
This year, Samsung is looking to improving the process: simply install an app on a computer and log into a Samsung Account and the TV will automatically connect.
Multi-View
Samsung Multi-View is a platform built into all Samsung QLED TVs. With Multi-View, users can enjoy all their favorite content, all at once, on their TV, from cable channels to streaming platforms to apps to gaming consoles. When it launched in 2020, Multi-View could display up to two views. Now, with Samsung's Quantum Processor 8K, the company says it has increased the number of simultaneous views to twelve sources and expanded the types of content users can watch, all for free.
Samsung Health Smart Trainer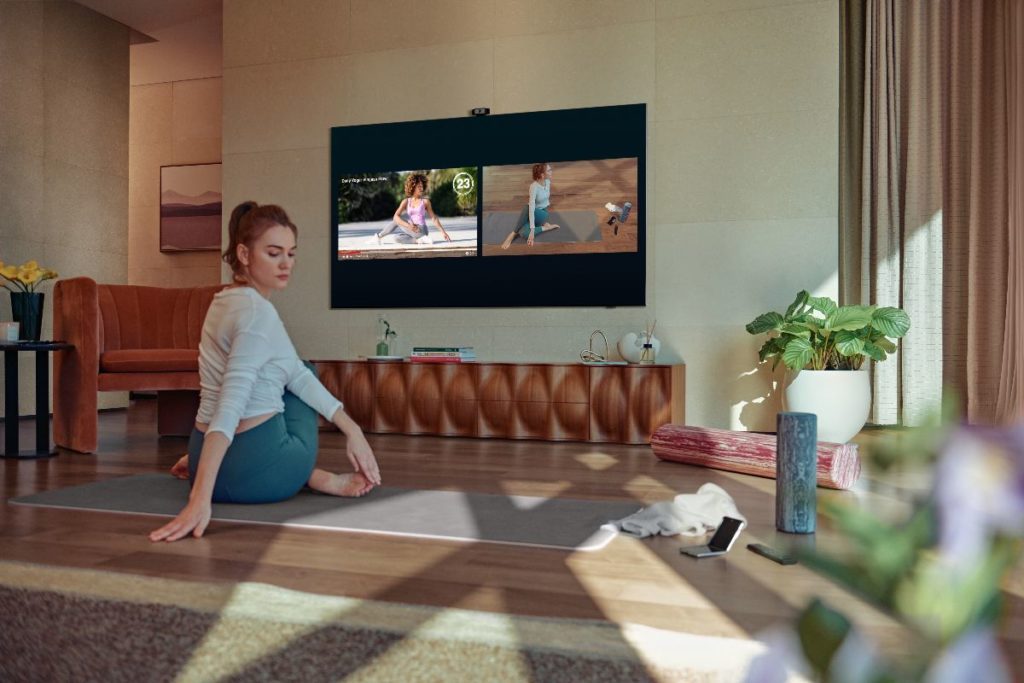 The Samsung Health Smart Trainer lets customers turn their home TV into a personalized gym experience. The Smart Trainer displays an AI trainer on the left screen, and an image of the user on the right screen, allowing them to check posture, count reps, and receive real-time feedback, much like an in-person workout class. The AI trainer even remembers how users like to exercise, from workout type to intensity.
Finally, users get feedback on calories burned and other metrics, so they can keep track of their fitness journey. Samsung is also adding a new auto-sync feature that links select Samsung Smart TVs, Galaxy phones, and Galaxy watches, meaning users can pick a workout on their phone and cast it to their TV, while their watch automatically tracks progress without touching a button.
Super Ultrawide Gameview and Game Bar
With Super Ultrawide Gameview and Game Bar, Samsung is looking to bring the best gaming features to the television. The company says that until now, many gamers were forced to purchase special monitors to take advantage of ultra-wide aspect ratios. With Super Ultrawide Gameview, Samsung has brought that experience to the TV, giving gamers the option to play not just at the wide 21:9 aspect ratio, but even at the ultra-immersive 32:9 ratio. The gaming experience is made complete with Game Bar, which lets players quickly monitor and adjust critical aspects of play, whether that's switching aspect ratios, checking input lag, or connecting a headset.
---
Updated Audio Products, Eco-Friendly Packaging, and New Remotes
---
Alongside new displays and updates to previous technologies, Samsung also plans on showcasing its new soundbars at CES 2021. According to the company, its new soundbars offer enhanced flexibility, so each sound system meets customers' needs. If customers want to add additional bass, using Samsung's new Bass Boost mode for an additional 2dB with just one click might suit the job.
The company also plans to show its new Tap Sound capabilities, which allows users to tap their mobile device to their soundbar to connect—no need to adjust settings or connect manually. And this year, select Samsung soundbars will support Amazon Alexa, with the soundbars' microphones ensuring requests will be heard clearly. With SmartThings compatibility, integrators can even program Alexa to do everything from ordering groceries to adjusting the thermostat.
In addition to its new Tap Sound capabilities, Samsung is also showing its Object Tracking Sound (OTS) Pro, which offers viewers a surround sound experience in which sound is aligned with the movement of the picture— so when a helicopter flies across screen, customers hear it soar above them. In 2021, Samsung's flagship models' sound will be upgraded from OTS+ to OTS Pro, with two additional tweeters providing added audio quality.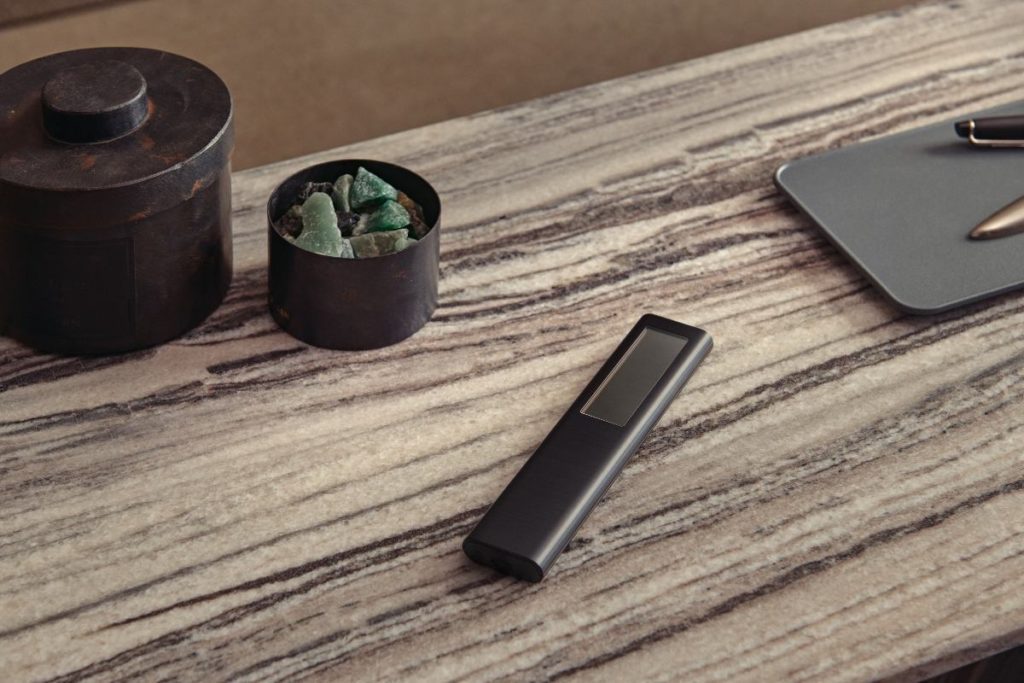 To help with the company's goal of creating more sustainably-minded products, Samsung is releasing a new Eco Remote Control. Included with every 2021 Samsung QLED 4K and 8K TV, the company says the remote is designed to reduce waste, thanks to an energy-efficient circuit design and solar cells that recharge its batteries. Made from 31 grams of plastic, with 28% coming from recycled Polyethylene terephthalate (PET), Samsung says the remote helps reduce tons of plastic waste per year—all while offering the company's premium black metal finish.
Also helping Samsung reduce its carbon footprint is its new packaging policies. By eliminating oil-based ink and expanding eco-friendly packaging to all Lifestyle and QLED TV models, the company looks to offer a sustainable solution that can upcycle up to 200,000 tons of boxes a year and turn those boxes into pieces of home decor.
In addition, by scanning the QR code on the packaging, users can access materials and instructions online. Samsung has also partnered with Dezeen Magazine to crowdsource designs to turn packaging into household storage solutions and toys for kids.
---
Samsung to Debut Several New Smart Home Appliances
---
Samsung appears to be committed to the smart appliances category, as the company plans on using CES 2021 as a prime opportunity to show integrators the importance of smart appliances as well as detail several new products.
4-Door Flex BESPOKE Refrigerator
Samsung's BESPOKE line looks to introduce consumers to home appliances they can customize to meet their needs and express their personal style, including its new BESPOKE line of refrigerators. With its changeable panels, customers can choose the appliance's color, material, and finish to suit their tastes and align with specific home décors.
Family Hub for 2021 Refrigerators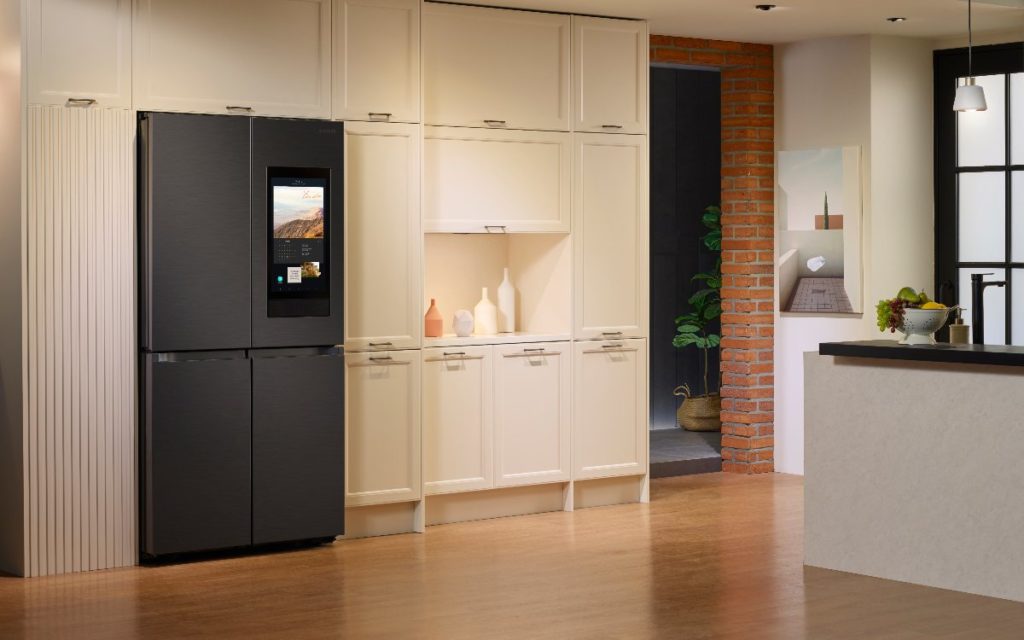 As the most used appliance in the American home's most popular room, the refrigerator is central to daily life. Thanks to the Samsung Family Hub, it has become much more than a place to store food, it has become the center of the smart home.
Samsung says its Family Hub for 2021 is the smartest yet, with an entirely redesigned user interface, an AI-powered service that seamlessly connects every step of a cooking journey, and brand-new ways to control the connected home. The company says its new connected features proactively monitor smart appliances and will turn off the ones customers aren't using in order to conserve energy, and will allow them to control and customize smart devices for home security and monitoring.
SmartThings Cooking
Families around the world embraced smarter cooking and streamlined meal planning with Samsung's Family Hub. Now the company is bringing those features to more than 33 million SmartThings users in the U.S. SmartThings Cooking is designed to be a one-stop-shop that curates every step of a recipe.
Powered by Food AI technology, SmartThings Cooking recommends recipes that fit the users tastes and dietary restrictions and builds meal prep guides and grocery lists to match. As users start cooking, it sends recipe data straight from the smartphone app to a Samsung smart appliances so the refrigerator will order last-minute groceries and the oven will preheat itself, while the platform guides users through every step of meal prep.
8800 series Front Load Washer and Dryer
Samsung's 8800 series Front Load Washer and Dryer have been redesigned to make laundry easier, more intuitive, and less stressful, says the company. The Front Loaders offer a new way to control the washer and dryer with Smart Dial, which learns the users preferred cycles and settings and saves them for quick access. They also allow users to customize cycle lists, change the displayed language, and control the dryer right from the washer when the units are stacked.
Thanks to AI Control, the washer chooses the appropriate cleaning cycle, dispenses the right amount of detergent, and adjusts settings throughout the cycle, ensuring clothes are sufficiently clean. The dryer automatically optimizes its cycle, too, meaning homeowners no longer have to check to see if their clothes are dry at the end of the cycle and then try to guess how much time they should add, because the machine does that for them. With the Super Speed washing and drying cycles, Samsung claims clothes can be ready in as little as one hour.
JetBot 90 A.I.+ Robot Vacuum
Using object recognition technology and LiDAR sensors similar to those found in self-driving cars, Samsung says its JetBot 90 A.I.+ can approach a home with the same level of awareness and intuition as its owner. The robotic vacuum can spot and avoid obstacles as small as a phone cable or as large as a couch.
By scanning the room and getting a clear image of its layout, it can plan the most efficient cleaning path. With the SmartThings app, users can control their mop from anywhere: schedule a clean, set "no-go zones" on a map of the home, or even connect to its camera to keep an eye on the house and pets while away.
BESPOKE Cube Air Purifier
Samsung is bringing its customizable BESPOKE concept to more home appliances. As consumers are spending more time indoors, the BESPOKE Cube Air Purifier combats impure air caused by gases, dust, chemicals, and odors inherent to everyday living. Combining form and function, the Cube provides a three-step purification system, connected technology, modular design, and premium look. It offers Wind-Free purification that Samsung says is quieter than a whisper and releases clean air without a cold draft.
The Cube always ensures air is clean thanks to laser sensors that automatically measure dust and gas levels and turn on filtration if necessary. And it comes with powerful connected technology: Through the SmartThings app, users can remotely turn it on or off, monitor the filter, and check outdoor air quality.
Users can even control the product via their favorite voice assistants. The Cube's front panels are available in four BESPOKE colors and two patterns to help it blend in, or stand out, in any home. The panels are interchangeable, so customers can change them as their tastes change.
Click here to see more images of Samsung's Digital CES 2021 product lineup!
If you enjoyed this article and want to receive more valuable industry content like this, click here to sign up for our digital newsletters!