Local integrator Global Wave Integration worked hard to create this seriously impressive smart home project worth over $1M in materials and labor.
Last month, CE Pro profiled Global Wave Integration and how its well-trained staff manages to handle VIP clients and mega-scale projects. Now, the company has taken home a CE Pro's Home of the Year Award for the best whole-house smart home project over $1,000,000, and considering the scope of this award category, this project exemplifies the integrator's prowess. 
The project was all things sophisticated and highly complex, as Global Wave's Kelsey Gallery explains, and naturally very extensive. The main performance objective was to provide a fully intuitive automation system that allowed the family to easily operate their expansive estate. 
"Knowing this was a luxury residence in every regard, we deployed a full Crestron experience that allows them to feel like they are living in a world-class resort, while simultaneously being able to simply and intuitively navigate their home," she says, noting voice-control capabilities too.
Among the many systems are a Crestron Digital Media NVX system with 33 sources and 28 endpoints in the main house alone; a "Fun Zone" for the kids, featuring a Planar video wall as well as a custom-designed VR/AR gaming system; Lutron HomeWorks QS lighting in addition to 234 Lutron shades, which are programmed based on the time of day; and a Crestron Sonnex audio system that serves 90 zones inside. 
---
Systems & Equipment 
Crestron controls 
Josh.ai voice control 
Lutron lighting, shades 
Sony displays 
Future Automation, Nexus 21 lifts 
Origin Acoustics speakers 
SureCall cell booster 
Cisco network 
IC Realtime surveillance 
---
An Estate So Safe Even the Wine Bottles Are Guarded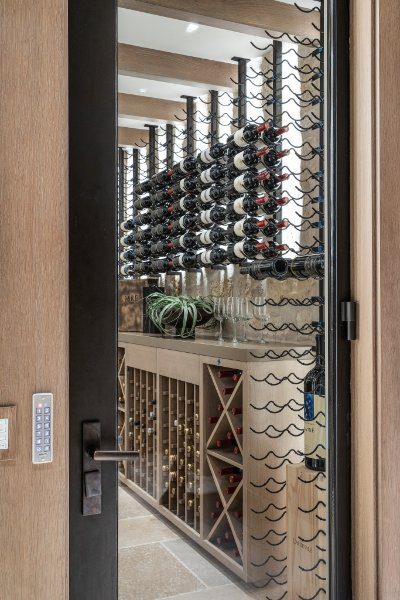 As an illustration of GWI's programming, Gallery describes the shades system, in which: East-facing shades rise automatically in the morning to allow morning light; West-facing shades drop automatically in the afternoon to protect artwork and bespoke furniture and rugs from harsh sunlight and UV rays; and a massive 22-by-22-foot tall single roman shade driven by a Somfy motor in the living room opens automatically each morning to reveal breathtaking beach and ocean view and closes automatically each evening to provide privacy for entertaining. 
Even the IC Realtime video camera system enables additional functionalities. It includes 29 marine-grade, top-of-the-line IP cameras on the main house with 13 more for the guest house. One camera in the dining room "allows the personal chef and staff to monitor dinner parties and enhance dining experience with unparalleled service and attention to detail," Gallery says. 
The GE Interlogix alarm system includes over 200 discrete points in the main house and nearly 100 more in the guest house. Five Holovsion-integrated DoorBird door station units across both properties control four driveway gates and one pedestrian gate to control access to the houses; Crestron integration allows for a DoorBird press to not only ring the client's cellphone but also touchpanels with video popups to allow staff to handle deliveries or guests. 
AV is impressively and innovatively designed and implemented throughout. Outdoor audio alone includes 192 Origin landscape speakers and 16 subterranean subwoofers. Many displays are on Nexus 21 or Future Automation motorized lifts whether for architectural or functional purposes.  
The guest house bar & grill room presented unique challenge with wood-paneled walls and required extensive design and engineering resulting in 85- and 75- displays to be flush-mounted into the inlayed panel walls, Gallery says.
"One display is hidden behind a diagonal cut piece of art. When open the 85-inch Sony TV is exposed. The second display is hidden behind a big chalkboard that slides down to allow the kids to create a masterpiece and then raise to hide the TV and show their art!"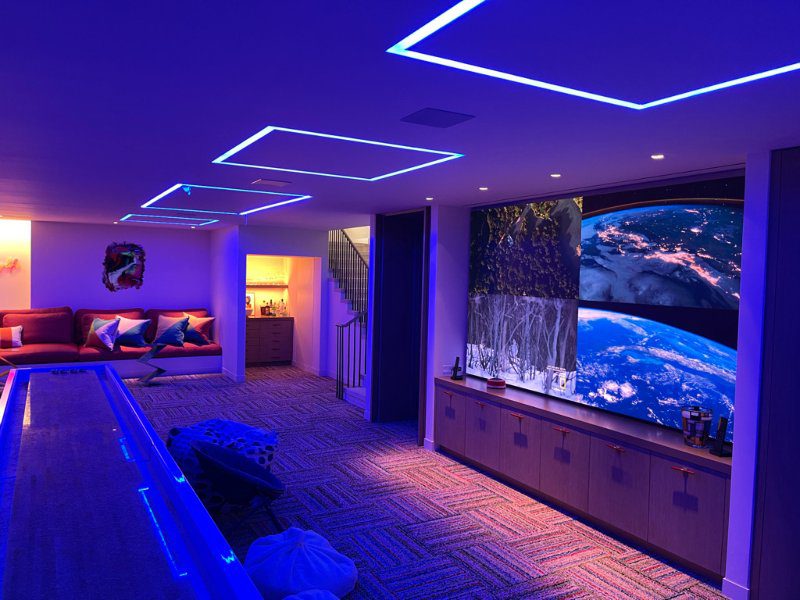 The "digital dinner bell" is another detail she says the integrator had fun hashing out at a design team meeting and deploying — a concealed button under the dining room table will slowly flash the lights in the kitchen three times, notifying the staff that assistance is needed. 
"Weekly design meetings onsite and on the phone were imperative to keeping all parties on the same page and managing progress throughout," Gallery adds. "Our team credits an incredibly collaborative environment between the architect, family, interior designers, builder and project management team to make the magic happen." 
To see more photos of this award-winning smart home install click here!
If you enjoyed this article and want to receive more valuable industry content like this, click here to sign up for our digital newsletters!