You could say being a trailblazer is in the genetic makeup of Global Wave Integration president Kyle Steele. Indeed, his father Larry Steele, was an actual Trail Blazer, as in a member of the NBA's Portland Trail Blazers, where he spent the entire 1970s playing nine seasons including the franchise's lone championship (1976-77) team.
And just like his dad, Kyle Steele is blazing a path as a key member of an elite squad, in this case as an integration company that is an early adopter and evangelist of cutting-edge technology in wellness/biophilia, aging-inplace/ home health and even residential projection mapping. Burbank-based Global Wave Integration recently bought its showroom building and uses the location as a showcase to perform at a high level catering to luxury clientele in the highly competitive Southern California market.
As president of Global Wave, Steele can also lean on Larry Steele's lessons from his head coaching days for the University of Portland men's basketball team, which spanned the mid-1980s to mid-90s. Kyle Steele has instilled the kind of team play and innovation from Global Wave's staff that would make both his dad and Hall of Fame coach Jack Ramsay (now deceased), who guided the Trail Blazers' title team, proud to see succeed.
By perfecting business processes that make everything run smoothly, Global Wave is able embrace new technologies that allows the team to take on large-scale, six- and seven-figure projects and cater to elite VIP customers.
Audio Engineering Background Pays Off
While Steele's own basketball career did not reach the NBA, he did spend time on the practice squad playing hoops against guys who would later make the pros during his college days at the University of Arizona, where he studied digital systems engineering. Like many integrators, Steele started out in the industry on the installation side, as a Crestron programmer, but it was not a straightforward route.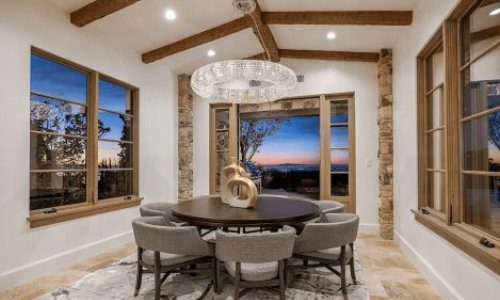 As a custom integrator, lighting is in demand. Effective communication, education and showcasing the value proposition of LED light fixtures in conjunction with integrative control systems are the keys to overcoming challenges and closing sales in this specialized market. Join us as we discuss the future of digital lighting and control with David Warfel from Light Can Help You and Patrick Laidlaw and Mark Moody from AiSPIRE.
Register Now! 
Also like many integrators, Steele, a drummer, has a passion for music and dabbling in the professional music business proved to be a segue into the custom industry, sort of. In the early 2000s, he and his college roommate started a band, moved to a 400-square-foot apartment in Los Angeles (along with his then-girlfriend, now-wife) … and got "signed and dropped" by famed producer Babyface, as Steele tells it.
While the band life had its ups and downs, Steele answered an ad for a job that seemed like it might help him crack the music industry by working in the production/postproduction recording studio side.
"They were looking for an audio engineer and it sounded like it was a recording studio, and I said, 'Oh that's my passion.' I thought it was going to be very sophisticated, and that was my background, my education. No," says Steele, noting it was more like whole-house audio than house audio engineer.
"My first day on the job I was crawling underneath a house on the beach pulling Cat 5 and was like, 'This is not what I thought it was.'" But Steele trusted entrepreneurial owner Jeff Colen and the vision for his business, called A Sharper Home.
"I was his first full-time employee and he came from a 'Big 5' marketing company and had an MBA from Stanford," Steele recalls of his initial experience with the one-man shop. "And he basically told me, 'Look, if we can get in the high-end residential niche market, in 10 to 12 years we'll be sitting in a really good spot.' And I'm in."
Steele was entrusted to build the business, which he helped grow — thanks in part to getting the integrator to adopt Crestron — while he also split a big house with a half-dozen roommates in upscale Manhattan Beach at the time. One time, an elderly woman neighbor asked Steele to sit in for a meeting she had at home with a security company that was making an alarm system pitch. Steele remembers Security Alarm Specialist owner Scott Sand delivering an impressive walkthrough and when his neighbor asked for his thoughts, Steele asked Sand if he was hiring.
Getting Global Wave Rolling on Its Own
That was around 2005, he says, and things started taking off as he joined SAS and commuted to jobs in places like the Hollywood Hills for a client roster that floored even someone who had been around star athletes. "FBI agents were on some jobs because they're such high profile," Steele recalls.
It was Steele's court vision this time that set the table for Global Wave Integration, which incorporated in 2008 and now serves the same demographic with an expansive technology portfolio that underscores the company's origins and DNA.
"He was really just doing alarm, but all of his clientele were just titans of the industries and A-listers, and I thought, you're really not doing AV and automation — you're leaving money on the table," Steele says.
He proposed to start and manage a sister integration company that would upsell those clients into larger-scale systems beyond alarm and surveillance and eventually, after Global Wave incorporated, act as referral feeders for each other's business.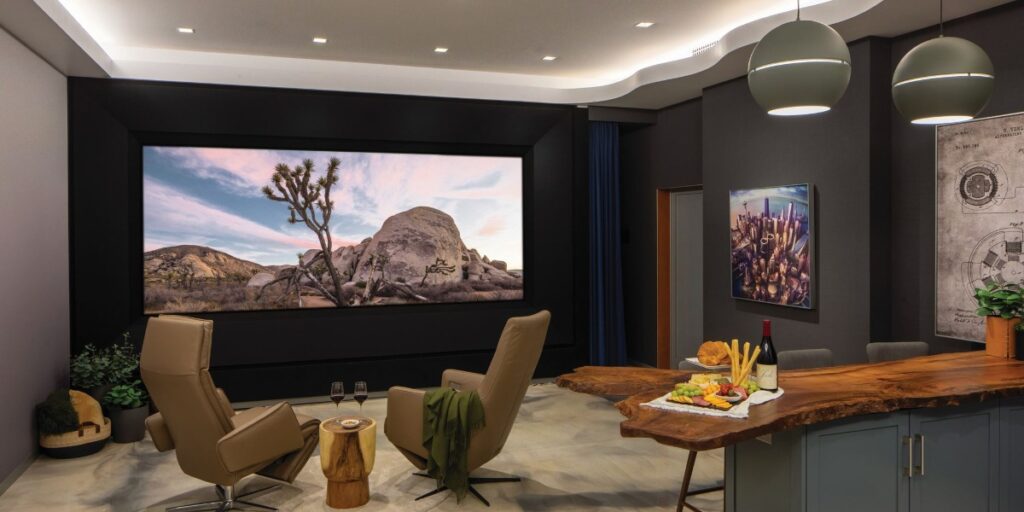 "We've really helped each other grow our own companies, and we're just a shared resource now," Steele explains.
The name Global Wave Integration stems from Steele's studies and fascination about the "golden ratio," mathematic/science behind why people are drawn to aesthetics, architecture, music, etc., though we may not really understand it in ourselves.
Also in math/sciences, waves are all around us, and he liked Rogue Wave as a name, which is a type of tsunami, but thought "rogue" might have a negative connotation. Still, in context with radio waves, sound waves and the like, rogue waves resonated and epitomizes that team atmosphere that's been building at what became Global Wave.
"The whole idea around rogue waves are if we bring our energies together we can create that bigger wave and move the most sand and have the biggest impact … that's what we're about as a company," he says.
Sounds like wisdom that might have been stated by Larry Steele's legendary teammate and Grateful Dead superfan Bill Walton. "But rogue wave sounded like maybe we wanted to rob you," he adds, and he settled on Global Wave.
Small Squads Tackle Tough Projects
Speaking of his staff, Steel emphasizes, "We're truly a team. We all work together and there are specialists, but it's just a cohesive team and we can do these massive projects we've been doing… like 60,000-square-foot homes or going to the Middle East to do a palace because we're a small, nimble team."

Global Wave likes to deploy small squads among the company's 15 employees "to live on a project and then come back and do the next one," Steele says. It's how the integrator has tightly honed its processes and techniques, kept morale high and fostered top-notch service for its VIP customers, to the tune of roughly $5.7 million in custom revenues in 2020.
The collaboration and cross-training of everyone embody that rogue wave spirit, and the democratic nature of Global Wave's operations could be considered another way the integrator has been blazing its path forward. Steele borrowed the business model from a large industry supplier but says it's not something he sees in the CEDIA channel.
"It's this Tiger Installation squad we talk about — you know Sony's a huge corporation, but they only have four guys as their AV team," he says. "So Sony would send these four guys to a stadium; they'd finish and come back and get the next project and go back to work. We're kind of modeling the same thing, which is very unique as an AV company because you think of engineering departments or sales … and we don't have any of that."
He says recently Global Wave hired a "rockstar" CEO — chief experience officer — Kelsey Gallery, whose industry experience includes Lutron and Sonnen, who marveled at the lack of traditional departments.
"We have specialists, like our Savant programmers; we have an in-house Crestron Master CAIP [Crestron Authorized Independent Programmer], which is rare for an AV company," he adds.
"But at the same time, when we go on these projects it's all-hands on deck, we're all wearing multiple hats and we just help each other out." The squads tend to be grouped together on projects, creating that familiarity of working together that naturally improves efficiencies over time.
Diplomatic Approach, Scouting Personalities Benefits All
Another rare and diplomatic approach Global Wave employs, Steele adds, is that everyone in the company has the same commission structure. It's led to a very different manner of end-to-end project sale to completion.
"Even the sales team," he says. "They'll sell a job and see it through — instead of selling a job and giving it to engineering, and then to a project manager. No, they have ownership. They sell a project, they see it through, they manage it, make sure we execute, get paid, close out and move on."
For a project the company submitted into the CEDIA Awards program this year, Steele says the team lived a good chunk of time at the Florida site for almost four years.
"We flew out, we considered it subbing it out, but no — we just took ownership of the whole thing," he says.
One strategy that has paid off in positively impacting operations and perfecting the teams, Steele notes, is that Global Wave implemented personality profiling in its hiring practices. Like a great pro basketball team, great scouting goes a long way and establishes the foundation.
"We know how to structure our teams and they work very well together because we know their personality types, and I think that alone goes a long way," he says. "Clients tell me they love how 'we can call you, we can call your project manager, we can call your office … we can call anybody on your team and get that same response we're looking for.' And to me, that just says everything."
As someone who is actively engaged with the integrator community attending tradeshows and conferences, participating in online panels and peer-to-peer networking groups and more, Steele says he tries to spread the word about Global Wave's approach to hiring and piecing together his groups.
"It's the biggest thing, and I preach it wherever I go: it's personality types," he says.
A lack of traditional formal titles for most of the company can give employees the opportunity to have some fun with their roles too.
"We all have business cards, but to me it's just a title. I tell everyone, you can put whatever you want on your business card, what sounds cool to you," he says, as a staffer whose title reads "Lighting Vibe Curator" chuckles in the background during a Zoom call with CE Pro. "I love that, because he likes doing lighting control … but across the board we just kind of refer to ourselves all as systems integration specialists and it encompasses everybody at that point."
Steele adds that among Gallery's initiatives since she's joined Global Wave has been to spearhead an "all-in" effort to implement a business operations strategy called "Traction," which the company learned about through Azione Unlimited.
"For the size of company and revenues we have, this operating system is perfect," he says. "Once we hired Kelsey, it was her task to roll out Traction as this is how we do business, this is our meeting rhythms, this is how we set goals and "rocks" [small attainable goals in the system]. Everyone in the company has their own goals and rocks and every week we check in to see are they on track or off track."
Steele says Global Wave can attest that the commitment over the past year to the OS has produced noticeable efficiencies improvements leading to more revenues and profitability.
Tech Testing in Global Wave's 'Living Lab'
On the technology side, Steele has been equally excited to share his company's experience as an early adopter, which often comes hand-in-hand with clients who can afford cutting- or bleeding-edge tech. He has joined industry webinars and education sessions on incorporating wellness solutions at events such as CE Pro's own CE Pro Summit last fall.
Having a practice court, so to speak, for beta testing emerging technology is one reason that spurred Global Wave into recently buying its showroom building. The interior is now decked out with Ketra human-centric and colorful lighting, Barco projection mapping/digital canvases, aging-in-place tools and more alongside high-performance home theater, automation and other showcases.
"We look at this showroom building as a living lab, because with new technologies we bench test everything here," Steele says. He adds that Global Wave employees' houses have also taken that role as home living labs, also fueling its "Imagination Driven" tagline. The company can more easily grasp how solutions will fit into its customers environments.
"That was one of the biggest motivators in buying this building was really just having a place where we can build and create and test. I don't know how many AV companies spin their own bread boards and build their own middleware software. We do this truly all in-house, and we're creating new products."
He cites a project for a customer in the Land of the Ozarks that included asking Global Wave to renovate an old LED sports ticker. With the company's portfolio now, Steele lights up with ideas like using two projectors to do a projection-mapped display and Ketra chandelier, "and we'll do a custom sports ticker for him. Stuff like that we absolutely love, and I think our clients appreciate that."
Within the showroom lab, Global Wave outfitted areas with high-performance luxury types of products benefitting its clientele.
AV includes step-up components such as a new Barco Nord projector, madVR's video processing and home theater audio from U.K.-based TPI as one of its first dealers in the U.S., for instance. Another room features CINEAK zero-gravity chairs. For an in-demand solution like voice control with AV/automation integration, Steele can ask Josh.ai to "show" the TPI speakers that are hidden in the ceiling and walls of the theater, for instance. On command, color-lit LEDs outline where the speakers are located.
A Ketra demo area includes the tunable lighting as well as biophilic materials like the paint selection and flooring, Steele notes. Meanwhile, Global Wave Integration's dive into wellness enabled the company to be part of a recent nearly $24 million "wellness estate," as the architectural magazine Dwell describes the Santa Monica property listing.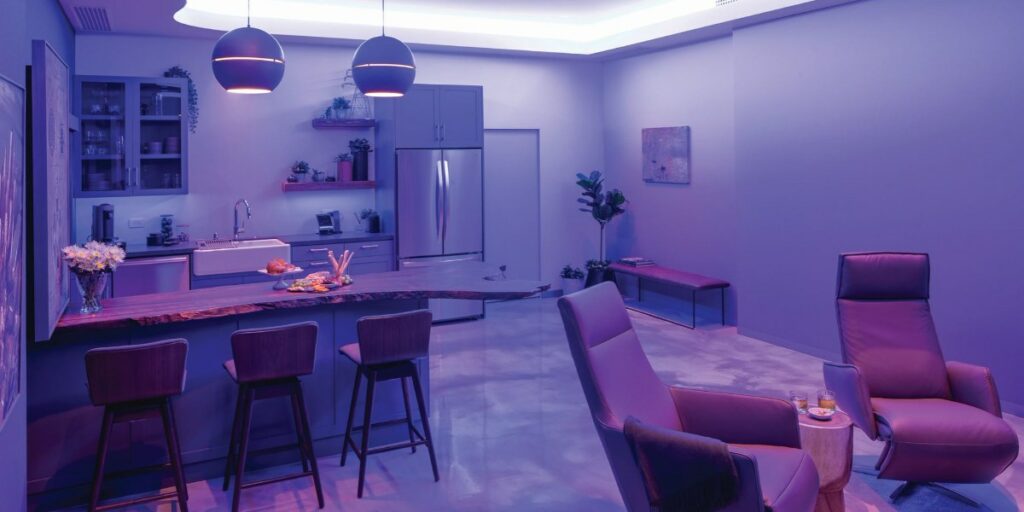 Among the myriad features in that spec project are circadian lighting facilitated by the Josh.ai-controlled lights/ shades, air and water purification, and a "resort-level spa/ wellness center" that includes an aromatherapy shower among other goodies.
Global Wave is also working with the International WELL Building Institute on certification for its showroom building. He says the company has received "innovation" points with its clean air/clean water solutions, and is working to try and earn credit for using Sonnen's intelligent battery storage/ backup as "clean power."
"We're working with them to get that actual part of the standard, because we have solar and we want to showcase the whole [sustainable] chain where we have solar, battery backup, energy automation tied into our giant Crestron display dashboard of air quality, how we're managing the power, how we're off the grid," Steele explains.
He adds that when it comes to wellness and solutions like HCL, even in trendy Southern California the company is still working on the pitch to consumers and other trades.
"Circadian rhythm? Don't say that, they don't know what it is," Steele says with a chuckle. He says recently an architect came to the showroom and was blown away, unaware of what was possible or that an integrator can sell something design-related like high-end shade fabric.
"Talking to a lot of architects, integration is still new to them. So to talk about wellness … it's still early on, but I definitely feel that it's going to have traction."
Home Health Tech Next Untapped Opportunity
Beyond wellness, Steele believes the custom industry is very well positioned to impact the aging/living-in-place category. He says the initial interest came from a client walkthrough of an 8,000-square-foot, award-winning project in which Global Wave had decked out a custom Crestron panel with various widgets popular at the time like monitoring traffic and weather and early voice capabilities.
"She said, 'It would be really cool if this touchpanel could give me insights on something like my health,'" Steele recalls. "I thought, wow, that's really powerful."
The wheels started turning on combining voice commands, automation, sensors, alerts and the like to facilitate today's increasing demand for aging-in-place health tech that he feels is a huge untapped integrator opportunity.
The overall effect of embracing emerging tech could help Global Wave grab some of that money other integrators are leaving on the table. Steele can envision sister companies focused on each as one potential method the integrator can address these growing opportunities and feed a central core of service and RMR. FutureCare, a name for the home healthcare sister company, would take a path Steele is familiar with having taken it to creating Global Wave, and he sees three others including wellness and education. "All of these companies will have the same kind of structure, and that core is key," he says.
These rogue wave integrators are disrupting the industry, and that's also something Steele can relate to since defensive peskiness was the hallmark of his dad's play ("When I was a ballboy [in the '80s, future Hall of Famer] George Gervin told me my dad used to give him nightmares," he says). Kyle Steele says his dad's career is just a testament that someone from a small Midwest town can live his dream job with the right effort. Global Wave might not be a professional recording studio, but it's turned into a dream career.
Click here to see more detailed photos of Global Wave Integration's showroom!
If you enjoyed this article and want to receive more valuable industry content like this, click here to sign up for our digital newsletters!