Few companies in the electronics industry can match the resources, including research & development (R&D) capabilities of Sony. So, when the electronics giant decides to throw those resources at a product line it is not surprising the company can launch products like its new STR-AZ5000ES 11.2-channel AV receiver.
To say the company's new line of receivers is great, including the AZ5000ES, would be an understatement. For integrators, Sony has been a go-to for many years for its strong-performing TVs and projectors, and now dealers can add AV receivers (AVRs) to that list.
Available at a competitive price point, it is easy to see integrators specifying high-performance, immersive AV systems that feature the Sony STR-AZ5000ES receiver and Sony projection or television products.
Sony STR-AZ5000ES Features and Setup
Like other modern AVRs it is probably easier to list what the new Sony receiver doesn't offer, rather than name every feature bundled inside this all-in-one component.
Outlining some of the STR-AZ5000ES' most important features, the AVR offers 11.2 channels of audio that includes immersive audio capabilities via Dolby Atmos, DTS:X and Sony's own 360 Spatial Sound Mapping technologies that are available once the receiver's auto calibration technologies are implemented.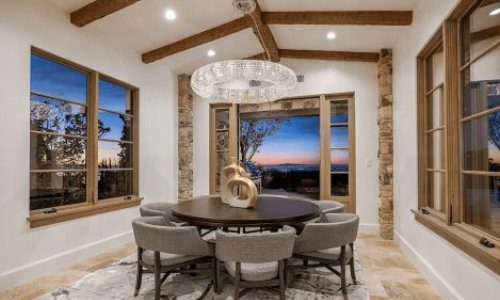 As a custom integrator, lighting is in demand. Effective communication, education and showcasing the value proposition of LED light fixtures in conjunction with integrative control systems are the keys to overcoming challenges and closing sales in this specialized market. Join us as we discuss the future of digital lighting and control with David Warfel from Light Can Help You and Patrick Laidlaw and Mark Moody from AiSPIRE.
Register Now! 
On the video side of the home entertainment equation, the IMAX Enhanced certified receiver through its seven HDMI 2.1 inputs and two outputs offers 4K at 120Hz, 8K at 60Hz, HDR compatibility with formats such as Dolby Vision, Hybrid Log Gamma (HLG) and HDR10.
Getting back to an earlier point, integrators assembling Sony-based systems can also provide Sony TVs, projectors and of course the PlayStation 5 gaming console, and because of HDMI 2.1's gaming capabilities, the STR-AZ5000ES supports gaming friendly technologies such as Variable Refresh Rate (VRR), Quick Frame Transport (QFT), Quick Media Switching, and Auto Low Latency Mode (ALLM).
In addition, through HDMI 2.1, the AVR provides ARC (audio return channel) and eARC (enhanced audio return channel) capabilities to simplify the setup process when using components like soundbars.
It should also be noted that a major part of the new Sony AVRs is the internal redesign of the products. The current line, including the STR-AZ5000ES incorporate a new chassis beam design, as well as refreshed digital circuit board designs, new DACs that process at 32-bits, and a new DAC analog output buffer circuit design.
Summing up the receiver's features, Sony says the AVR is rated to produce 130 watts of power into 8 ohms, two-channels driven, and it provides integrator-friendly options such as 12-volt triggers and RS-232 to support its integration into control systems.
Getting into the setup, I was impressed with the weight and build quality of the AZ5000ES when I pulled it from its box. The transformer end of the receiver as particularly heavy and checking the weight, the AVR is listed at a hefty 42 pounds.
After removing my AVR from my equipment rack, I took the HDMI cables from my 4K Apple TV, Dish Hopper 3 set-top box (STB), and Panasonic DP-UB820 UHD disc player and connected these components to their corresponding HDMI inputs which are prelabeled on the rear panel.
Interestingly, the first HDMI input is labeled, "gaming console." I then took my FIBBR optical HDMI cable that's connected to a Digital Projection E-Vision 4000 and plugged it into the main HDMI output of the STR-AZ5000ES.  I concluded the physical connections by connecting my speaker cables to my 9.4.2 speaker array that features Aerial Acoustics speakers in the front, Emotiva surround speakers, and OSD Black subwoofers.
Using the supplied remote I then turned the receiver on and was greeted by a main menu that offered a choice of "watch," "listen" and "sound effects," "zone control, and "setup." Admittedly, this was my first experience with a Sony AVR so the interface was completely new to me, so it took me a few minutes to get acclimated to the interface's navigation.
Choosing to first start with a manual setup I entered the setup portion of the interface. As part of the manual setup, I chose my preferred processing mode—Dolby—then I went on to set my speaker distances, speaker levels, speaker sizes and channel configuration. For the most part the interface was easy to use, even for a first-time user.
Most remotes I will say have some type of mechanical wheel symbol on the remote to allow users to quickly access setup menus. I did not notice that type of button on the remote. Instead, it has four buttons on the bottom that reads, "HDMI Out," "Settings," "Test," and "Auto Cal." With that said it is probably a "me problem" more than anything else when it comes to accessing the receiver's setup.
I would estimate that for the manual setup it took me approximately 45 minutes. A few weeks later I moved onto the auto calibration options. To be honest, I was kind of expecting the worst with the auto calibration, but it too was easy to use. Following the onscreen prompts, which included questions about speaker configuration, I would estimate it took me about 15 minutes to complete.
With the auto calibration completed and activated I was subsequently able to access Sony's 360-Degree audio technology via Sony's "Type A" virtual speaker layout (there are two types of virtual speaker layouts to choose from), which simulates the ideal speaker positioning for a system.
---
CE Pro Features
11.2 channels, with power rated at 130 watts into 8 ohms, 2 channels driven
Seven HDMI 2.1 inputs/two outputs
Immersive audio processing that includes Dolby Atmos, DTS:X and Sony's proprietary Digital Cinema Auto Calibration IX that enables the company's 360 Spatial Sound Mapping
Video support for 8K, 4K, HDR10, HLG and Dolby Vision
Works with Sonos and IMAX Enhanced certification
IP control options, Apple AirPlay 2, ChromeCast and Bluetooth option
MSRP is $2,099.99
---
Performance and Final Thoughts
To be perfectly blunt, I am blown away at how well the STR-AZ5000ES performs. I will reiterate something I had said earlier, but since I had no prior experience with a Sony receiver, I don't know that it was like to use the company's previous generation of products.
I find the receiver's audio performance to be fun and involving, its source switching was smooth—I would estimate it takes about 15 seconds give or take to switch sources, and it does so smoothly without any funky dropped pixels or portions of the screen missing, or audio dropouts.
Using the STR-AZ5000ES before the calibration, I started by listening to content such as music videos posted on YouTube. Listening to the classic Van Halen live video of So This is Love I could clearly hear elements such as the space in David Lee Roth's voice as it sat in the mix, along with the "brown sound" tone of Eddie Van Halen's guitar. Michael Anthony's bass also sat firmly in the mix, and Alex Van Halen's snare drum cut through the bass and guitar with authority.
On TV content like the HBO Max series C.B. Strike, which is a BBC show, the accents of the main stars is thick and I thought the receiver powering my Aerial Acoustics speakers delivered a nice level of clarity to help me understand the show's dialog.
On movies, the receiver without the calibration delivers a nice level of dynamics and detail. During the Netflix movie Sniper: Ghost Hunter. I could hear bullets flying around me at the outer limits of the soundstage and bomb explosions produced deep, impactful bass.
With the auto calibration activated I was able to try Sony's proprietary 360-degree surround sound technology and while I can't say for certain how it compares to normal Dolby Atmos for example, I will say the processing is tasteful in how it produces an immersive audio experience.
Using Dolby content such as its demonstration discs with a Dolby TrueHD version of The Police performing Message in a Bottle I will say that I have enjoyed Sony's AFD Movie mode processing, which the company says produces, "optimized sound according to the stream. The sound is upmixed to surround to enjoy surround at the same time."
The receiver allowed me to feel the intensity in which Stewart Copeland attacked his drumkit, while soaking up Andy Summers' chorus-infused tone and chops, and of course Sting's great bass line and vocals.
I also listened to Dolby's Amaze and Leaf Atmos trailers, and Dolby's demo clip of the movie Unbroken, which is a standard demo piece of content at trade events such as CEDIA Expo and was thoroughly impressed by the STR-AZ5000ES.
So, what's my takeaway with the new line of Sony receivers and specifically the STR-AZ5000ES? Sony crushed it. The AVR is easy to use, it sounds fantastic and most of all it is fun.
I don't think there's a question that authorized Sony dealers will benefit from the introduction of these receivers. The combination of a new Sony AVR like the STR-AZ5000ES, along with one of the company's projectors or TVs, and a source device like a PlayStation 5 or disc player will enable dealers to deliver a little slice of Hollywood heaven to their clients that includes a trusted brand name.
---
CE Pro and Cons
Pros
Loaded with features, the STR-AZ5000ES should meet a range of needs through its many options.
Excellent sound quality, smooth source switching and transparent video playback.
With 11.2 channels of immersive audio, HDMI 2.1 and more the competitively priced receiver provides high level of value in today's market.
Cons
This won't matter to integrators installing the AVR into a control system, but the companion remote is busy with lots of buttons. It's not really user friendly.
The auto calibration process could be more descriptive to help simplify the user process.
If you enjoyed this article and want to receive more valuable industry content like this, click here to sign up for our digital newsletters!