With 2022 winding down, it's time for the annual CE Pro look back at the year that was and some of the product highlights that stood out over the past 12 months.
This past year in the residential technology industry was interesting to say the least. Many people returned to the office or some type of pre-pandemic work schedule and to paraphrase The Cars, the industry continued to let the good times roll. Throughout 2022, home theater, networking, outdoor AV, work from home (WFH) and of course lighting continued their strong market sales.
Validating the custom installation industry's strong performance was the CEDIA Expo 2022 show. During the event, which took place in Dallas on Sept. 29 to Oct. 1, dealers and manufacturers returned in droves to warmly receive the market's marquee event.
As for the best products from the past 12 months, the 2022 products list of best products features a lot of familiar brands. To no one's surprise products from Sony, Sonos, LG, Kaleidescape, Epson, Crestron and Logitech make the list. Joining these well recognized companies are relative newcomers to the custom install market: OSD Audio, DALI and SVS.
OSD Audio has grown steadily over the past few years and today the company offers a well-rounded line of products. DALI is a major brand in the European home audio community and through its distribution partnership with Lenbrook (NAD, PSB and Bluesound) the company is making solid inroads into the American market. SVS has also been around for a few years. SVS' roots lie in the enthusiast audio market, but the company's leadership are custom electronics industry veterans and now with the brand established in the enthusiast market, SVS is poised to become a big player in the install community. C Seed is also a European company that makes a unique line of displays for indoor and outdoor applications. At CEDIA Expo 2022 the company wowed show attendees with its state-of-the-art outdoor folding microLED display.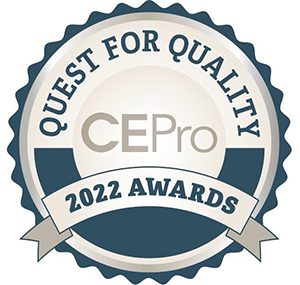 CE Pro urges integrators to recognize their suppliers that go above and beyond to deliver premium support and service. Cast your vote today to recognize the services (not the products) from your favorite manufacturers and distributors.
Cast your vote today!
This year's list includes a couple of projectors, some speaker solutions, a couple of different types of displays and to repeat an earlier line … and of course lighting.
Bob Archer's 2022 Products of the Year
More news from CE Pro: CE Pro Podcast: Favorite Moments from 2021