There are myriad reasons why the smart home and security industries have been converging in recent years, and CEDIA Expo 2023 certainly reflected this growing trend.
During the CEDIA Expo, which took place at the Colorado Convention Center in Denver Sept. 7-9, manufacturers addressing categories such as smart locks, access control, video surveillance and alarm systems exhibited their latest solutions that enable integrators to join or further entrench their companies in residential security.
Just as home controls companies are making systems more end user-friendly to operate and manage, so too are security providers. Additionally, with the inaugural Commercial Integrator Expo co-located with CEDIA Expo 2023, manufacturers showcased greater benefits and applications to assist in commercial projects.
Here is a sampling of just some of the security offerings being demonstrated on the show floor:
Ring
The big Amazon-owned company Ring reiterated its commitment and investment into the custom integrator channel, as well as how its popular solutions, ecosystem and app can also assist dealers who dabble in the light commercial world.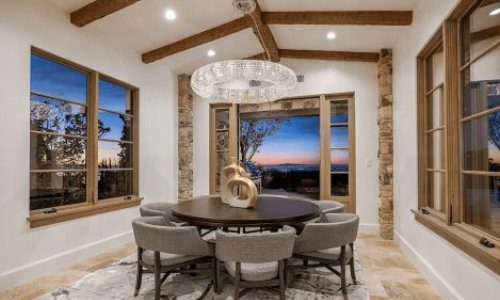 As a custom integrator, lighting is in demand. Effective communication, education and showcasing the value proposition of LED light fixtures in conjunction with integrative control systems are the keys to overcoming challenges and closing sales in this specialized market. Join us as we discuss the future of digital lighting and control with David Warfel from Light Can Help You and Patrick Laidlaw and Mark Moody from AiSPIRE.
Register Now! 
It clearly illustrated that just by its massive booth, which was the largest on the Colorado Convention Center's show floor this year.
Ring also continues to leverage its standing and resources as an Amazon brand, through which it natively integrates with any Alexa-based solution, such as Echo, Fire TV, Alexa Auto, etc., plus Amazon eero networking products. Additionally, the Ring platform is becoming more seamless with more and more third-party company's products, such as the new integration with popular control manufacturer URC, which was demonstrated in both companies' booths at CEDIA Expo 2023.
"The narrative for this show is we really wanted to focus on [integration] – for example, we may not natively manufacture a smart lock, but we work with a host of very reliable smart home brands and smart locks and that's all part of it," explains Abby Mendez, Sr. Channel Marketing Manager, Ring Commercial Solutions.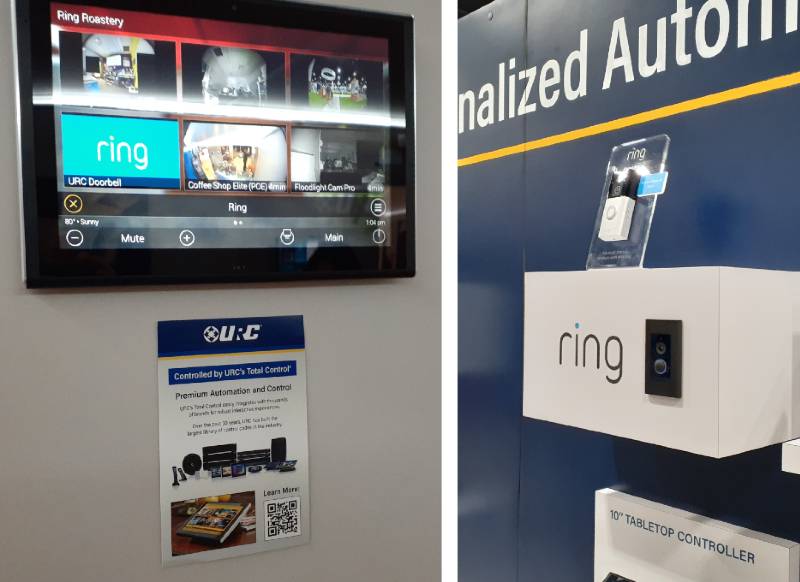 She adds that the video doorbell for which Ring became synonymous has been a driver for consumers to purchase more Ring devices, such as alarm and video surveillance products.
"We want to highlight this 'Better Together' approach with eero, so when you install Ring it senses an eero network and says, 'Hey do you want to connect to that,' so it just makes it an easier step," elaborates Todd Towey, National Sales Manager, Ring for Business.
He notes that the setup provides a better network for a home's Ring devices, and that with the amount of high-level, CE Pro 100 type integrators already implementing Alexa for voice control, they're in position to deliver a real-world application story to potential customers.
"They're buying and they're in the channel," Towey stresses. "I think it's our north star to say, 'Look, there's lots that you can do with Amazon and make the experiences really compelling with this enhanced integration.'"
Beyond leading smart lock companies such as Kwikset and Yale, Ring and URC recently announced their integration capabilities, which has Towey and URC VP of Product Development Lars Granoe were truly excited to discuss further with dealers as they did during CEDIA Expo.
"So now in their Total Control touchpanels, it's elegant and that's what we're trying to strive for dealers," Towey comments, adding that it's all part of an elevated experience integrators can give homeowners, particularly in the DIFM (do it for me) environment. "That's what we are apart of in this [Ring] app."
Within URC's user interface, the Ring app integration looks and functions the way customers have become familiarized with it. And then the URC platform enables dealers to program macros or other activations tied to Ring devices.
"It's a native integration, so video as well as notifications, that a dealer can install – we do Savant integration, Lutron," Towey says. "These are the things that when I started at Ring six years ago, it was, 'What are you doing in this channel, you're DIY, it's available at Best Buy.' Now, our messaging is around these are our doorbells and these are the benefits of it – we do that, but we now talk more about how Ring is a gateway and these experiences are compelling.
"Anyone can do a doorbell and anyone can do a camera, but it's the software side," he adds. "People will come up to me at the airport and see that I work for Ring and say, 'Oh, I love your app, and let me tell you why.' Because it's easy to use… and that's not a bad place for a dealer to be."
DoorBird
The IP door station and intercom specialist conveyed its mantra of combining form and functionality as it showed its sleekly designed and highly customizable products in its booth at CEDIA Expo 2023. Building off of its homebuilder and security dealer discussions earlier this year at IBS and ISC West, DoorBird personnel spoke to integrators about its blend of aesthetics and application solving.
"That's what the client – whether it's a homeowner or a building owner – is interested in, the design. I'd say a significant portion of what an integrator is installing today is going to be analyzed by how it looks," suggests Justin Clark, who Head of Sales for the Americas, Australia & New Zealand at DoorBird.
Clark notes that the company, which is headquartered in Berlin, Germany, with U.S. offices in San Francisco and Jacksonville, Fla., owes its industrial design DNA to its European roots.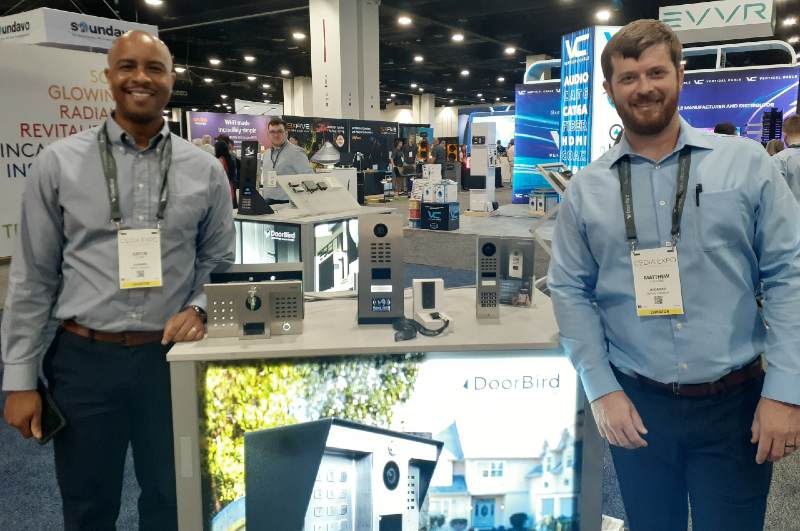 "When I went to Berlin for the first time, of course because I work for DoorBird I look at every other intercom I pass by, and over there the immediate difference I saw was that that intercoms make a statement out there," Clark says.
"One, they're huge and they're everywhere; and two, you can tell when that building was being constructed, they had in mind what intercom was going to be there. So there's a deep part of our DNA that's really focused on that European design element that's all over that space."
At CEDIA Expo, DoorBird was not only able to pitch its elegant wares to dealers who serve the luxury custom home market, but those who wish to expand into light commercial areas such as multidwelling/multifamily properties. Thanks to last year's acquisition of DoorBird by security giant ASSA ABLOY, the company has even more R&D fuel to bring MDU expertise and solutions to integrators.
"What we have is that MDU solution, so if you're trying to get into that space and are saying, 'I'd like to capture some of this MDU business but all I've done is single family' – we're the solution for you," Clark adds. "It's so easy to administer one of our multitenant products, and because of the ASSA ABLOY acquisition and because they live in that multifamily world, that's all we talk about."
Clark says that's informing the company on its integrations development roadmap. Earlier this year, the company even created a new position, Integration Development Manager, which was filled by Matt Fulford. He was also in the DoorBird booth sharing that story and its potential impact for dealers.
"A lot of what I'm doing here talking to the integrators is really listening to their feedback and seeing how strategic integrations with other companies can solve any type of issues and be able to help them win more projects," Fulford says.
Snap One Luma
Snap One outlined how its popular Luma x20 video surveillance products now deliver even more capabilities for home and business end users by giving them control over integrators' system access to view live and recorded video.
The company also highlighted its associated NVRs' (network video recorders) expanded functionality for the light commercial/resimercial market, with 16 and 32 channels and higher storage capacities, catering to the co-located Commercial Integrator Expo crowd.
"The story for Luma at the show is we've overhauled it. We showed it last year and shipped it in January to great fanfare, Partners love it – brand new cameras, brand new NVRs, AI everything, brand new app – everything," enthuses Eric Harper, Snap One SVP, Product Marketing. "And now we're expanding it to larger capacity.
"We're also introducing what we call Luma VMS – which is our video management system – and that allows you to bring up to 300 cameras into a single software dashboard," Harper notes. "So imagine you've got a restaurant with three or four locations, with a 16- or 32-channel NVR at each location. Through the dashboard if you wanted to watch the foyer in one to see the customers standing in line at one of them, we can do those sorts of things."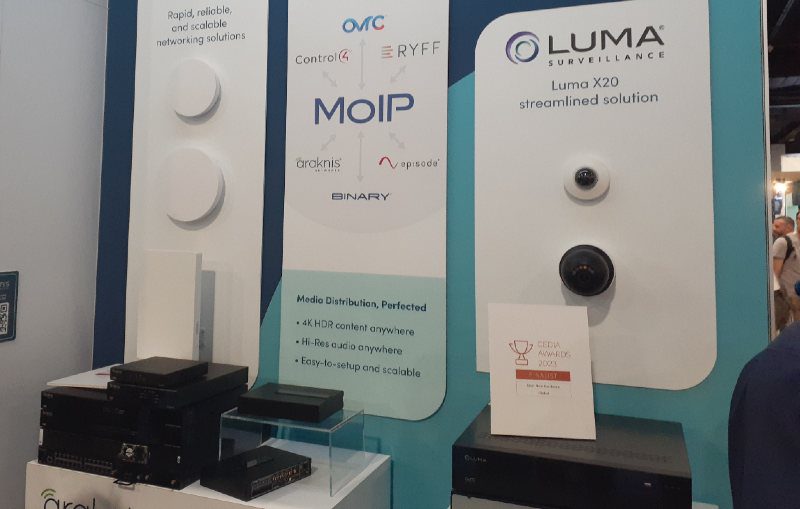 On the customer front, the company's new "customer handoff" provides enhanced user control after initial installation, allowing owners to have complete privacy while also making it simple to reinstate integrator access when maintenance or assistance is required.
When a Luma x20 installation is finished, integrators can send the customer a message via Snap One's OvrC platform that the client can click through to gain control in just five minutes, according to the company. There is no assistance required, no passwords to remember and no port forwarding involved, Snap One emphasizes.
Importantly, the NDAA-compliant x20 product family is the first Luma product line to include full OvrC integration, Snap One notes. This helps to simplify processes and client calls for dealers, and can reduce maintenance costs, system configuration and commissioning time, and truck rolls, plus provide better assurance of 24/7 operation.
2N/Axis Communications
Internet-enabled intercoms and access control provider 2N, an Axis Communications company, showed the upgraded functionality of its best-selling intercom, the 2N IP Verso, developed to enhance security and flexibility. The company says its latest-gen model is a direct response to 2N surveyed residential and commercial customers about the features they most wanted to see in access control devices.
The security updates in the new 2N IP Verso 2.0 include a full HD wide-angle camera which, based on 2N's internal research, is now a requirement in more than 50% of office projects (and is increasing being requested by homeowners too). The camera provides crystal-clear image quality even in very poor light, and can maintain full-image color until just minutes before total darkness, unlike other cameras that switch to night mode and infrared illumination at dusk, the company explains.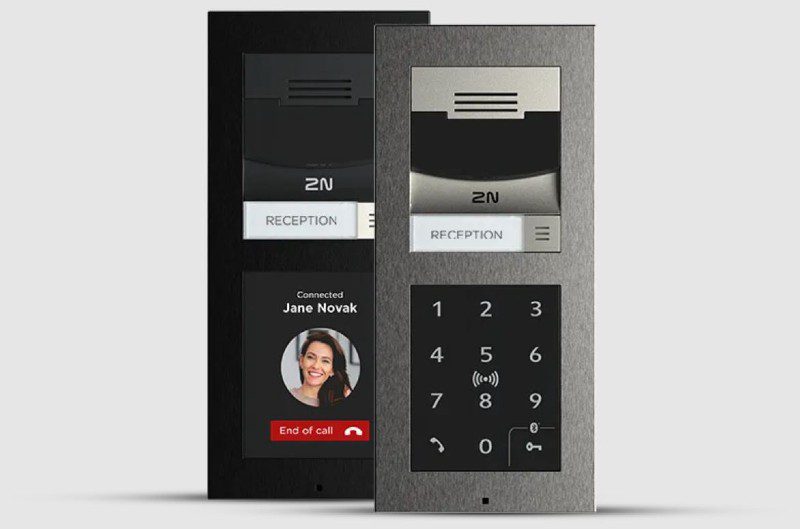 Additionally, the camera in the 2N IP Verso 2.0 supports Wide Dynamic Range (WDR), which eliminates black silhouettes in cases when the sun is glaring directly behind the visitor.
2N notes the third new feature is adaptive Face Zooming. The technology automatically zooms in on the visitor, allowing the user to identify them more easily on the answering unit or their smartphone. This benefits video intercoms that use a wide-angle camera, the company says, because while wide-angle cameras provide a perfect overview of the whole entrance, the visitor can occupy a relatively small space in the frame, making the face difficult to recognize.
The last enhancement is a new chassis made of anodized aluminium, which 2N says makes the intercom's body much stronger and better able to resist attempted vandalism.
"The IP Verso has been so popular for so long because of its modularity and reliability. However, you can't stand still for a moment in this industry and the option of adding new functionality is one of the features of innovative IP technology," remarks Joshua Gerena, Segment Manager, Commercial Real Estate/Multi-Tenant, at 2N.
"We are therefore constantly looking at ways to enhance the security or flexibility of our devices. In this case, we have delivered both in one go, and because of that, I'm very confident that the 2N IP Verso 2.0 will remain our best-selling intercom for some time to come."
IC Realtime
Video surveillance innovator IC Realtime returned to CEDIA Expo with new AI-enhanced cameras and AI NVRs built for AV integration. The company highlighted new drivers and functionalities for their latest integrations with Snap One's Control4 and Nice North America control systems to go with previously established third-part control compatibilities.
IC Realtime's newest AI-driven LPR (license plate recognition) camera and metadata streaming gear were also on hand. Other new video surveillance cameras shown at the booth included the latest IC Home InterCams such as the new Dinger Pro 5MP video doorbell and Orb Outdoor.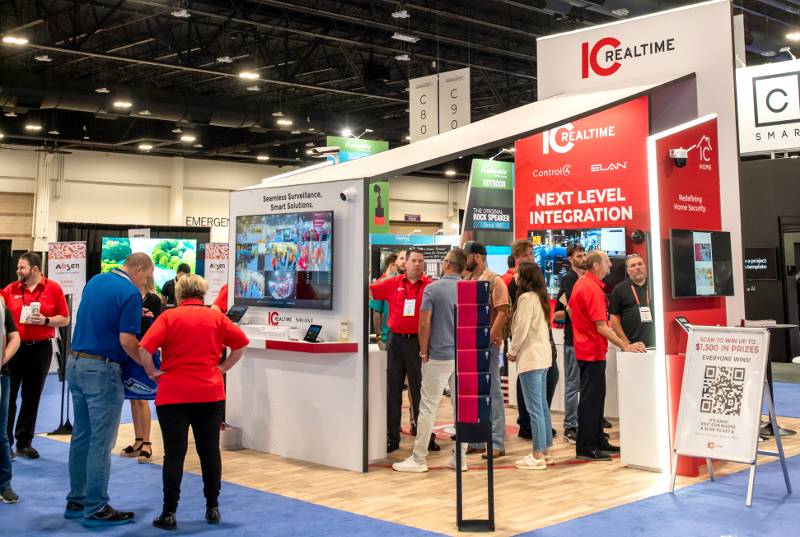 The company also announced new partnerships that include IP Configure's Orchid VMS systems using IC Realtime's NDAA & TAA cameras.
"Crestron and our fellow industry leader Savant were already capable of integrating. We built our gear that way because we recognized the trend," according to IC Realtime CEO Matt Sailor. "After all, moving from a 4K football game stream to a low-res camera feed just doesn't cut it. But IC Realtime's clean QHD & 4K video & audio feeds fit right in."
The company emphasizes that its streaming & cybersecurity upgrades achieve a new level of compatibility. For example, Control4's newest Halo remotes and Josh.AI can be up teamed together and work with the latest IC Realtime cameras for both cutting-edge video and control.
"Automation will always depend on the specific camera & recorder model and integration method. That's why we work with AV pros," Sailor adds. "The right camera integrator makes all the difference. Integrators experienced with IC Realtime gear, and the latest control integration are a recipe for happy clients."
Kaadas
Kaadas Group detailed expansive ramifications of how several of its Z-Wave smart lock models including the KA200 Key Free Deadbolt Lock, KA201 Keypad Deadbolt Lock, and KA211 Touchpad Deadbolt Lock are now certified via Alarm.com. The certification ensures the interoperability of select Kaadas locks with the popular Alarm.com smart home platform.
"After unveiling Kaadas Z-Wave smart locks to the industry earlier this year, receiving certification via Alarm.com is a critical step forward in our overarching 'Unlock the Kaadas Difference' strategy," explains Nick English, CEO North America for Kaadas.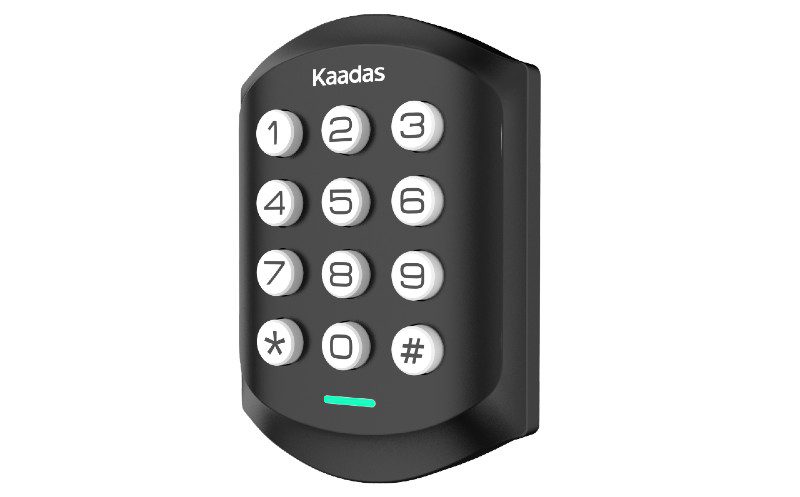 "As an integral part of any home security or connected home system, door locks serve as the guardian of a dwelling, ensuring peace of mind of homeowners by bridging the gap between physical security and digital convenience. Now, Alarm.com service providers have access to a new selection of lock solutions to choose from."
Additionally, Kaadas discussed several new distributor partners to support broader availability of the Kaadas portfolio. The full Kaadas North America portfolio including the aforementioned Z-Wave models, are available for order via its latest distribution partners – Lone Star Systems, WAVE Electronics, and Mountain West.
Kwikset
DEN Smart Home
DEN's now-shipping SmartStrike was the center of attention as the first low-profile, "invisible" wireless communicating door strike, that installs into a door frame. Featuring a completely inconspicuous design, users gain the benefits of a smart lock without compromising the aesthetic design of the door, all while maintaining existing door hardware, including the handle.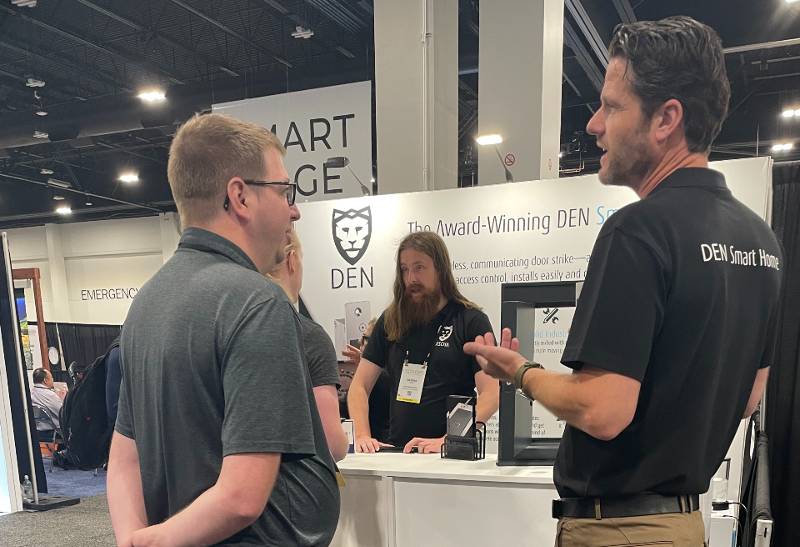 "The concealed design of the DEN SmartStrike streamlines inventory management, meaning dealers don't need to stock a variety of colors or styles," says DEN Smart Home CEO and Founder Marijn van der Wal. The company offered integrators at CEDIA Expo 2023 exclusive pricing on their first unit "so they can try the DEN SmartStrike at their homes or businesses to learn about the product and experience the benefits for themselves," van der Wal adds.
Once installed, users can unlock their door using a traditional key or via the Den SmartStrike companion app to easily, safely, and securely access their homes and businesses. Through the app, which is available for iOS and Android, users can create digital keys for family members, friends, and temporary guests.
Z-Wave enabled, the DEN SmartStrike is compatible with more than 4200 certified, interoperable devices. Future versions will add Matter, Zigbee, and Wi-Fi connectivity to provide compatibility with an array of IoT platforms. The SmartStrike is battery-powered with a lifespan said to last for up to two years.
ELK Products
ELK has an array of innovations, beginning with the E27 Alarm Engine. The highly anticipated E27 is shipping with discounts available at the Expo. The hybrid alarm control combines the best of both worlds, supporting hardwired and wireless sensors. The onboard Ethernet port, plus an optional Wi-Fi adapter, guarantees secure connectivity with multilayered authentication and encrypted communications.
"Our goal with the Alarm Engine platform is to create something a little different that will bridge the gap between the functionality of traditional hardwired systems and the convenience of self-contained systems," explains ELK Products President Mike Burrell.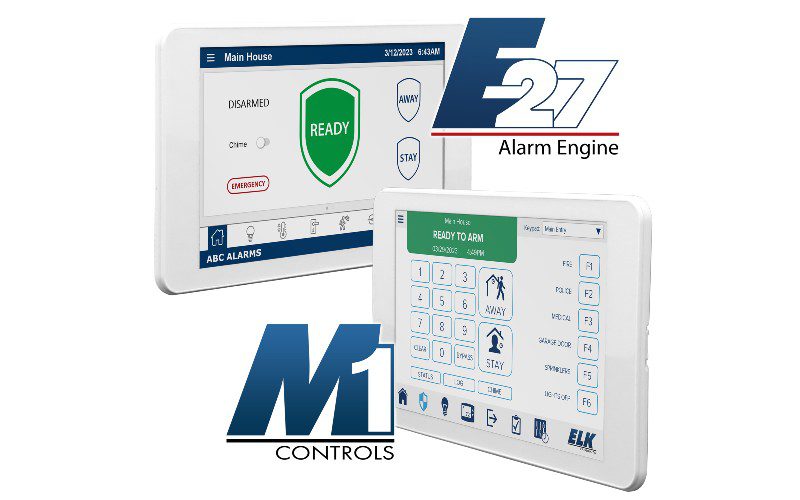 "ELK Products' E27 achieves that by combining hardwired reliability with embedded smart home technology. I feel that we've created a platform that will provide companies with a new alternative for their interactive needs."
A new sleek 7-inch touchscreen complements the new Alarm Engine and popular M1 Cross Platform Control with a modern user interface. A touchscreen version of ElkConnect ensures a consistent user experience for Alarm Engine installations, while a new M1 touchscreen application introduces a fresh, modern interface.
Other booth highlights included the ELK-130 High Powered Siren Driver, which provides security for isolated homes, retail or commercial businesses, and educational institutions; and the updated ELK Water Shutoff Valve and new 319.5MHz wireless water detector well-suited for E27 and M1 systems.
Kwikset
Smart lock specialist Kwikset also catered to MDU property access control installations. The company's UNITE, which it debuted at ISC West in the spring, enables property managers and owners in the multifamily space benefits such as reducing key management time and costs while helping to boost profits.
UNITE also facilitates increased occupancy, retention, and rental rates, according to Kwikset, as renters and owners of MDUs look to enhance their security and lifestyle through technology. Locks that employ Bluetooth and RFID are in high demand, the company adds.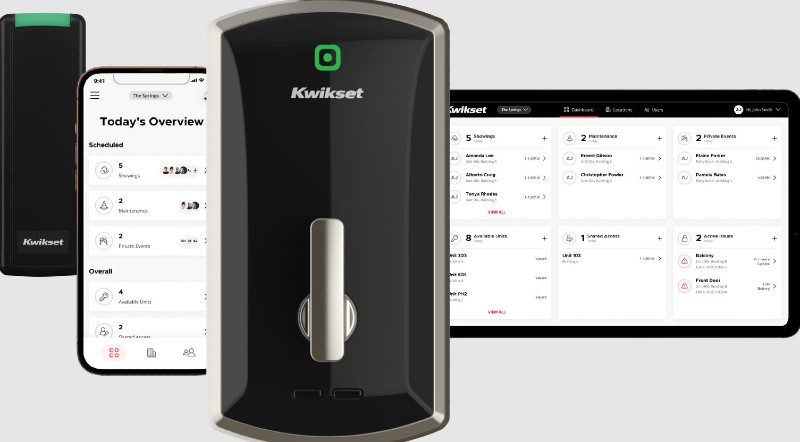 If you enjoyed this article and want to receive more valuable industry content like this, click here to sign up for our digital newsletters!