Integrators certainly have plenty of reasons to be high on the high-rise multidwelling unit (MDU) market, and that exuberance extends to the low-rise multifamily housing market too. As the cost of land and housing has catapulted upwards for the past decade, the affordability of single-family homes has become less and less feasible, especially for Millennials and Gen Z'ers.
Now, compound that lack of affordability with the fact that those younger generations are in their prime years as homebuyers, and they tend to be more desirous of technology amenities in their residences. The result is the perfect storm for high demand for custom installation services in multifamily environments.
What Are MDUs and How Many Are Being Constructed?
MDUs represent a broad group of structures, ranging from smaller duplex/triplex-style housing to massive high-rises with hundreds of units. According to the National Association of Realtors (NAR), there were a record 545,000 multifamily housing starts in 2022.
That is up more than 15% compared to 2021, and up a whopping 56% over five years. Even more impressive, MDU housing starts have climbed a mind-boggling 400% since the housing market meltdown in 2009. 
Comparatively, the single-family market is slowing. In 2022, there were just over 1 million single-family starts, down 10% from 2021. For 2023, single-family starts are expected to drop another 16%. While single-family homes have always been the bread and butter for residential technology integrators, in the past few years the MDU space has gained quite a bit momentum compared to suburban living.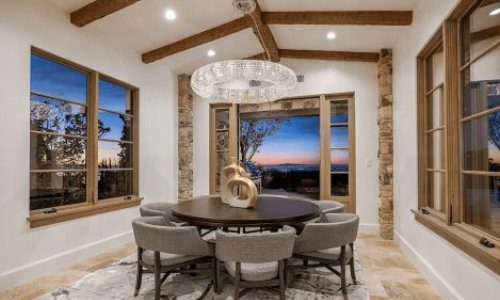 As a custom integrator, lighting is in demand. Effective communication, education and showcasing the value proposition of LED light fixtures in conjunction with integrative control systems are the keys to overcoming challenges and closing sales in this specialized market. Join us as we discuss the future of digital lighting and control with David Warfel from Light Can Help You and Patrick Laidlaw and Mark Moody from AiSPIRE.
Register Now! 
In fact, perennially there were four times as many single-family housing starts as MDU starts. But it's quite a different story now. In 2023, 56% of all housing starts are predicted to be of the single-family variety (852,000 starts), while 44% are anticipated to be MDUs (477,000 starts), according to a consensus of data from the NAR, Fannie MAE and the Mortgage Bankers Association.
It's also interesting to note that the MDU market is no longer just confined to areas like Miami Beach or Manhattan's Upper West Side. According to the NAR data, the top 10 states for MDU housing in 2022 in terms of multifamily permits were:
Texas (108,409 permits)
Florida (78,456)
California (55,128)
New York (30,591)
Georgia (29,818)
North Carolina (26,910)
Colorado (25,030)
New Jersey (24,234)
Arizona (23,757)
Virginia (18,507)
Digging into the Data Behind the MDU Market
All those demographics tell the story as to why more integrators find themselves migrating into MDUs. According to the CE Pro 2023 State of the Industry Study released in January, only 26% of integrators reported working on MDU projects in 2022. That means nearly three out of every four custom integration companies have not yet discovered this lucrative market. 
It is against that backdrop that CE Pro undertook its first-ever MDU Deep Dive Study this spring, and the positive outlook revealed in the results confirm the broader demographics showing the multifamily market is strong. According to the survey, two-thirds of integrators (66%) expect their MDU business to grow in 2023. Specifically, 39% anticipate their MDU business will be "much higher" this year.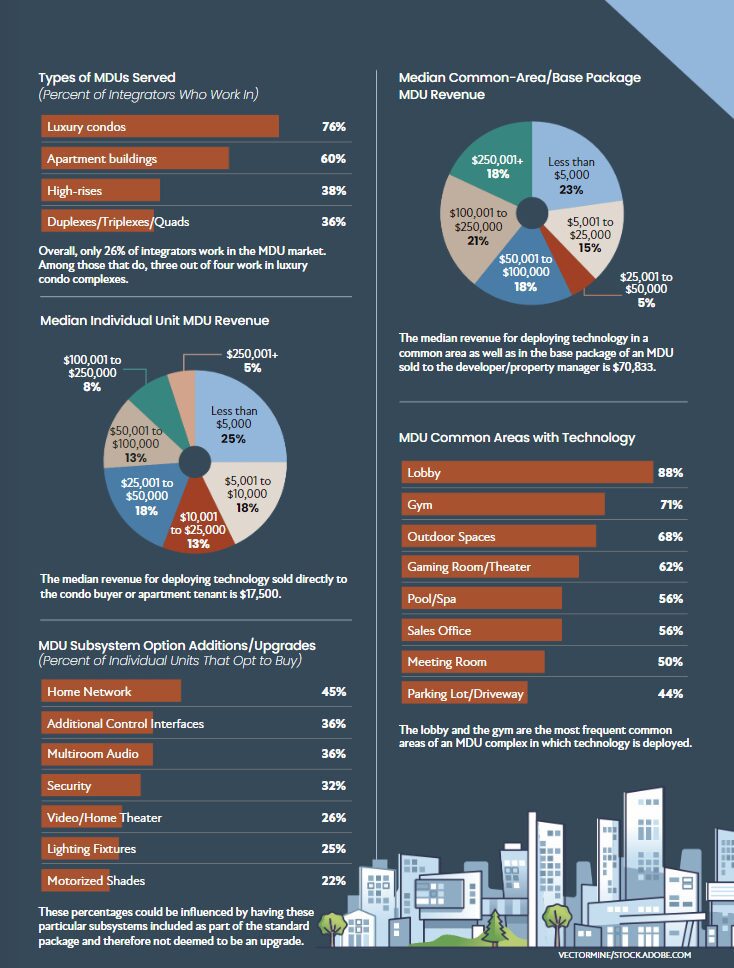 CE pros report working in various types of MDUs. Three-quarters of dealers (76%) deployed installations in luxury condos in the past 12 months, while nearly two-out-of-three dealers (60%) said they work in apartment complexes.
Just over one-in-three integrators (37%) installed systems in high-rise MDUs while the same percentage (37%) also worked in smaller multifamily housing, such as duplexes, triplexes, and quads.
The Developer/Property Manager
The multifamily market has a layer of complexity in that integrators have multiple sales opportunities with multiple decision-makers. First, they can work with the developer/property manager to outfit the infrastructure and common areas of the facility.
According to the survey, the areas of an MDU facility in which dealers most frequently deploy technology are the lobby, gym, outdoor environment, and gaming/theater spaces.
In terms of what types of technologies are deployed in these common areas, a wireless network and door access/gate access are by far the most common. Security/surveillance, outdoor audio, multiroom video, and single-space video are the next most frequent.
This can involve putting in access control (both for walk-in entry and for vehicle gates), video surveillance, outdoor audio, video walls or large displays as well as audio for the sales office and common-use home theater, and a wide area wireless network.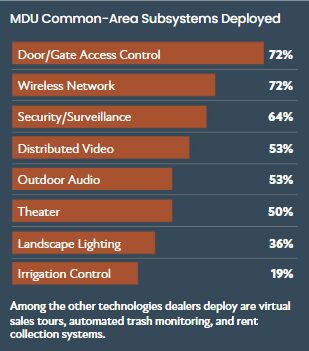 In addition to the common areas, dealers often work with the developer of both condos and apartments to deploy a base package of technology for individual units. That is much more likely to occur in a new construction greenfield project than in an existing facility.
The base package is often designed to help differentiate the facility from others with amenities such as thermostat control, smart locks, shade control and lighting control.
The smart locks and thermostat controls can serve a dual purpose in that they are not only useful technologies for tenants, but also for the property manager who can monitor the temperature in empty units, and simply change out the smart lock codes in between tenants, saving time and money.
According to the survey, the median sale to the developer/property manager is $70,833. In nearly one in five MDU projects (18%), the sale expands to more than $250,000, so it can be quite lucrative. Most developers will calculate that cost on a per-unit basis when determining the value.
The Tenants
The other decision-makers are the tenants, whether those are individual condo owners or apartment renters. For condos, dealers can upsell all sorts of amenities. According to the CE Pro survey, an upgraded home network is most common, followed by additional touchpanels, distributed audio, security, additional TVs/video, and lighting fixtures.
This part of the sale puts increased importance on the integrators' ability to meet with every potential tenant, while also having the manpower to handle deployment on a mass scale. Many high-rise projects will only release a few floors at a time for sale because that limitation helps contractors focus on those floors only versus having to deploy systems in the entire building.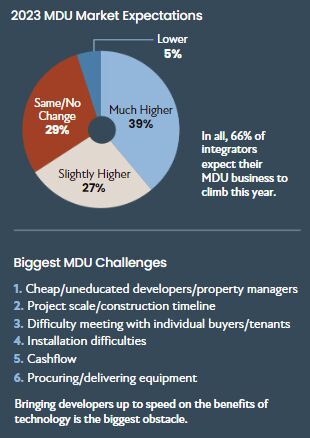 According to the Deep Dive survey, the median upgrade sale to an individual tenant is $17,500 per unit. So, in a large MDU, again it can be a big moneymaker. It's not uncommon for luxury condo owners to completely gut a unit to accommodate their tastes, especially in a penthouse unit; thus, in about 5% of MDU projects, dealers report they upsell more than $250,000 in upgrades.
When asked what their biggest challenges are working in the MDU market, the responses are not much different from the obstacles dealers face in single-family housing circles. Dealers report cheap, uneducated builders/developers/property managers are their biggest hurdle.
Managing the scale of an MDU project is their second-biggest challenge, following with difficulty meeting with individual buyers/tenants. Installation difficulty is another big challenge, as high-rise MDUs require massive vertical wire runs, for example.
Finding the Right MDU Market Formula
Michael Oh, president of TSP Smart Spaces in Boston, is one integrator who has figured out how to thrive in the MDU market. 
"There is no better disposable income than a billionaire who spends $3 million to $5 million on a condo that is his or her third or fourth crash pad in the city. Those are clearly the types of customers that custom integrators want," he quips.
TSP Smart Spaces launched back in 1982 with a central focus on commercial IT support. Over the decades, Oh has built an IT-centric recurring revenue base of more than $3 million. When the iPad was launched, it forced the company to begin serving its clients in their residences as they looked to access their work from those mobile devices. That enabled TSP to transition its business so that it now earns another $3 million from traditional residential and commercial AV installation service.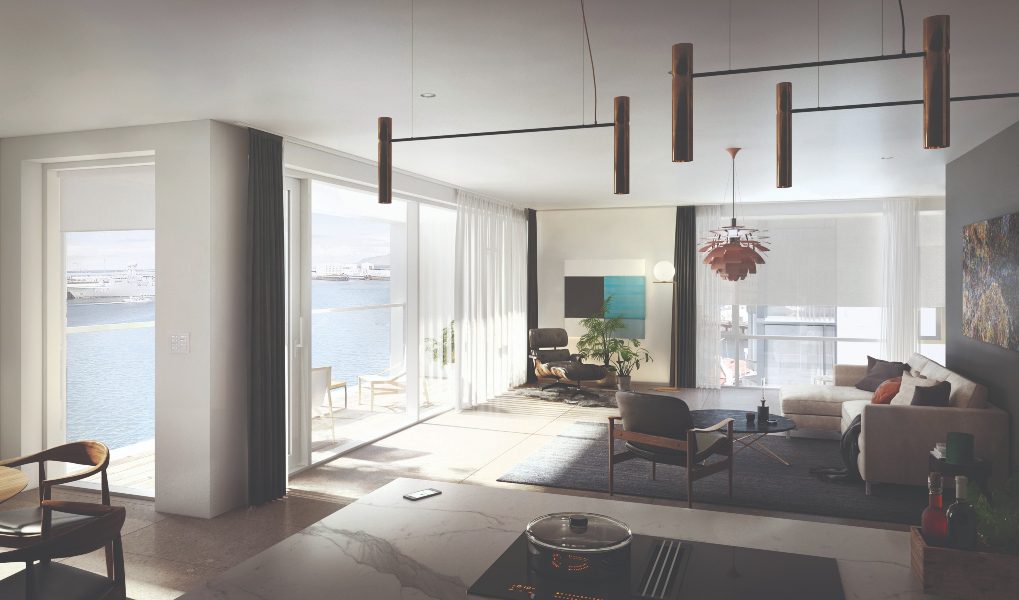 With a strong footing in both the residential and commercial markets, TSP Smart Spaces is well suited to take on the MDU space, which in many cases requires it to be run like a commercial application. That focus started in 2016 when the company consulted on a high-end luxury 70-unit condo complex called the Austurhöfn in Reykjavik, Iceland. The average sales price per unit was $1.5 million.
Based on the consultation, the developer hired TSP to deploy the common area access control and lighting, along with the smart home package for the individual units. A handful of the units were reserved for affordable housing, so TSP did not upgrade those residences.
Every unit got a base-level package paid for by the developer of about $7,000 per unit. That bundle included Lutron RadioRA lighting control, Savant smart host and thermostats.
"An integrator needs to have a different value proposition for every person involved in an MDU property, from the developer to the condo buyer," he contends.
"When talking to the individual buyer of a condo unit, you need to talk about the luxury experience of having the technology, but developers don't give a crap about that; they only care about the cost and the return on investment.
"Often, ROI and cost are difficult to optimize in the integration world. An integrator is not just going to install the lowest cost solution. So, often an integrator is immediately swimming upstream on an MDU project."
Leveraging a Quick Tenant Procurement Strategy for Developers
Oh says the biggest lever for developers is speed.
"Some might think differentiation is most important, in terms of making a condo or apartment complex different from the one next to it that has similar amenities. But ultimately, the developer cares most about speed of sale," he says.
In the grand scheme, if an integrator adds technology that elevates a $2 million condo up to a $2.5 million condo, the smart home technology's goal is to raise the emotional engagement and excitement for the potential buyer so he or she will sign on the dotted line sooner.
"That is what I have found to be the key lever for the developer. Everything else was flat."
To help sell the units quicker, TSP Smart Spaces creates lavish 32- to 52-page brochures for each property. The leave-behind brochures are beautifully designed and go through all the subsystems in a smart home, such as shade options, keypad styles, and more.
The company also built a microsite that connected to the website for the facility. That microsite includes a Matterport interactive tour. Condo buyers are offered an array of upgrades, including Lutron motorized shades, invisible Amina speakers, freestanding Devialet speakers, Lutron Palladiom keypads, and additional LG TVs.
Outfitting the sales unit in the facility is also key, according to Oh. TSP loaded up the sales unit with technology.
"That is 100% key to success, even if you have to pay for it yourself," he says.
In the end, it worked. The average upgrade sales price ranged from $30,000 for domestic buyers and $48,000 for international buyers. The penthouses were a different story — one of those units had $225,000 in tech upgrades.
"So, in the end people are willing to spend about 2% to 3% more to upgrade their units," says Oh. He says it is important for integrators to not let developers label an MDU as a "smart" by simply putting in connected thermostats.
"That's laughable and as an integrator, it is tremendously devaluing," he adds. "You need to show the developer the numbers that people are willing to put 2% to 3% of what the unit is worth in additional technology alone."
If you enjoyed this article and want to receive more valuable industry content like this, click here to sign up for our digital newsletters!