CE Pro Podcast #57: Savant Invests Heavily in Audio
Savant's new 9.4 software release offers increased personalization and integration with Spotify and other streaming services.
Listen to this podcast using the embedded player below.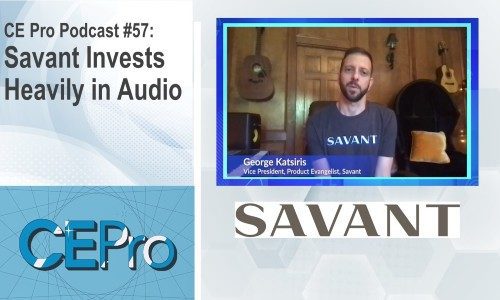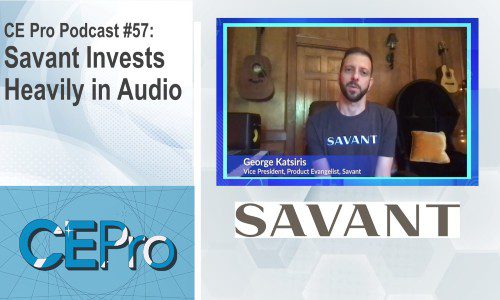 Savant is one of the most diverse companies in the custom electronics industry in terms of its product solutions, which range from control systems to lighting to energy. These days the customer journey often starts with audio, for which Savant's new 9.4 software release offers expanded streaming services and further personalization for managing music.
"A few years ago we started down the path of creating direct certified integrations with all the major streaming music services," notes George Katsiris, Savant's vice president and product evangelist. The new 9.4. software release includes direct integration with multiple music services, including Spotify, Pandora, Deezer, TIDAL, iTunes. Sirius XM and others. The software enables users to personalize their music using the Savant Pro App.
"So Savant really truly becomes the source for these major music services," says Katsiris. He notes that the personalization allows the interface to be just as valuable for the "power user" of streaming services who wants to dive deep into the various features of a music service and share it with headphones or in the car, as well as meet the needs of the casual listener. With some control systems, users are not able to get the same level of depth using the interface compared to the individual app from a particular music service, but that is not the case with Savant.
"By leveraging the API, it allows us to ingest all the functionality into the Savant experience. We add unique value," he notes.
Savant Audio Benefits from Industry Icon Christie's Expertise
Meanwhile, Savant Audio is moving forward with its soundbars, speakers and amplifiers, building off the in-house expertise from its acquisition of Artison in August 2017, led by industry giant (and 2020 CE Pro Masters class honoree) Cary Christie.
The result is that Savant is bringing an end-to-end audio solution to integrators that can be either a standalone system or integrated fully into the home as part of a broader Savant solution.
Katsiris outlined the full level of investment the company is making in audio for CE Pro during the conversation.
Here much more of the conversation between George Katsiris and Jason Knott in the podcast video and audio links above. Find past episodes of the CE Pro Podcast by subscribing to the CE Pro YouTube channel or our Apple and Spotify podcast feeds.