CE Pro Podcast #88: Best of CES 2022 for Custom Integration
Samsung, Hisense, TCL, Z-Wave, Moen, SureCall and others came to Las Vegas for CES 2022 and did not disappoint for integrators.
Listen to this podcast using the embedded player below.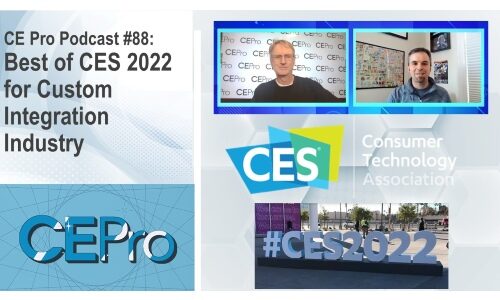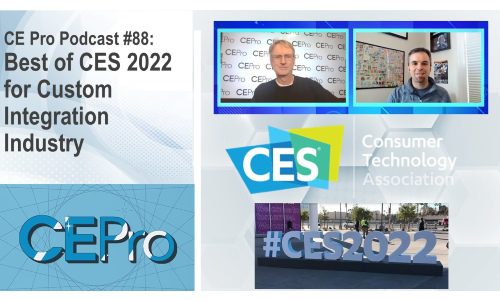 Don't believe what you see or hear in the general media… CES 2022 held Jan. 5-7 in Las Vegas was a successful show. In fact, for custom integrators the lower attendance actually meant suppliers weren't being distracted by non-target-audience attendees who in past years crowded the aisles and packed the booths looking for tradeshow promo giveaways.
You could even move between venues of the Las Vegas Convention Center (LVCC), which is where the automotive and video displays were located) and the Venetian Expo Center (formerly the Sands) where the Smart Home, Wellness and Eureka Park startup areas were located. In the past, moving between venues during the day was a 2-hour ordeal with traffic and lines. This year, the shuttle buses were ready and waiting. At the LVCC, you could even take the new Tesla Hyperloop underground tunnel to migrate between the new West Hall and the Central and North Halls. Also, the lower attendance also meant less expensive hotel rates (as low as $45 per night at 4-star hotels like the walking-distance LINQ.)
In terms of safety, the Consumer Technology Association (CTA), the producers of the event, took extreme precautions. When you arrived in Las Vegas you had to show your vax card to get a badge. The association also handed out free COVID test kits to everyone and encouraged testing. (Post-show, CTA donated the remaining test kits and any extra food to the local community.) And, EVERYONE was wearing a mask.
Normally, the show has over 4,000 booths and it still had 2,300 booths. Overall official attendance not announced but it is estimated there were 50,000+ attendees versus the normal 180,000. Not bad.
There were some empty booths that were disappointing. LG, Ring and Schneider Electric were among those that pulled out. Others that stayed, like Sony, only brought a smattering of gear. In fact, Sony did not bring any displays but only had its new Vision electric car, drones, Playstation5, and satellite equipment on display.
LG's marketing department did get creative with its empty booth. The company had colored lines drawn on a wooden floor that depicted some of its past CES booths, were QR codes on signs so attendees could see some of the past innovations.
CES 2022 Big Booths Featured Samsung, Hisense
Among the big booths that were still there, Samsung had a full display but the company actually walled off its booth. You could only get in by appointment with a private tour. In its booth, it showcased its new SmartThings Energy system that tracks the usage of individual devices in the home in an app, its new Bespoke line of smart appliances with new colors, its new sustainable packaging that can be made into fun origami structures, The Frame TV with its new matte finish, and The Wall MicroLED among other things. Samsung Also showed giant 55-inch Odyssey Ark curved monitor set vertically for gaming, and updated its solar-powered remotes.
Hisense also had a large presence. The company has been making waves in the custom market with its Laser TV combination of an Ultra Short Throw projector packaged with a screen. At the show, Hisense announced its new PX1 UST comes without a screen, which allows integrators to sell more expensive screens if they want.
The company also showed a dual UST side-by-side setup projecting two 120-inch screens blended. The digital signage application is just $15,000 compared to $500K for a similar-sized MicroLED setup. Lastly, Hisense also showed its Connect Life W-Fi ecosystem connecting to high-end appliances like ASKO, a prominent brand in Europe.
TCL was another company with a large booth. The company's displays are primarily sold at retail in places like Best Buy and Walmart, but of interested to integrators was a dual MicroLED 8K TV that was unbelievably thin and impressive.
On the audio side, Voxx International was there with its automotive gear but also a dedicated section to its Premium Audio. This is the first time Klipsch, Onkyo, Integra and Pioneer Elite were together under the Premium Audio name. The booth was unique in that it paid tribute to Paul Klipsch and other pioneers. In the booth, on display were the impressive 75th anniversary Klipschorn Speakers and the new Klipsch Cinema 800 soundbar, which has a sleek metallic finish and large digital decibel readout right on the soundbar.
SureCall was also at the show with its new Fusion4Home Max cell booster that is compatible with all 4G and 5G devices from all North American carriers. The unit offers the highest system gain in its class, providing maximum indoor coverage and producing high quality signals.
Smart Home Pavilion at Venetian Expo Center
Over at the Venetian Expo Center, the the Smart Home pavilion was definitely sparser. Z-Wave Alliance was there with several key players, including DEN smart deadbolt, ZOOZ sensors and automatic water shutoff system, and AirZone Control wireless modules for controlling mini-splits.
Moen had a large booth showcasing its smart shower with an interface that allows for presets for pressure and heat based on the person. Also, the company also had its motion sensing and voice control faucets, which can be connected to Flo by Moen, which is the company's automatic water valve shutoff device that integrators can sell.
Speaking of water , one other booth that was kind of cool is Rainstick. It's a WiFi-controlled shower captures 80% of the water that goes down the drain, hits it with intense UV treatment and sends it back up the showerhead.
Downstairs at the Venetian was the Eureka Park area that houses the startups. The area was quite busy and had robots, gaming systems and other unique technology with sections featuring companies from France, Israel, Japan, Korea, Italy and other parts of the world. Most of the products aren't even on the market yet.
Among the coolest startups was the Parity Mirror from Japan-based Parity Innovations. The device creates a floating interface of any design that is swipe-able and press-able, similar to the interfaces in the Tom Cruise movie "Minority Report."
Lastly, among the casualties was reception for the CTA Smart Home Division Mark of Excellence Awards. CTA cancelled the reception at the last moment due to safety issues. The award winners and entries can be found online.
To hear more about CES 2022 check out this week's podcast episode via the video or audio player above. Find past episodes of the CE Pro Podcast by subscribing to the CE Pro YouTube channel or our Apple and Spotify podcast feeds.