Sound United LLC, parent company to Denon, Polk Audio, Marantz, Definitive Technology, HEOS, Classé, and Boston Acoustics, has announced it entered into a preliminary letter of intent to acquire Bowers & Wilkins. Terms of the pending deal are not disclosed.
Bowers & Wilkins, makers of loudspeakers, headphones, custom installation products, wireless speakers and branded audio systems in the automotive and television markets, is among the leading brands in custom installation.
"Over the course of five decades, Bowers & Wilkins built one of the most prestigious brands in the global speaker market with industry-leading acoustical engineering, iconic design and marketing," says Kevin Duffy, CEO of Sound United. "B&W is a transformative brand and we look forward to the opportunity to finalize the transaction. This reflects Sound United's unwavering focus to achieve its mission of bringing joy to the world through sound."
The proposed transaction remains subject to ongoing discussions, confirmatory diligence, regulatory approvals, and other required consents. Sound United and Bowers & Wilkins will release further updates in relation to the status of the proposed transaction at the appropriate time, according to a press release.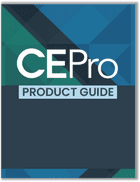 CE Pro's 2022 Product Guide showcases some of the latest and innovative solutions from manufacturers serving the custom electronics industry in a cross-section of categories.
Download the guide now!
Bowers & Wilkins issued a statement noting that discussions are still in the very early stages.
"Discussions between Bowers & Wilkins and Sound United are at an early stage with a view to consolidating our premium brands into a new group offering even better consumer opportunities. If our discussions are successful, combining Bowers & Wilkins' engineering and manufacturing expertise in the premium category with the breadth of resources and capability of Sound United could certainly be a transformative step for both brands. It would allow the Bowers & Wilkins team even greater opportunities to focus on what we do best – building the industry's finest loudspeakers," says Geoff Edwards, CEO of Bowers & Wilkins.
The statement goes on to say that should the two brands decide to move forward, Sound United would acquire all worldwide third-party distribution and licensing agreements under which Bowers & Wilkins premium audio products are currently sold. This does not affect any of the existing Bowers & Wilkins product portfolio or any of the products Bowers & Wilkins currently distributes or current global operations.
Sound United is a portfolio company of Boston-based private equity firm Charlesbank Capital Partners LLC.
Both companies have a strong presence in the custom electronics industry. According to the 2020 CE Pro 100 Brand Analysis Study, B&W has the second-highest marketshare with 41% of CE Pro 100 companies. The company is also the No. 3 brand in subwoofers, with a 32% marketshare. Its headphones are used by 22% of CE Pro 100 integrators. Lastly, B&W architectural in-wall/in-ceiling speakers are used by 35% of top dealers, making it the fifth-most-used brand.
B&W was founded in Sussex, England, in 1966. The company was acquired back in May 2016 by EVA Automation, led by former Facebook CFO Gideon Yu. More recently, B&W announced a shakeup of the executive leadership in February, breaking off the company from the same leadership as EVA Automation. It was announced at that time that Yu and former Samsung executive Greg Lee would no longer lead B&W. The company made a splash last year when it returned to CEDIA Expo after a hiatus of several years.
For its part, Sound United has several leading brands. Marantz has a 38% marketshare in AV receivers, while Denon has a 27% marketshare. HEOS garners 12% of the wireless speaker market. Marantz is the No. 1 home theater processor company with 35% of the CE Pro 100.
In May 2019, Sound United attempted to acquire Onkyo, Pioneer and Integra, but the deal fell through in October 2019. In 2018, the company acquired Classe. Back in March 2017, Sound United acquired Denon, HEOS, Marantz and Boston Acoustics. In December 2019, the company named industry veteran Frank Sterns as senior vice president, commercial operations – Americas. Sterns recently told CE Pro one of his goals is to make Sound United a dominant brand in the market.