Recently, CE Pro sat down with Frank Sterns, senior VP of commercial Operations at Sound United, to discuss why he decided to join the company, whether he'll be involved in product development, and more.
What excites you about being part of Sound United?
Getting back to my roots in audio. I got into this business because I love music and sound. I started my career in high- end audio, then added mass-market audio and car audio at Infinity/Harman in the '80s before moving over to CI at Niles in the '90s and 2000s. The last seven years at Sony I focused on TV and video, which was great, but I missed audio — especially loudspeakers, so I'm thrilled to be back in the speaker business.
Another thing I'm particularly excited about is being a part of the executive leadership team. Helping set the strategic direction for iconic brands like Polk, Definitive Technology, Denon, Marantz and Classé is a dream job for me.
Finally, I love building teams and processes. So the idea of taking what I've learned about sales and channel development over the last 35 years and teaching them to a new group of audio industry professionals is exciting as well.
---
Do you foresee getting involved in more of a product development role?
I will not be directly responsible for product development at SU. However, my responsibilities as GM for all brands in the Americas is a big role and I'm certain my voice will be at the product development table. I already see a lot of opportunity for new products and technology.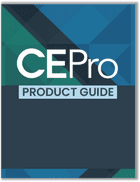 CE Pro's 2022 Product Guide showcases some of the latest and innovative solutions from manufacturers serving the custom electronics industry in a cross-section of categories.
Download the guide now!
As part of our current mix, I think the new Denon Home wireless speakers are going to be a big hit and I see several ways to expand that offering to more markets and channels. The recently introduced Polk Legend series and Definitive Technology Demand series really impress me and I have ideas on expanding these product lines as well.
As a side note, the head of product development here, Brendon Stead, also worked at Harman previously. I tried to bring him to Niles in 2009, but I couldn't get him to move to Miami. Moreover, the head of loudspeaker development at Sound United, Matt Lyons, developed a line of subwoofers for me at Niles. So given my close working relationships with both of these gentlemen, it's a sure bet I will be involved in product development.
---
What lessons did you learn at Sony about strengthening its position in the CI channel that you can replicate with Sound United?
Many of the things we did at Sony were originally developed at Infinity and at Niles. We focused on developing the sales team, ensuring every member intimately knew the objectives at hand through a rigorous sales management process.
While I'm still learning the Sound United system, I'm pretty confident many of the methods I used at Infinity, Niles and Sony will work here too. After all, most are just good fundamentals — like blocking and tackling in football. Setting goals, communicating to staff and dealers, developing reports, tracking metrics, and then having the discipline to follow through is what I'm good at and will replicate here.
---
Do you have specific goals/plans to help the brands further differentiate from their competitors?
Clearly, Sound United has significant brand equity, relationships and a dominant market share in these categories and that gives us great leverage to compete. Additionally, core technologies like HEOS enable us to expand the reach of our offerings to new markets and customers. Obviously, a focused CI strategy is percolating in my head as well. Stay tuned.
---
What are some market opportunities Sound United believes can help integrators grow their businesses in?
As I mentioned, I am particularly excited about the Denon Home product line. It's a wireless speaker system with HEOS built-in and can be configured through the HEOS app as a single speaker, stereo pair, center channel, or surrounds. It plays Hi-Res audio files, sounds fantastic and has category-leading dealer margins. I believe it has great potential to form the backbone of a whole-house, Hi-Res wireless ecosystem and it should do quite well in light commercial jobs as well.
On the electronics side, both Denon and Marantz will introduce new products this year with HDMI 2.1 capabilities I believe will create huge upgrade paths for integrators.