You might think that 23.1 percent sales growth in 2018 is satisfactory, but not for the Home Technology Specialists of America (HTSA) buying group. Despite many of its members posting record years in terms of revenue, the 96-member alliance is focusing on sales improvement, among several other initiatives, for 2019.
The sales thrust will be led by newly hired Keith Esterly, HTSA's new chief learning architect. Esterly brings a lengthy background in sales training from many years at Tweeter and then Wal-Mart. Esterly was introduced to the group during HTSA's spring conference in Phoenix, featuring 326 attendees.
Jon Robbins, executive director of HTSA, says the board concluded that, in general, its members and the entire industry have "lost of the science of selling, which is odd because that passion for sales is what brought a lot of companies into this industry originally," he says.
"The industry has become too techno-centric. The art of the sale has left the industry. The board decided we needed have our sales performance skills equal our specification and technical skills."
"The industry has become too techno-centric. The art of the sale has left the industry."
— Jon Robbins, HTSA
The result is hiring Esterly, who is a full-time HTSA employee, not a consultant. The move is similar to the one the organization made nearly two years ago when it hired industry veteran Tom Doherty as its special projects coordinator.
"Our goal is to figure out how we can change the experience for customers who use HTSA members. We are going to do this by 'cracking the code' on human interaction," says Esterly.
"We are going to create a learning initiative that goes beyond just sales training, but focus on the entire human interaction process. We want to take it the next level. "
He continues, "Right now, the distinction between dealers is very thin in the minds of many customers. Once HTSA members adopt these sales techniques, I believe the change will be in the orders of magnitude."
HTSA Sales Training Agenda
Esterly cited how he was able to transform Tweeter's sales process from 1998 to 2008: "We knew the days of selling boxes was over. In 18 months, we changed every salesperson's view on sales. We flipped it from a situation where 80 percent of the training time was focused on the technology to 80 percent being focused on the experience for the customers. We can move every HTSA member along toward better sales no matter where their starting point is now." he says.
To do this, Esterly will:
Conduct 3-day immersive sales training with each HTSA member company and their entire team individually in their showrooms
Hold several regional Master Classes in sales training
Teach sales training sessions at HTSA's spring and fall meetings
Conduct a sales training at HTSA's project manager training later this year in Chicago.
The training itself will focus not just on end-user clients, but also architects, builders and designers.
"This won't just be sales training, but also delve into custom loyalty and retention elements so HTSA members can seek out and retain lifelong customers," says Esterly.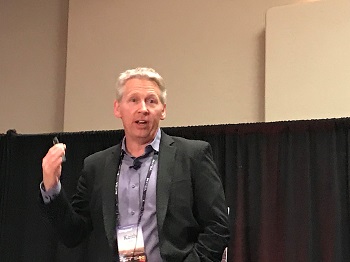 The crux of Esterly's human-interaction sales training revolves around the principles of:
Reciprocity
Scarcity
Authority
Consistency
Liking
Consensus
Robbins notes, "We will measure the success of this program by sales growth. While others might be predicting gloom, we believe in 2019 we can sustain business despite murmurs in the economy."
He added, "We are trailblazers. We will continue to make investments to elevate our members and vendor partners. We are flattered and thrilled that other industry organizations are following us. It is good for the entire industry. We are 'locked in' and will continue to do good."
Continued Focus on Lighting, Energy, Wellness
In addition to the sales training forf 2019, HTSA will continue its lighting fixture, energy storage, and health and wellness programs for members during the year.
The group announced two new lighting fixture vendors at the show: Tech Element and LF Illumination. They joing DMF Lighting, Lightology and Pure Edge Lighting as the buying group's fixture vendors.
Doherty believes that when other lighting fixture manufacturers see these firms, and others, that have "crossed the picket line" to engage with custom integrators, others will follow.
However, Doherty says he is not in a hurry to add lighting fixture manufacturers, but instead is being deliberate and selective.
Related: HTSA Moves the Bar Higher in Lighting Fixtures
He noted the vendors chosen not only have to have the right products, but also the right business model.
"We need our members to have the right toolkit, but we don't want to compromise on the business partnership. The lighting fixture vendors need to conduct business with HTSA members the same way all the other vendors do," says Doherty.
Those primary criteria include:
Having a uniform pricing policy
The ability to ship product directly to integrators versus requiring purchase via distribution
Establishing a national sales sheet
In addition to lighting fixtures, Doherty is working to establish HTSA solidly in the energy storage business, working with partners like RoseWater Energy Group and SurgeX/Ametek.
"Energy storage and management is a fundamental element that our industry has been under-selling for years. Integrators need to be able to talk intelligently about the topic of electricity," he says.
Lastly, HTSA is working with Delos to move its members into the health and wellness category by creating working business models that members can adopt.