Last month, the home-tech buying group Azione Unlimited held its annual fall conference, this year in Denver. But it wasn't just any ol' Azione conference. It was the first to convene since the group clinched its 200th dealer member in September.
Only 50 more dealers to go, and Azione chairman Richard Glikes will have reached the 250-dealer goal he announced in 2012 at the first Azione conference in St. Louis.
At that time, one year after founding the organization, he had recruited 46 dealer members, along with several marquee vendors.
"I'm a builder," he said, celebrating the milestone with some 250 Azione guests in Denver. "That's why 200 was so big. People are happy. They have business relationships. They have ideas. You look at them at dinner, there's collaboration and buzz …."
And buzz there was. As usual, the event featured roundtable discussions, dealer success stories, team-building fun, and good food and libations.
This time around, though, Glikes added a series of 20-minute talks, or "Inspired Inspirations" in Glikes speak, covering everything from the relationship between technology and design (Barco's Tim Sinnaeve) to the idiocy of customers (BDX's Tim Costello).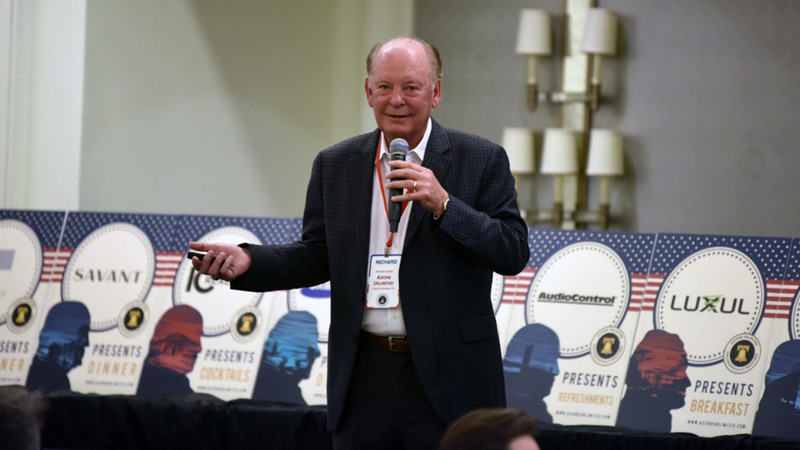 Focus for 2019
Glikes says Azione has three main focus areas for 2019:
Business Development
Integrators should stretch their comfort zones, moving into newer product categories to grab more business.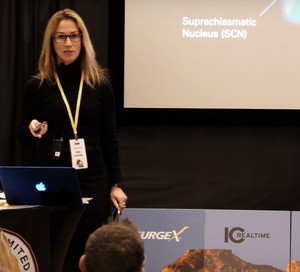 "The lighting designers love you and hate you, probably at the same time …."
— Ann Schiffers, USAI
Glikes highlighted a few of the more promising categories, including lighting, power storage and management, and wellness solutions.
He tells CE Pro he's looking at a few options for power storage systems – companies like Tesla, Sonnen and Rosewater energy, to name a few – but hasn't yet brought a vendor into the group.
Most immediately, Glikes and team are pushing new lighting opportunities, including fixtures, tunable white and low-voltage LED systems – represented at Azione by Lumastream, Coastal Source, Wolfers Lighting and USAI.
Earlier this year, home-automation provider and Azione vendor Savant teamed with light-fixture manufacturer USAI to offer end-to-end LED solutions from fixtures to controls to project design tools.
USAI's Ann Schiffers spoke at Azione about the importance of human-centered lighting (HCL) – delivered through tunable white fixtures – to regulate circadian rhythms for wellness, productivity and other health benefits.
A lighting-industry longtimer, Schiffers says she underestimated the influence of integrators on residential lighting, realizing in retrospect, "You guys were the cool kids because you make the projects happen."
Related: How A Luxury Manufacturer Got Interior Designers to Love Home Tech
The lighting industry is conflicted about this influence, she acknowledged: "The lighting designers love you and hate you probably at the same time because maybe they feel a little threatened that you have knowledge that they don't have, but they're also grateful for everything that you do to pull it all together."
Her presentation focused on human centered lighting, or "the perfect light, which is really more about circadian-lighting wellness because I see that as the future of lighting."
So do we. CE Pro will cover Schiffers' insights in a "wellness" feature coming soon.
Workforce Development
If there is one thing everyone in the industry is talking about these days, it's the labor crisis – including a shortage of labor, as well as a "different" work ethic among Millennials.
Speaking about the dire situation, Glikes promised to work with dealers on fresh approaches to workforce utilization. He invited Kathleen Brenk, VP of human resources for TruStile Doors, to speak about the subject as part of the "Inspired" series.
Poor lady (as she joked) had to follow Jason Romero's presentation, "Transform your Dreams into Reality," in which the blind ultra-athlete spoke about losing his vision, becoming the only blind person to run across America, earning a law degree and running a $400 million division of GE.
Still, Brenk had dealers fully engaged, and nodding their heads vigorously, during her HR presentation.
She painted a scary statistical picture of the vast number of "middle-skilled" jobs available versus the paltry number of workers available for this class of employment. She blames the disparity, in part, on America's over-emphasis of four-year degrees and (when everyone had four-year degrees) advanced degrees like MBAs.
Meanwhile, trade school carries a stigma, starting in high school, where "the kids who went to vo-tech were like separated from all the other kids."
Brenk suggested a slew of non-traditional hiring places and practices for finding or developing mid-skilled workers.
The Department of Labor, for example, has an apprenticeship program. Who knew? Brenk herself always chats up Uber drivers, and hands out her cards because many of them are looking for full-time gigs. And, as she explains, "there are multiple nonprofits in your area that want to help you find people. They want to help you put people back to work."
The biggest takeaway from her presentation, however, was the suggestion that managers conduct regular "stay" interviews with employees. Employers are great at conducting exit interviews when a worker leaves, but it's more important to keep them in the first place.
"Why do you stay?" you should ask. "What would you leave for?"
CE Pro will share more of Brenk's insights in an upcoming feature about the labor market.
Superior Marketing
The economic bubble is going to burst soon, Glikes warned. He urged dealers to get ahead of the certain slowdown by shoring up their websites and social presence.
The old standby of "referrals is not going to work," he said. "You're going to have to rise out of the foxhole and be visible."
Helping with that visibility is One Firefly, an Azione partner that provides marketing services for the channel.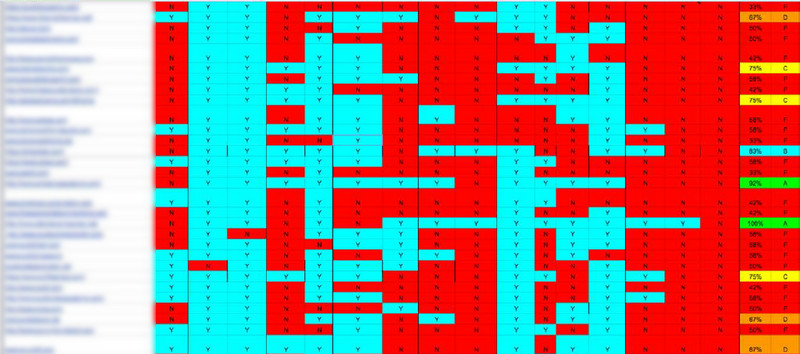 Prior to the conference, One Firefly performed website audits for every Azione dealer, grading two-thirds of them a big fat "F."
When attendees received their individualized report cards, some wept. But One Firefly's Ron Callis presented some very simple fixes – little things like putting the dealer's location at the top and bottom of the website.
"Do they [visitors] quickly know you service their community?" he asked.
Bad News: Housing Shortages, Plagues, and Worse
Besides the challenging labor market and the sad state of dealer websites, Glikes had plenty more bad news to share at the conference – slide after slide of bad news: housing shortages, impending inflation due to tariffs, wage hikes, locusts, the plague "and here's another slide showing a lot of bad news," he said rushing by it.
On top of the broader economic challenges, Azione the organization was hit with a double whammy because dealers weren't growing their sales enough with Azione vendors.
Year-to-date, dealer purchases from vendor partners were up less than 11% over the previous yea.
"I'm not happy with the growth," Glikes said, imploring dealers to drop three non-Azione vendors while adding three new Azione vendors to their line cards. Dealers shuddered in their seats.
Glikes often reminds dealers that Azione keeps its vendor roster small to provide more concentrated revenue streams from dealers. In return, vendors provide generous support to the group and individual dealers.
Azione currently has about 50 vendors supporting roughly 200 dealers.
"Our competitors have twice as many vendors as us," he said. "One group has 70+ vendors and 50 dealers!" (at which point attendees looked around quizzically, wondering which group that could possibly be.)
If you enjoyed this article and want to receive more valuable industry content like this, click here to sign up for our digital newsletters!