Now this is how a custom integration company can take advantage of Black Friday!
CE Pro 100 integrator Just One Touch/Video & Audio Center in Los Angeles reports record-breaking sales for Black Friday weekend by focusing on high-end products, led by Sony, Samsung and LG 4K TVs, Sonos soundbars, Amazon and Google smart speakers with voice control, headphones and, most importantly, attached custom installation.
"We broke our own 36-year record for sales during the time period encompassing Black Friday," says Joseph Akhtarzad, owner.
"Upper high-end 4K HD TVs, smart speakers with voice assistant capabilities, headphones and top-tier soundbars were some of the sales stars. It was the best Black Friday week in our company's history. Sales were up 37 percent Wednesday through Sunday. It was totally beyond expectations."
The Santa Monica, Calif.-based HTSA-member company has five retail locations and reported more than $96 million in revenue in 2017.
Of that, $46.3 million came from custom installation. Custom installation is an SKU sold at Just One Touch/Video & Audio Center retail locations just like any product. During Black Friday week, customers could receive a $500 credit on custom installation.
City-Block-Long Lines Form; 4K TV Big Hit
"Custom installation sales were 'through the roof."
— Tom Campbell, Just One Touch / Video & Audio Center
Just One Touch prepared for weeks prior to Black Friday with promotions via several types of media, including radio and online. Calling it a "5-Hour Doorbuster Sale" that would begin at 4:30 p.m. on Thanksgiving Day, the company stocked up on key top-tier product lines.
"We took a unique posture for Black Friday. We weren't offering any $29 DVD players," says Tom Campbell, corporate director/chief technologist at Just One Touch/Video & Audio Center.
"For the product lines that were featured, we had enough to meet demand. We did not want to have our clients having to fight over just five or 10 specially priced TV sets."
Lo and behold, there was a city-block-long line of people waiting to get into the company's Westfield Century City Mall location on Thanksgiving afternoon.
Related: A/V Shop Sells Almost $280k in Samsung 8K QLEDs in 4 Hours
"We were blown away. We were not expecting lines," says Campbell. He confirmed there were "no fights" over equipment due to the ample inventory stocks kept on hand.
Specifically, 65-inch and larger 4K Sony Masters Series TVs and 4K Samsung Frame TVs were top sellers.
"It is a '4K holiday,'" quips Akhtarzad.
Sonos Highlighted in Satellite 'Galleria'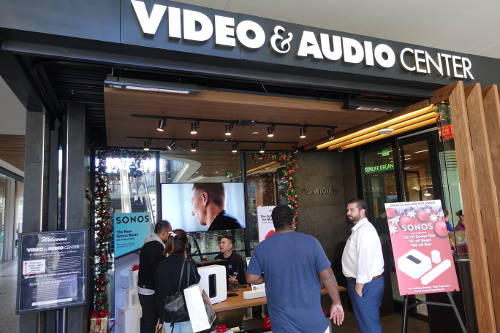 Video & Audio Center coincided the opening of its new satellite location at the mall directly across from the Apple Store with Black Friday weekend.
The small footprint satellite "galleria" is used by the company to highlight different technologies on a rotating basis. Sonos was the "highlight" vendor for Black Friday.
"We inaugurated the newly design satellite location for Black Friday by featuring the Sonos product line and manning the area with Sonos specialists to conduct demos and register potential customers for a drawing for a Sonos Beam soundbar. The Just One Touch custom integration and installation design services team was also on hand," notes Campbell.
"People were in a buying mood and major technology purchases were key in their minds. Traffic was just phenomenal. I believe the sales momentum from Black Friday week will carry on throughout the holiday season. It is going to be a record-breaking holiday sales season for us and the industry."
Custom Installation Push
While some retailers like to push "extended warranty, extended warranty, extended warranty," Campbell says the sales team was focused on selling companion custom installation.
He would not go on record with the percentage of sales that also had installation services attached, but it was substantial.
"Custom installation sales were 'through the roof,'" quips Campbell. "We believe it is much more important for the consumers to realize there is a total solution available to them for installation and integration. Letting them know they don't have to hook up a single wire and they can have individual devices in their home working together is a strong message."