At CEDIA Expo 2019, we have about 20 companies demonstrating wellness-related products and services – not telemedicine, remote caregiving and living-in-place solutions this time around, but a whole new industry built around biophilia: humankind's innate connection to nature based on a few hundred thousand years of living outdoors full-time.
Our biology is built for outdoor living, but today we spend 90% of our time indoors, deprived of the clean air, cool breezes, warm and sticky climates, 24/7 daylight patterns, sounds, smells, movement, and visual connections that are supposed to make us tick. Instead, we're sick.
Nature can make us whole again, and if you can't get enough of the real stuff, you can fake it quite effectively. The research is pretty clear on the health benefits of certain nature simulations (applied in certain ways), such as circadian lighting, air movement and purification, climate controls, and nature scenes playing on ordinary TVs with a sound-system assist to play birds and streams.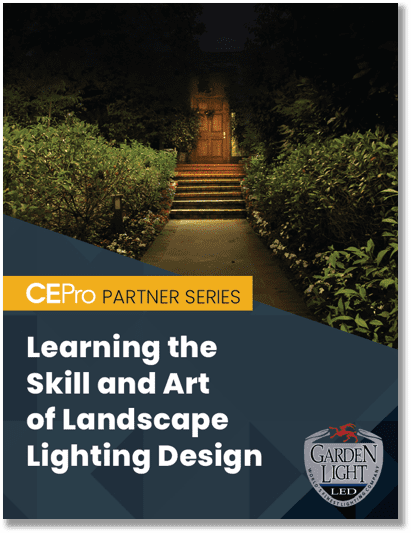 Experts recommend landscape lighting design as an entry point for integrators into the revenue opportunity of home lighting. Check out our new resource for tips and best practices. Download "
Learning the Skill and Art of Landscape Lighting Design
" today!.
---
REMINDER: WELLNESS MEET-UP AT CEDIA EXPO
Thursday, 9/12, 10-11:30 a.m. | 30-minute presentation, then networking
Room 2C (location shown in slideshow below)
---
Six months ago, virtually no one in the smart-home channel had heard "biophilia" before. You could tell by the giggling and dirty jokes that followed every introduction to the term. The giggling has subsided, and now the home-technology industry is taking very seriously the opportunity to deliver wellness-related solutions to consumers, and the potential to build new business models around the category.
CE Pro is introducing a new brand at Expo, WellScapes, that reflects our commitment to sharing wellness-related research, products, case studies, opportunities, and whatever else we can offer to motivate home-technology integrators and suppliers to embrace this new opportunity – this very real, science-based, research-backed, exciting opportunity that taps into our channel's greatest strengths.
We will post our complete CEDIA Expo 2019 Wellness Directory Thursday morning, but for now, take a look at six exhibitors that are showing real solutions – or at least demonstrating a mastery of biophilic principles – on the Expo floor.
We're naming these six companies the first WellScapes Masters at CEDIA Expo.
Some, like the American Society of Interior Designers (ASID), will have offer modest representations of biophilic practices on the show floor, but they have experts on hand to discuss the category all day long.
Others, like Rayva, didn't have time to build out the biophilic spaces they desperately wanted to showcase, but they have their vision and a very real plan for moving forward with a reimagination of the traditional home theater.
And then Delos – the granddaddy of wellness and biophilic design behind the WELL Building Institute and WELL building certifications. They have a complete, enclosed relaxation and rejuvenation "theater" at the back of the hall, and a whole lot of experience to share with integrators.
See what the WellScapes Masters are Showing: