This may have been DMF Lighting's first time exhibiting in-person at CEDIA Expo, but it was a seemingly inevitable match given the industry's push into lighting fixtures and the Carson, Calif.-based company's 30+ years' heritage serving the lighting market.
"We're super excited about how the industry is embracing lighting as a category," senior vice president Andy Wakefield says of the CEDIA channel's response to DMF Lighting's modular downlight fixture offerings, which it unveiled during last year's virtual event.
DMF exhibited as part of CEDIA Expo 2021, held earlier this month at the Indiana Convention Center in Indianapolis.
DMF's 'Fastest-Growing' Lighting Business Sector
"This channel and these customers have really embraced it," he adds. "It's the fastest-growing segment of our business, so we're excited to be here [at the show]."
Wakefield says the company certainly had higher expectations for the overall attendance, but the impact of Covid did not put a damper on DMF Lighting's spirits at the Indiana Convention Center.
If anything, the company's origins have provided it an instant kinship with the industry's small-business influence.
"It's a little reduced than we were expecting originally, but we're a family-owned business and we made a commitment to be here – to the show and to the industry – and so we're still happy to be here," Wakefield says.
At the company's CEDIA Expo booth, DMF Lighting focused on spotlighting to integrator attendees the expansion of its award-winning DID Series downlights, which Wakefield notes is exclusive to the pro smart home channel.
Housings, Trims Help Deliver Expansive Options
As an attractive, installation-friendly feature for custom integrators, many of whom are still new to the lighting fixtures category, DMF simplifies the process via its unique housings, Wakefield explains. It can benefit efficiencies and trade partnerships for dealers, who in this industry tend to subcontract out or foster relationships with an electrical company though many do have in-house electricians.
"What we offer as an advantage is our housings are one-frame housings," he says. "Once the electrician has installed the housing, I don't need a licensed electrician then to modify or change the light."
The ease and versatility offer several potential perks for installers and their clients, or the designers many work with, too, Wakefield says.
"It's very flexible, it's very cost effective, it's very easy to service, mistakes are less expensive to fix," he notes. "So it's a great way to get into the lighting category. All customers' houses have lights; our solution's really easy to use – and we have a variety of [solutions] to take advantage of that."
Toward that end, DMF Lighting brought with it to CEDIA Expo some new additions to enhance integrators' options and make it more enticing for them to fit the category into their portfolio.
"We're showing new trims and housings that are going to make it even easier to install our products," Wakefield enthuses. "Wood finishes, different colors … so really a way to expand an already expanding category for our customers."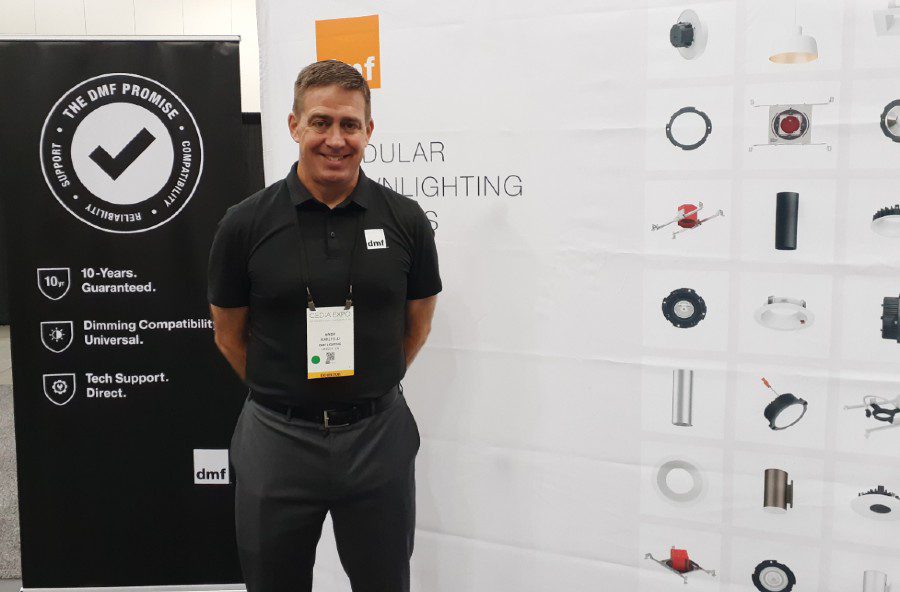 Also to assist integrators, DMF Lighting discussed its design layout services with attendees as well as other support resources it provides such as education videos, trainings, etc.
The Expo booth also gave the company an opportunity to reiterate in-person its DMF Promise message, an initiative it launched earlier this spring that underscore DMF Lighting's commitment to the channel.
"We've also hired a lot of folks that have a lot of experience in this channel," Wakefield adds, "so we've really melded both our longevity in this channel and experience in the CEDIA industry – it's been a great marriage so far."
post