No doubt the LED lighting revolution has suddenly made lighting fixtures a viable and profitable opportunity for integration companies. CE Pro spoke with Mike Libman, national sales director, residential systems, at DMF Lighting to review some of the key skillsets dealers need to succeed in lighting fixtures, and also give integrators a bit of background on DMF.
CE Pro: What is the origin of DMF Lighting?
Thirty years ago, Mark Danesh, a licensed electrical engineer and an electrical and general contractor, and his wife, Faye, founded DMF Lighting in their living room. Mark was focused on designing products, while Faye developed sales and customer service. They were both passionate about creating a better lighting company, and their small home soon became DMF's first warehouse and R&D lab.
Mark's deep understanding of lighting and insight into the construction industry has allowed DMF to develop products that set the standard on performance, design, and reliability. Mark and Faye's drive, ingenuity, and commitment to deliverability and customer service are infused in the company's current DNA and have made DMF a lighting industry leader.
Today, its Michael Danesh, their son who literally grew up in the business, that leads the company and is the current force behind its dedication to innovation. DMF continues to deliver solutions based on a fundamental understanding of customers and creates innovative products that are reliable, flexible and simple to work with. Michael has assembled a leadership team that fundamentally understands the needs of the custom integrator and has built an extensive roster of PhDs and engineers who can turn that knowledge into break through solutions for its customers.
CE Pro: How has the LED lighting revolution created a new opportunity for A/V installation/integration companies?
It's a game-changer! DMF Lighting is targeting the CI channel integrator with exclusive products, such as the award-winning DID Series, because the A/V integrator is embracing the lighting category as a huge opportunity to expand the business model and thus impact profitability.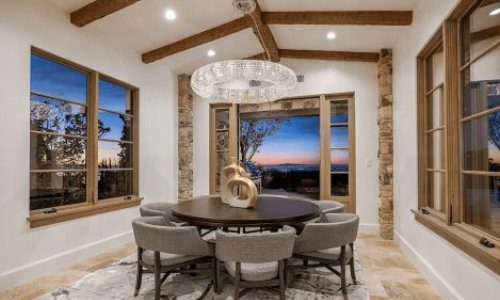 As a custom integrator, lighting is in demand. Effective communication, education and showcasing the value proposition of LED light fixtures in conjunction with integrative control systems are the keys to overcoming challenges and closing sales in this specialized market. Join us as we discuss the future of digital lighting and control with David Warfel from Light Can Help You and Patrick Laidlaw and Mark Moody from AiSPIRE.
Register Now! 
As one of the first light fixture manufacturers to work with CI channel dealers, we understand what is essential to our customers — performance, reliability, availability, profitability and flexibility. As light fixtures are a newer category for dealers, it is important to have something that is easy to specify, install, and adapts as things change from design to finish.
The all-new DID Series provides CI channel dealers with an elegant solution for delivering a quality user experience. Integrators can run the wire, specify the lights and do all of the control. It also provides an opportunity to work directly with an interior decorator or designer for the decorative fixtures, creating the lighting schedule and load controls for those items.
CE Pro: What differentiates DMF's DID Series from other lighting solutions?
The DID Series was specifically designed to complement residential applications and is exclusively available to custom integration dealers. With precision manufactured aluminum trims, custom finishes, multiple color temperatures and light distributions, the DID allows integrators to provide a solution to meet each homeowner's unique needs.
The DID Series offers what is most important to the homeowner, delivering the highest performance, flexibility and peace of mind. High dimming performance and the flexibility to deal with changing customer preferences set the product apart. Whether it is swapping the trim, the beam angle, color temperature, or lumen output, the DID lets the custom integrator minimize their time on the job while maximizing customer satisfaction.
Read Next: DMF Lighting Names Chris Carboni to Sales Team
Engineered for the custom integration channel, the all-new DID Series improves on every major metric by which quality lighting is judged. Modularity has been taken a step further to provide field-changeable optics and accessories for both downlights and adjustable accent lights. The DID Series includes proprietary integrated power systems for simplified installation, soft on/off, and smooth dimming down to 1% with local or centralized control systems.
The DID is engineered to be interchangeable in the field, during and after installation. The signature modular design allows the DID to adapt to changing homeowner preferences, future room designs and even retrofits. With only two modules and thousands of applications, it is the evolution of an already remarkable system. DMF LED downlights produce accurate color rendering, smooth dimming and have low power consumption. They complement and enhance how a room looks and feels without sacrificing performance.
CE Pro: What level of lighting design knowledge do you recommend integrators achieve?
Lighting is sometimes done for architecture, not for people, which is why you see symmetric rows across open concepts on many floor plans. Integrators should focus on how people will interact within the space to determine the right solution. Integrators can illuminate vertical spaces, use task lighting on countertops and the dining table, highlight cabinets, furniture, art and architectural elements such as fireplaces and other focal points.
Given the wide variety of different use cases, the right fixture will be needed for each job. The options are to either specify a solution that locks you into specific configurations or use something that provides consistent aesthetics and illumination while allowing you to fine-tune based on the application. Modularity is the best pursuit. It provides the correct solution while maintaining flexibility as things develop over the life of a project.
DMF provides several educational and training options to further integrators' knowledge and skill, including an introductory webinar, The Benefits of Modular Lighting, and an accredited CEU course, Introduction to Lighting & Lighting Design. The Introduction to Lighting & Lighting Design is a popular starting point because it explores key lighting spec points, such as color rendering index (CRI), lumen output and dimmer compatibility. Integrators will learn how they can achieve multiple lighting applications within one product family.
The Benefits of Modular Lighting explores how modular lighting simplifies the design, installation, and management of projects. DMF's modular system can improve a home's aesthetics and help integrators save time and money from the inception of the project, through installation and all the way to any future renovations.
Integrators can stay informed with our library of product training videos and live, interactive training sessions, which are updated regularly on our website at https://www.dmflighting.com/resources/.
We are also a sponsor of the new ProSource Lighting Technology and Learning Center (LTLC) at the Dallas Market Center, set to open March 23, 2021. The space was commissioned to provide the hands-on live level 2 curriculum for the exclusive ProSource Lighting Technology Certification program.
CE Pro: How is dynamic color temperature change influencing the lighting controls market?
At DMF, we're dedicated to making spaces more livable, more useful and more comfortable. Warm Dim technology combines dimming with shifting color temperature. People's needs change constantly, even in the same room. They can be hard at work one moment and entertaining friends the next. DMF's Warm Dim has been thoughtfully engineered to create the right light for each situation. There's minimal color temperature change at the high-end of the dimming curve so that daytime lighting remains vibrant and unaffected. Once dimmed below 50% light output, the color temperature gradually warms to provide the personal, intimate ambiance desired in the evening.
DMF's Warm Dim technology transforms how your spaces look and feel without sacrificing simplicity or performance. Warm Dim transitions from a bright and inviting 3000K to a warm and intimate 1800K, maintaining a consistent 93+ CRI and Energy Star rating throughout. This mimics traditional incandescent lighting and what we experience in nature with sunlight.
Impressively, Warm Dim accomplishes all this from the control of a single standard dimming switch. DMF Lighting solutions are also compatible and integrate easily into most control systems popular with our CI channel customers.
If you enjoyed this article and want to receive more valuable industry content like this, click here to sign up for our digital newsletters!