When DMF Lighting first targeted the custom electronics industry four years ago, little did the company executives know they would be starting a big trend. Today, lighting fixtures are one of the fastest-growing categories in the industry, and DMF Lighting has one of the first players.
Yet, many integrators may still not be familiar with the company. At CEDIA Expo Virtual, DMF aims to change that.
"DMF is a family-owned architectural LED down-lighting company that's been around for over 30 years," says Mike Libman, national sales director residential systems for DMF Lighting. "Ultimately, we believe lighting is about enhancing the things that people love in their home,s and we do that through our award-winning products."
Libman says the company is known in lighting circles for its patented modular design that he calls "simple, flexible and elegant."
"We are very bullish on working with integrators as they're the only entities that can provide a complete lighting solution to their clients. And what I mean by that is they already offer control of window treatments, and now fixtures," says Libman.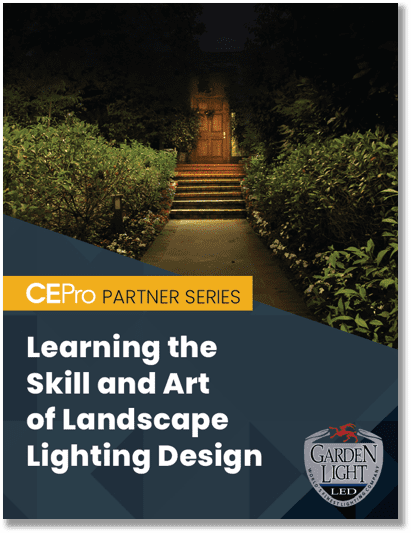 Experts recommend landscape lighting design as an entry point for integrators into the revenue opportunity of home lighting. Check out our new resource for tips and best practices. Download "
Learning the Skill and Art of Landscape Lighting Design
" today!.
To assist integrators, DMF has pulled together a team with lots of experience in the custom electronics field. In addition to Libman, the DMF team includes former Lutron execs Andy Wakefield and Rushi Kumar, along with former AVAD exec Lani Godfrey. That quartet will all be in the DMF booth at CEDIA Expo Virtual to engage in live chat with attendees.
DMF Booth Raffle to Give Away Two Showroom Setups
The booth will also feature pre-recorded videos, products and downloadable white papers. In addition, DMF will be conducting periodic live webinars during the virtual event from a studio setup in its headquarters. The educational webcasts will be stepping through some of the company's specific product families.
But the big news is that DMF will be launching its first product specific for the custom installation channel at the show. The company also has a new line of modules that are elevated over some of its existing designs that will be just for the integration channel.
All webinar attendees and meeting attendees to the booth will receive a DMF sample of their choice.
The company will also be holding raffles for Yeti tumblers and Lululemon polo shirts.
"But most importantly we're going to outfit two dealers' showrooms with DMF product at no cost for attendance," says Libman.