It surely could not be a CEDIA Expo without consumer electronics stalwart LG Electronics showcasing its acclaimed OLED technology.
Hurdles of an online format aside for the CEDIA Expo Virtual Experience (register at cediaexpovirtual.com), being staged Sept. 15-17, the LG booth (visit the booth at lgelectronics.cediaexpovirtual.com) will once again be brimming with news and highlights of OLED chief among its efforts to deliver premium display products for the custom install crowd.
"We've got a great product lineup to share with all the CEDIA attendees," Tim Alessi, senior director of product marketing at LG, tells CE Pro ahead of CEDIA Expo Virtual. "Like in the past, we'll be showcasing some of our best technologies that we think fit most within the needs of the CEDIA dealer."
Alessi notes that this will be LG's first "virtual" tradeshow, but the company is prepared as ever to discuss its vaunted displays and how they can assist custom integrators.
"Despite the pandemic and the situation with people working from home for the past several months, we've continued our efforts in innovating, and have many ways that we're going to be able to improve the CEDIA consumer experience."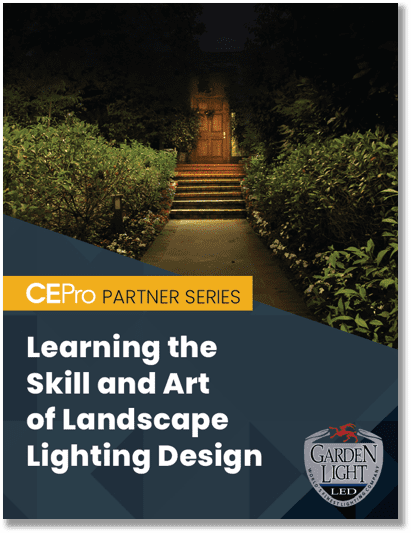 Experts recommend landscape lighting design as an entry point for integrators into the revenue opportunity of home lighting. Check out our new resource for tips and best practices. Download "
Learning the Skill and Art of Landscape Lighting Design
" today!.
OLED Continues to Be LG's Specialty Display Differentiator
First and foremost, Alessi notes, LG will continue to shine its spotlight on its stunning OLED technology – which although in the mainstream it might not seem it is a pretty mature display technology for the company at this point.
"Hard to believe, but OLED just turned 7 years old this past month," Alessi says of LG's "shining star," as he puts it. "But it's still continuing to set the standard in picture quality for the TV industry."
He cites LG's CX Series among the brightest stars among display reviewers, and notes attendees to LG's CEDIA Expo Virtual booth will get to learn about five new series of OLED.
Among the new offerings highlighted are the company's first 48-inch screen size and an 8K series, and a common denominator for all is LG's third-generation alpha9 processor. He notes that LG maintains a broad implementation of HDMI 2.1 with its lineup of displays as well, and some include the latest ATSC 3.0 standard.
If integrators are seeking a consumer sector in particular to market OLED to, it's the gaming community, Alessi adds. The company benefits from its partnership with Nvidia, as LG's displays are the only ones in the industry with the graphics specialist's G-Sync processor.
Design Factors Heavily into LG GX Gallery Series Displays
Meanwhile, apart from the display technologies – which Alessi admits are difficult to convey in a virtual booth setting – LG will talk to integrator attendees a lot about the design aspects that really hit home these days with consumers and interior designers.
Chief among those OLED stars for LG is Gallery Series GX displays. They are not quite as ultra-thin as LG's Wallpaper but, for example, the 65-incher is only about .8-inch thick, and unlike Wallpaper they don't require a separate outboard box with processing that doubled as a soundbar.
"And the way the housing is built, it comes with our special wall mount that fits right into the back so it can be pushed flush to the wall," Alessi explains.
"So it looks like a piece of art, and it functions like a piece of art as OLED can be," he says, "so you have a beautiful installation that I think can fit perfectly into what the CEDIA needs are." There's also a matching Dolby Atmos soundbar for a seamless AV solution.