It's no secret that the TV business has gone through a period of commoditization, but premium offerings have made a big comeback in recent years. Video enthusiasts have reason to be excited about 4K and 8K resolution, but other technologies are helping to elevate Ultra HD imagery to truly eye-popping levels.
Leading the charge is OLED (organic light emitting diodes) technology that has enabled super-slim form factors to help custom installers place flat panels even more flush with walls; so much so that LG came out with a wow-factor OLED "Wallpaper" a couple of years ago.
But the form factor is just one benefit among many that integrators and their customers can enjoy from OLED TVs. Recently LG senior director of product marketing Tim Alessi and CI technical manager Joseph Colombo joined CE Pro for a panel discussion that included an overview of literally the ABCs of OLED – as in perfect angle, black level and color.
"Really the most important of these elements is the black level," Alessi explains. "We say that OLED has a 'perfect' black level. Because it's an emissive technology it makes its own light; unlike LCD it doesn't have to try to block light, which at some level is always going to cause some light to bleed through. So when a pixel is turned off there's no light coming out of it, so you can get perfect, dark black levels and everything else builds off of that."
An example for integrators to perhaps demonstrate to customers in this regard? Alessi cites groans on social media over the muddiness to all the dark scenes during this season's Game of Thrones episodes stood in contrast to praise from LG OLED owners who lauded how much detail their sets delivered during the episode.
Additionally, because pixels can be individually shut off, there's no concern for halo effect – he points to the title shot in the movie Ray, which has zero such effect showing around the "Ray" logo onscreen when viewed on OLED but with some LCDs can look fuzzier rather than crisp due to light bleed.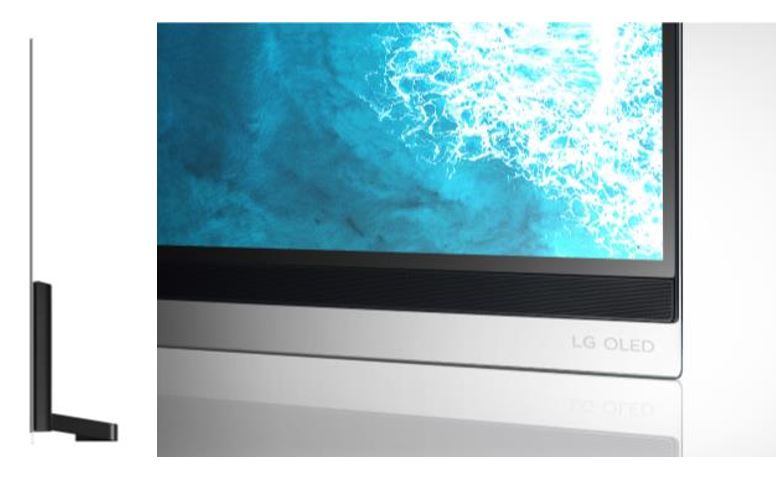 Designing an Ultimate 4K Experience
With the combination of more consistent viewing even at off-axis angles, perfect blacks, and more than a billion color shades (10-bit panel) comprising roughly 99% of the DCI-P3 space, OLED technology creates a compelling sales proposition for today's consumers.
Not only that, but the form factor yields another impactful letter – D – as in design. Customers, as well as industry trade partners such as interior designers and architects, are more mindful of the intersection between technology and aesthetics than ever.
One integrator that's become a big believer in OLED is Osbee Industries, which services clients in the New York City tri-state area and whose COO, Barry Schurr, also joined the panel discussion.
Click to listen to the on-demand webinar, Using OLED Wallpaper and Rollable TVs to Transform Your Business (registered attendees can simply log-in, others must register)
"The OLED experience has been really interesting in that the displays are now thinner and less obtrusive than ever before," Schurr says.
"They're lighter, they're more flexible in terms of their ability to be disguised potentially – architects and designers, it's no surprise that many of them dislike technology or dislike seeing technology in a residence overall and with the form factor of a lot of the new OLED products we're certainly able to work our magic in terms of integrating the technology with the aesthetic of the residence in a much more effective manner than we've ever been able to before."
With incredible thinness already and further groundbreaking "rollable" OLED versions on the horizon, as previewed to awestruck attendees during CES, more design-friendly installation applications are possible. Rollable OLED generated plenty of buzz, and Alessi notes more news can be anticipated in this realm likely around CES 2020 time frame.
"A couple years ago we introduced Wallpaper OLED where we took the electronics out completely," Alessi says of the power supply, video processing, etc., that were moved into a separate box that also housed a Dolby Atmos soundbar. "That enabled the panel itself to sit directly on the wall, opening up a whole new way of installation and home design – something else that was not possible before."
Alessi says the rollable version will continue to open up new installation scenarios when it starts shipping "sometime in the near future."
Schurr adds that at Osbee, "We are certainly looking forward to seeing that in the marketplace because we've got a lot of very interesting applications that we can apply that toward, and the consumers are going to embrace it in a whole new way."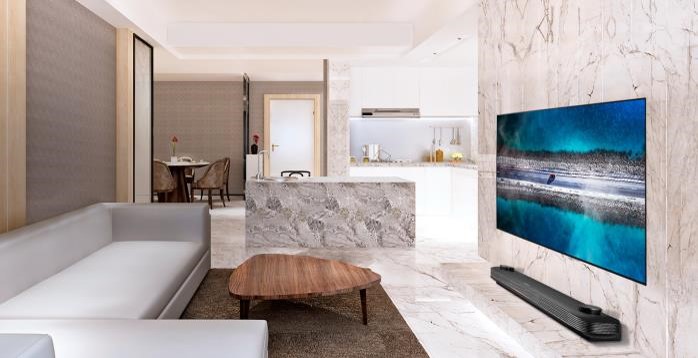 Dedicated Resources, New Features for Custom Channel
While OLED has been in the market for several years now, there remains a need for continuous education about the technology especially as things change. For instance, one of the early form factors from LG was a curved model, which is no longer in play but led to the evolution of current models. Integrators and their customers are bound to have questions about the latest developments, and LG has developed dedicated resources to assist.
Earlier this year the company introduced its LG Pinnacle Program to specifically aid custom installers. Dealers can go to the website to learn more about the display programs, extensive training, dedicated installation and integration support, and exclusive products for the channel.
"The overview of this program is to really let the market know, especially our dealers know, that we're here for them and want to be able to give them every available resource necessary to really make sure their clients are happy and every job is optimized," says Colombo.
Readily available resources for dealers in LG's CI portal include product training modules, detailed mechanical drawings, control codes, spec sheets and owner's manuals.
Apart from giving dealers dedicated resources, LG has added CI features and expanded integration capabilities for its OLEDs this year.
On the control side, the company has added third-party integration partnerships with Elan and RTI as well as voice assistant specialist Josh.ai, on top of last year's partnerships with Crestron, Control4, Savant and URC.
"Each one of these companies has created IP control certified drivers for us to make it easier for our dealers and integrators to integrate with our TVs," Colombo says.
Read Next: How LG Aims to Broaden Integrators' World
Beyond more control capabilities, LG is also giving integrators more technical scope with features, through its partnership with Portrait Display, such as built-in pattern generator and custom HDR tone mapping to work in conjunction with CalMAN with AutoCal for simplified picture enhancements.
Other new goodies – based on feedback from integrators wanting to have more control over what features they can shut on/off – include a Public Display Mode within the menu yields access to items such as public display setting, password change, USB cloning, set ID setup, IP control setup and IR operation.
Plus, integrators now have the ability to access TV diagnostics screens for both HDMI and Wi-Fi through the OLEDs' Host Diagnostics menu, as well as tapping into software and hardware status. "This is a great new resource we added for this year and it applies to our 2018 sets as well," Colombo says.
"No longer will you need a signal analyzer to analyze an HDMI signal from a source to our TV – you'll get all the information within the menu; resolution information, refresh rate, type of HDR, HDCP information … it's a really good tool I recommend you utilize if you're in the field."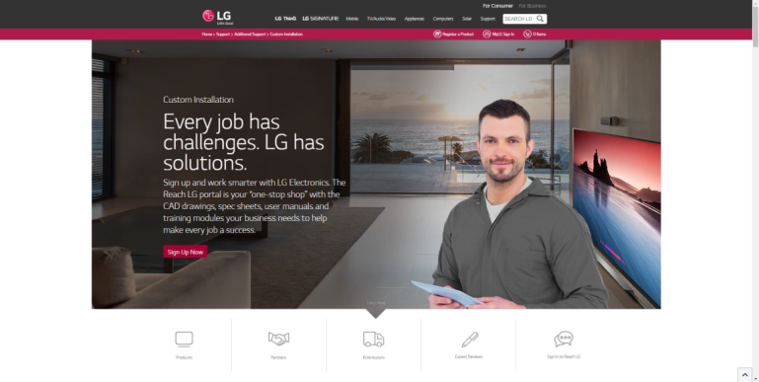 If you enjoyed this article and want to receive more valuable industry content like this, click here to sign up for our digital newsletters!