Based in Aspen, Colo., 25-year-old integrator Paragon Systems Integration serves an ultra-luxury clientele by outfitting whole-house control systems and subsystems for large-scale residences. The company works on projects locally and across the country as a byproduct of its client base (and has offices in Florida, Hawaii and Vail, Colo.), and toward that end, lighting and shade control are paramount to Paragon.
So much so the integrator has built an in-house lighting design team under lighting & shades division head Lee Wentzel. Just think about addressing the vast windows preserving Colorado mountain views, as well as the role lighting/shading control programming plays in security and energy efficiency for on average 8,000- to 12,000-square-foot homes that are unoccupied for long stretches of time.
Controlling LED fixtures has become vital, of course, and Paragon's Vantage InFusion control systems have evolved as tunable and dimmable LED fixtures have become commonplace, as project manager Jamie Lawson tells CE Pro, setting the table for the company's foray into Vantage LHUMAN human-centric lighting (HCL) while enabling better designs with warmer accent color temperatures.
"The initial challenge with LED fixtures was always their color, they're not necessarily very friendly to high-end – most of these houses here are storage for art – so lighting designers would have to be very methodical in their selection," he notes.
Paragon's Human-Centric Lighting 'Test Bed' Passes with Flying Colors
For this client who split time between New York City and Colorado, a long-term project involved the construction of another Aspen residence; the decision to program for HCL came upon comparing his primary home to a stay in his current vacation home. Paragon teamed with Vantage on making the primary residence a test bed for Vantage LHUMAN HCL, to integrate various fixtures and design/program a DMX-based system to help with wellbeing, sleep, productivity and more – with a single button tap in the morning triggering the day's lighting/shade settings.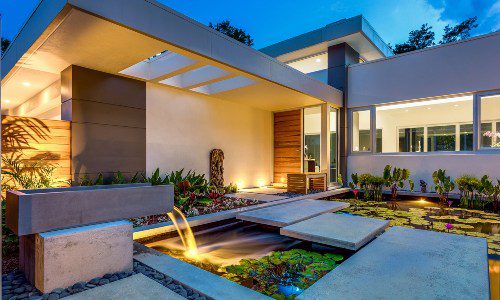 Landscape and architectural lighting create a magical and elegant ambiance for homeowners. The outdoor lighting industry has always been a phenomenal one and continues to grow in popularity. Now is the ideal time to learn more about this rapidly growing and highly profitable industry. Join our panel of esteemed lighting experts that will dive into why it's time for integrators to rethink their role in the outdoor lighting industry.
Register Now! 
"The idea is that when you get up in the morning, you hit that main scene button – in this case we programmed it to be the top button in each room – and it sets the light level, the light color, the light temperature for the time of day, and it changes throughout the day without any owner input or anybody doing anything. So it gets brighter and higher temperature throughout the day and as the afternoon comes it dims down and goes to those lower temperatures," Lawson explains.
The client loved being able to just "go about their day" and not even think of the home's lighting, but that wasn't the case at the vacation house, which Lawson says is a more traditional system without tunable/dimmable LED. He says the customer noticed right away when he got to their Aspen residence "that he was messing with the lights all day long. Every time he touched a light he would dim it, he would raise it, he would lower it, and he could never really find a place where he was happy for a long period of time."
Paragon worked with Legrand's Aaron Severtson, a field sales engineer on the Vantage lighting and Qmotion shades side, on an HCL project design that could replicate – albeit on a much larger scale on the hardware side – the New York City residence experience in the new Aspen home, working with local builder Harriman Construction.
There's more than one way for integrators to incorporate HCL into today's systems through programming and scene-setting, and stuck with a "natural" element to the lighting foundation to further simplify things for the owners, Lawson says.
"We didn't really set up the system to manipulate their 'cycle' – there's always discussions about having your 'energize' button in there and it brightens the light or makes it higher Kelvin so it triggers you to think it's 'time to go' time [in the morning] and then you can do the opposite in the evening and have it cool down," he explains.
"We really went with a basis of following the cycle of the day so it matches your natural circadian rhythm as opposed to trying to manipulate their circadian rhythm. They had a pretty forward-thinking representative that brought a lot of cool ideas to the table on the project, and this is one of the ones that through a wellness component really stuck with them."
Hundreds of Fixtures Programmed & Controlled for HCL by Vantage
With Vantage onboard for the system design support, the successful "test bed" ultimately led to the larger system that went into the new Aspen vacation home. The massive project incorporated, as outlined by Severtson: 199 tunable fixture loads in the Main and Guest Houses combined, and each tunable load is made up of one or more physical fixtures … so hundreds of individual fixtures.
Tunable fixtures are from a dozen manufacturers, from which there are 23 models, he adds. Overall, there are five tunable fixture types, Severtson explains (with his descriptions for how Vantage programmed them in a system that includes four InFusion controllers plus DMX gateways/splitters):
Araya – 5-LED Engine with onboard logic module (this is the most intelligent fixture type, and is easiest to program; on the control end, we can send direct values for intensity, CCT, Saturation, and Hue, without need to figure out the mixing of the 5 LED colors)
DALI Intensity + CCT – 2-channel linear LED with logic driver (this is also intelligent in that the driver regulates the intensity and color mixing of the warm and cool channels based on value input)
Warm/Cool – 2-channel linear LED with raw-control drivers (this is the most common fixture type, and each has independently controlled warm and cool channels; it is upon the Vantage controller to regulate the mixing of channels to achieve the desired CCT output; we color-mapped each fixture model to make a unique tunable fixture profile for each model in our software)
Dual-Load Intensity/CCT – This relates to the USAI Color Select fixture that uses phase dimming for intensity control, and 1-9V dimming for CCT control (we made unique power profiles for both dimming loads to maximize the controllability of the fixture – eliminating unusable ends of the dimming curves, and mapping the CCT curve)
RGBW – Handrails in the Main House stairs are accented with an RGBW flex fixture that we color mapped to provide a tunable output between 2000-6000K CCT (we can do this for any RGBW fixture, and no two RGBW models are the same, so color mapping is important when considering full tunability, not just target values).
"I'd say the biggest thing we did and worked with the owners on is that we made it consistent throughout both New York and Aspen that their top button on any keypad is the 'HCL' program. So if they walk into any room and hit that button, they're going to get a light curve that's set for that time of day, a light intensity that's set for that time of day," Lawson says of the LHUMAN Natural Lighting HCL cycles.
Adds Severtson, "With that, the lighting designer had the freedom to shape the Natural looks with different lighting layer assignments – it's not just one automated schedule, but multiple that run together."
Plus, they note that should the owners want a different light setting for whatever reason, they can press any of the home's 100+ Vantage EasyTouch Glass 5-button keypads' other four buttons to easily exit out of HCL programming (and just as easily re-engage later) and trigger other functionalities.
"Depending on the room, each button on the keypad allows them to select a different light level or a specific light fixture to raise or lower for whatever the scenario is," Lawson says.
Severtson adds that this extensive project got to highlight Vantage's increasing LED design and integration capabilities.
"Vantage has made huge strides in software development, and we have the ability to control a variety of different tunable fixture types, across multiple control protocols," he says. "This project that we did with Paragon was a flagship opportunity to prove our ability to control tunable fixtures."
If you enjoyed this article and want to receive more valuable industry content like this, click here to sign up for our digital newsletters!