Until recently, this 12th-floor luxury condo on Siesta Key Beach, Fla., had served as a vacation spot for its owners, providing the family of four with stunning views of Sarasota Bay and the Gulf for a few relaxing weeks each year. These days, however, one of the owners has retired and is living at the condo full-time.
With the property transitioning from a vacation home into a permanent residence, it became apparent that a renovation was needed, both in terms of its aesthetics and smart home technology. In particular, a legacy Vantage lighting control system was due for an upgrade to more modern keypads to complement the home's interior design.
To accommodate the new demands of a full-time resident, a programming overhaul was also needed. Custom integrator Lighting & Control Partners was called on to provide the system refresh.
Replacing Keypads, Tweaking Programming Top Priority List
Installed in 2007, the condo's original lighting system was powered by a Vantage InFusion Controller I and seven MDS8RW101 Dimmer Modules, with eight-button BrightStyle keypads for control.
Some of these buttons weren't needed or programmed, so the owners wanted to replace the BrightStyle units with keypads that offered a more elegant look and fewer buttons for a less complicated control experience.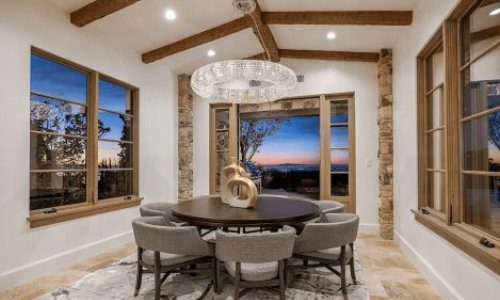 As a custom integrator, lighting is in demand. Effective communication, education and showcasing the value proposition of LED light fixtures in conjunction with integrative control systems are the keys to overcoming challenges and closing sales in this specialized market. Join us as we discuss the future of digital lighting and control with David Warfel from Light Can Help You and Patrick Laidlaw and Mark Moody from AiSPIRE.
Register Now! 
To cut down on the buttons needed and simplify the control experience, Lighting & Control Partners programmed several one-touch scenes. These allow for control over entire rooms, while still maintaining discrete control over a few choice lighting loads, like the dining room chandelier.
In addition, the condo's existing lighting scenes — "All On" and "All Off" — required modifications to provide independent lighting control for the owners' children in the guest suites.
Vantage EasyTouch Glass Keypads Deliver on Design Request
For higher processor speed and reliability, Lighting & Control Partners upgraded the condo's controller to the next-generation InFusion Controller II.
To provide the sleek, contemporary design the owners were looking for, the BrightStyle units were replaced with 26 EasyTouch Glass keypads, which offer a highly reflective, glass-like look with a smooth touch surface for a one-of-a-kind aesthetic.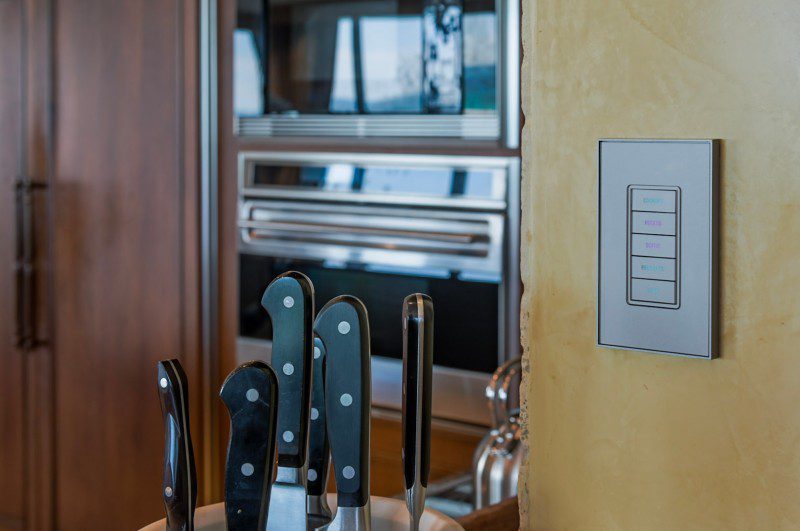 The keypad is available with up to five programmable buttons for different scenes, incorporating control over both lighting and other components. Vantage offers a custom color palette to match or mix finishes for the device's trim, buttons, and faceplate, and users can select the buttons' backlighting color.
Taking advantage of EasyTouch Glass' customization, Lighting & Control Partners design and programming specialist Kallin Horne created and updated the lighting scenes. When "Good Morning" and "Good Night" are pressed, for instance, the lights in the main part of the condo turn on or off, respectively, leaving lighting in the guest suites unaffected. A quick double-press of the buttons reverts to Horne's updated "All On" or "All Off" scenes, a handy feature if the owner is there alone and wants to ensure no lights have been left on in the guest suites.
"The homeowners were blown away by the elegance and polish of the EasyTouch Glass' design, and the fact that so much functionality could be crammed into only five buttons," Horne reports. "They also appreciated its customizability, and how we were able to take advantage of that to anticipate their lighting needs and program the system accordingly.
"They couldn't be more pleased with the final result and are already talking about upgrading their lighting fixtures based on the latest tunable LEDs, knowing that Vantage is more than capable of handling it."
If you enjoyed this article and want to receive more valuable industry content like this, click here to sign up for our digital newsletters!