Thinking about climate change? In terms of security, monitoring temperature changes and other potential environmental dangers is proving a lucrative path for dealers and integrators. End-user demand is high, and the recurring revenue streams can be, too.
Homeowners are increasingly looking for consolidated services when it comes to home management, says Warren Hill, vice president, marketing, Alula. "Security and life-safety monitoring are staple services that have been offered by professional alarm dealers for decades now," he says. "Smart control and home automation are newer capabilities that, for the most part, have emerged and grown in popularity the past 10 years. Today, homeowners are looking for expanded services that include monitoring and notification when environmental factors are out of the norm."
Hill adds that temperature, flood, pipe freeze and other environmental sensors are readily available in DIY offerings, but most are disparate without a single point of notification. "To be competitive, dealers must provide a solution that pulls all desired services together in a single platform. A number of environmental sensors are available to integrate with existing automation and security services — all controlled by a single smartphone app."
Integrators who are educating themselves on the capabilities and applications of environmental monitoring solutions are, in turn, educating customers on their benefits. And those benefits are many, including both enhanced life safety and user convenience.
Let's take a closer look at how the latest sensor devices — spanning temperature monitoring, water/flood detection, and air quality to detect harmful levels of humidity, gases/carbon monoxide, and chemicals — are allowing users to monitor every aspect of their property.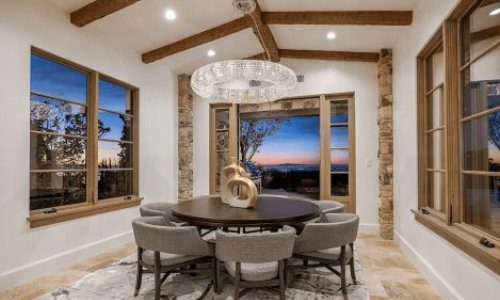 As a custom integrator, lighting is in demand. Effective communication, education and showcasing the value proposition of LED light fixtures in conjunction with integrative control systems are the keys to overcoming challenges and closing sales in this specialized market. Join us as we discuss the future of digital lighting and control with David Warfel from Light Can Help You and Patrick Laidlaw and Mark Moody from AiSPIRE.
Register Now! 
Temperature Monitoring is Hot
Jeremy McLerran, global director of marketing, Johnson Controls, notes that there are several use cases for temperature monitoring. The most common current use, he contends, is the ability to know if/when one's HVAC system has failed. "The longer a broken or damaged air conditioner is allowed to run, the more damage it can do to the internal components, which may result in a full replacement rather than a simple repair, not to mention the danger to elements of the home, like roof shingles," he says. "Even more disastrous is the impact on life. A broken air conditioner or heater can be deadly to children, pets, the elderly and the infirm."
A broken heater can allow pipes to freeze, resulting in bursting and flooding, ruining irreplaceable possessions, and requiring costly insurance claims. Temperature sensors, McLerran adds, allow dealers to provide an early warning system to the end user via on-screen alarms and messages that will also be sent via text to the mobile device.
"In cases where dealers are monitoring for these types of conditions, these alerts can also trigger the central station to call those on the emergency contact list. This application has been in place for years and has begun increasing in popularity in the residential market," he says.
Monitoring Air We Breathe
Air quality detectors offer invaluable protection and can also work in conjunction with a security system. Abe Kinney Sr., director, product management, Alarm.com, notes that when air quality detectors are professionally monitored, they offer real-time awareness.
"If the heat or AC is running when a fire or carbon monoxide leak occurs, toxic fumes spread faster," he says. "There are also temperature sensors that monitor humidity levels in the home and can control humidifiers to optimize for comfort. They can even control dehumidifiers and the home's own AC to prevent mold growth when high humidity levels are detected."
Kinney adds that COVID-19 has had a lot to do with an emerging focus on air quality in the home and business. "Customers have an increased interest in systems that are smart enough prevent the conditions that cause air quality problems — even before they start. In addition to humidity alerts, homeowners can receive alerts about low temperatures or HVAC malfunctions that could allow water pipes to freeze and burst — which can not only cause water damage but mold growth if left unchecked or undetected."
On the commercial side, indoor air quality can be challenging as often both the improvements or issues can't be seen, explains Sheeladitya Karmakar, global offering leader, enterprise access, Honeywell Building Technologies.
"To improve indoor air quality, we are strongly encouraging building owners and managers to monitor particulate matter, volatile organic compounds and carbon dioxide if they aren't doing so already, he says. "We expect to see people continue to leverage their other building systems to help improve the occupant experience. For example, building managers can leverage their security systems to monitor people flow and count, which can impact not only the building temperature but also CO2 or particulate matter levels."
Businesses can protect critical assets by monitoring the temperatures of freezers/refrigerators, server rooms, and medical supplies, Kinney states. They can also receive alerts on one app to help monitor for any major issues like water leaks or temperature changes, which can lead to major damage as well as health and safety concerns.
Why Water & Flood Detection Is So Critical
When it comes to water, it's everywhere, points out McLerran. "Kitchen sink. Bathroom sinks. Refrigerator. Water Softeners. Showers. Toilets. Water Heaters. Any of these points of failure can create thousands of dollars in damage, expensive insurance claims, and the loss of irreplaceable items," he says.
A simple flood detector placed near each of these locations will detect water early, and send instant alerts, allowing appropriate action to be taken, including the ability to shut off the water to the entire property.
At as minimum, this is an area of high need that can allow a security pro to further demonstrate how the company is looking out for their customer's well-being. There are many solutions out there to explore.
RMR & Sales Opportunities Abound
As Hill points out, "Dealers charging a monthly fee to monitor security may add a fee for adding a couple of environmental sensors. A homeowner's receptiveness to paying more comes down to the benefit outweighing the cost. Many customers are willing to spend extra once they realize how much more information environmental sensors deliver about their homes.
"Consider offering three service tiers — good, better and best. Start with a basic system, including light and lock control, add cameras for a second tier and make environmental sensors part of the best package."
Every single one of these monitoring offerings also bring opportunity, McLerran advises. "Perhaps its 'Get a flood sensor free when you refer a friend,' or 'Add temp detection to your home for only $1/month,' or 'Get a free carbon monoxide detector when you add our CO detection services to your plan.' It's not terribly hard, but it requires a small amount of creativity and a willingness to reach out to your existing customers."
Customers are becoming conditioned to having control of their entire home in the palm of their hand through a smartphone app. Dealers charging a monthly fee to monitor security may attach a fee for adding a couple of environmental sensors. Customers feel more secure when they can monitor their entire home and receive alerts when things aren't right, Hill states.
"Environmental sensors provide customers peace of mind knowing they won't be facing an inch of water on their basement floor. These sensors — and other security system components — can help reduce insurance rates and, with the use of a single app, end users have total control of their homes. That control is extensive, and includes making changes to locks, lighting, temperature and more from anywhere in the world. It's important to educate customers to understand the valuable benefits environmental sensors add to their current security/automation systems."
Karmakar cautions that it's important to make it clear that there are two unique outcomes when it comes to these environmental monitoring technologies. One is impacting occupant wellbeing and productivity and second is improving energy efficiency. These can and should work together rather than against each other.
"While these strategies may be new to security dealers and integrators, it will allow them to provide greater service and value to their customers with data that can be integrated into the security standard operating procedures when parameters go out of preset ranges," he says. "And, depending on the solutions implemented within a building, dealers and integrators could see maintenance and replacements of filters as a reoccurring charge and as well as adding Cloud-based building monitoring."
Adds McLerran: "Most dealers know that, unless it's specifically requested by the homeowner as part of the initial buying process, selling these additional services is a challenge. However, many will tell you that environmental sensors are one of the easiest and most accepted 'upgrade' after the sale. This can occur during the installation or several weeks/months after when the consumer is ready for the 'next device.'"
He notes that Parks Associates' data shows consumers are generally ready to spend more on their smart home system every three to six months, and environmental sensors such as flood detection and prevention, temperature sensors, CO and smoke detectors are among the most popular. "Adding the on-screen display of not only device status but alerts makes the user experience intuitive, and mobile alerts enabled through push notifications or sent via text can capture attention when traveling outside the home," says McLerran. "All these devices are available now and have been put in use for many years, with awareness raising recently as to their benefits and importance."
For security dealers and resimercial integrators who've been considering adding environmental monitoring to their scope of services, there's no time like the present.
---
Erin Harrington has 20+ years of editorial, marketing and PR experience within the security industry. Contact her at erinharrington1115@gmail.com.
A version of this article originally appeared on our sister publication Security Sales & Integration's website.
If you enjoyed this article and want to receive more valuable industry content like this, click here to sign up for our digital newsletters!