For many integrators, there has long been a giant gap between the security market and the smart home market, and the new ClareOne Wireless Security and Control Panel from Clare Controls is aiming to fill that void.
On the security side of the equation, existing alarm control systems are affordable and offer quality security solutions, but they are restricted in terms of their capability to serve the smart home with limited control of lighting and climate.
On the smart home side, full-blown control solutions integrate everything imaginable, including lighting, shading, climate, irrigation, audio, video, security and more, often with integrated voice control. But those systems are more expensive.
Clare Controls is looking to fill that middle ground between the custom electronics market and the security market with its new ClareOne panel, a simpler solution that brings home and security control via a single touchpanel, and applies the same app interface across mobile devices. In combination with the panel, the company has a new backend management platform, FusionPro.
ClareOne Panel Can Control DIY Devices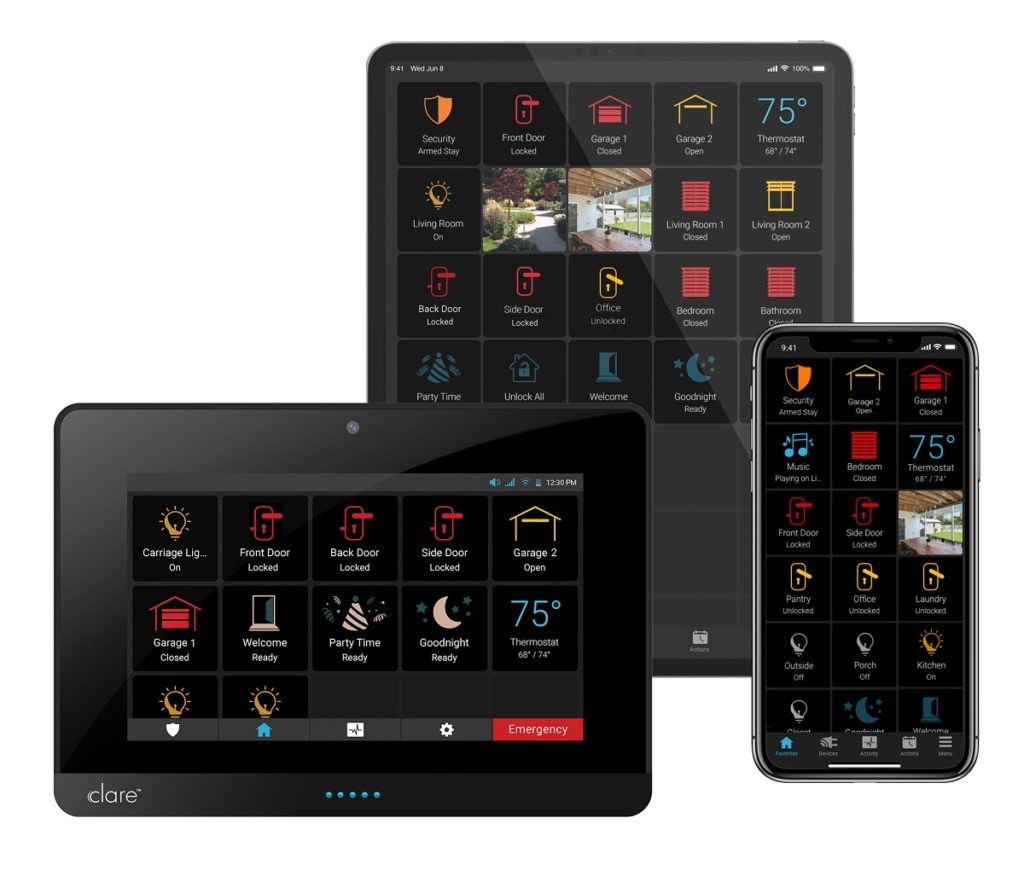 The ClareOne Panel, which is distributed exclusively by SnapAV, unifies smart wireless security and smart home control, with a full line of encrypted security sensors and smart home integrations. And the all-new FusionPro back-end management and RMR platform creates a single-point solution for dealers to install, manage and monetize security and control systems.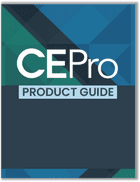 CE Pro's 2022 Product Guide showcases some of the latest and innovative solutions from manufacturers serving the custom electronics industry in a cross-section of categories.
Download the guide now!
"As we studied the smart home market, we saw that the custom electronics side of the market is being served very well, but we saw that a hole existed so we pivoted," says Brett Price, CEO and President at Clare Controls. "It has taken us on a several-year journey to get ClareOne on the market and we have written hundreds of custom drivers."
The result of that journey is the ClareOne Panel, which Price describes as an integrated ecosystem that meets the evolving needs of the security and smart home markets. The ClareOne Panel is a 7-inch touchscreen with encrypted security sensors and the ability to control 128 security zones.
As Price noted, Clare Controls has written more than 200 custom drivers to integrate smart home systems such as Lutron lighting and shades, Honeywell and Ecobee climate control, Chamberlain MyQ smart garage control, Sonos and Denon Heos wireless audio, plus Amazon Alexa and Google Assistant voice control.
The panel also enables integrators to play in the DIY space, which is often headache for security dealers and integrators. End-user clients can expand their home control on their own by adding DIY devices, while the important security features, connections, and updates are managed by the dealer.
On the flip side, the ClareOne panel integrates with Control4 by enabling the system to scale up to advanced home automation features and full media integration. When added to a Control4 system, the ClareOne panel operates in security mode, bringing its smart security features to the system, integrating seamlessly into Control4 scenes and automations.
"The single panel solution eliminates the potential for a disjointed sales offering," says Bill Hensley, vice president of marketing at Clare Controls. "For custom integrators, the security market is going more and more wireless. Now he won't have to sell a client a solution that has one app for controlling the wireless security system and another app for controlling the smart home."
FusionPro Back End Simplifies Setup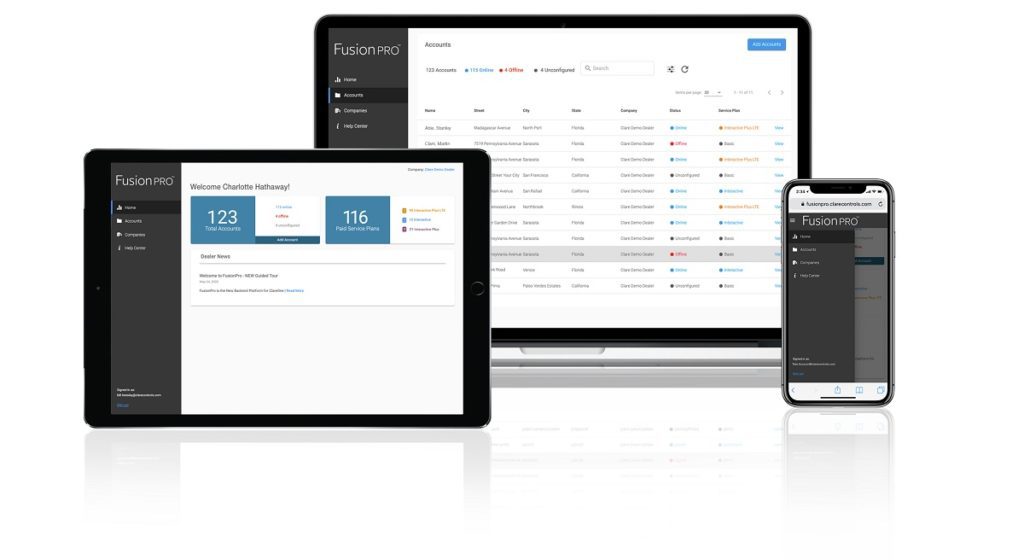 On the backend, the FusionPro management platform provides a single-point solution to enhance dealer productivity, supporting everything from account setup, panel onboarding and central station selection through remote diagnostics and troubleshooting, with a native OvrC integration enabling advanced remote management. FusionPro features multiple service tiers – starting with free for interactive smart home services – with low-cost monitoring service tiers that help dealers increase their RMR. FusionPro updates are free and automatic.
"The new FusionPro back-end platform simplifies all aspects of technology and business for security dealers and technology integrators, enabling them to create and manage better systems for their residential and light commercial customers," says Price.
"For home technology pros, the back-end is every bit as important as the hardware. FusionPro gives dealers immediate and detailed visibility across their entire customer base. And our multiple monitoring service tiers create real revenue opportunities for dealers."
"The ClareOne ecosystem redefines smart wireless security," says Clint Choate, Security Market Director of SnapAV. "And the partnership between SnapAV, Control4, and Clare provides a program of growth for both existing dealers and newcomers, accelerating sales in the home automation and security space."