It was not too long ago that the artificial light market for integrators consisted solely of lighting controls. But in the past few years, led by the LED revolution, lighting fixtures have become an ever-growing element in integrators' arsenal to offer clients. And integrators expect the trend to continue, anticipating revenues from low-voltage LED lighting fixtures to increase by 13% over the next year, and line-voltage fixture revenues to jump 10%. 
The lighting fixture market itself is somewhat complex. Most integrators think primarily about low-voltage downlight cans when they jump into lighting fixtures, but the diverse market includes accent lights, decorative lights, tape lights, smart bulbs, exterior lights, as well as high-voltage lights among integrators that have electrical licenses.
According to the study, one out of every four projects (25%) performed by integrators over the past year included the installation of a high-voltage canned light fixture. Similarly, dealers reported installing low-voltage LED downlight fixtures on 23% of their projects. In another signal that dealers are embracing the idea of lighting design, or at minimum working more closely with lighting designers, 25% of projects included the installation of decorative light fixtures.
Meanwhile, tape lighting, which is often used for under-cabinet illumination, was also installed on 25% of projects over the past year. Lastly, in terms of indoor lighting, smart bulbs are being offered as an entry-level solution. Many integrators offer smart bulbs to clients to introduce them to the wonders of color-changing light, were installed on 19% of projects over the past year, according to the study.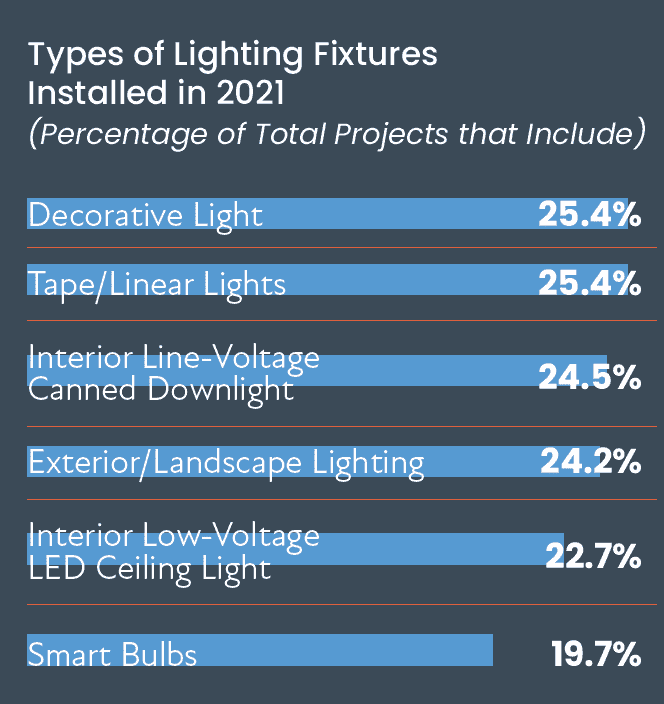 One other lighting fixture category that is growing immensely is landscape lighting. According to the study, nearly one in four projects last year (24%) included the installation of exterior lighting, which can encompass security floodlights, wall-wash sconces for exterior walls, accent lighting for flora, step lighting, and more.
Just over one-in-five integrators (22%) report they did not install any lighting fixtures over the past year on a project. That means 78% of integration companies have adopted this category that just a few years ago was a complete unknown and left to electricians.
The median number of light fixtures per project is 10, which is down slightly from 11 fixtures per project in last year's survey. Meanwhile, the median price for a lighting fixture installation (equipment + labor) over the past 12 months is $8,157 with an average of 10 fixtures. That adds up to $815 per fixture.
Dealers also report doing some sizable lighting fixture projects over the past year. In all, nearly 18% of all projects in which lighting fixtures were installed had more than 50 fixtures. Just over 8% of all projects had more than 101 lighting fixtures. For any integrator still contemplating whether they should consider installing lighting fixtures, ask yourself when was the last time you had a residential project with that many potential architectural speakers? Chances are never, yet projects of that size occur in the lighting fixture space, and at $815 per fixture, it can add up revenue-wise. Moreover, it enables the integrator to "own the ceiling" completely in terms of facilitating the placement of speakers and lights.
Buying Groups Help Educate Market on Lighting Fixture Opportunities
The industry buying groups have been instrumental in educating the market on the lighting fixture opportunity. Tom Doherty, special projects coordinator at the Home Technology Specialists of America (HTSA), first discussed the potential for lighting fixtures back in 2017. Doherty had spent the previous nine years as a design consultant, learning the ins and out of the lighting fixture market. He believed both lighting design and lighting fixtures could be an impactful element for custom integrators. Four years later, his prediction is proving to be true.
The ProSource buying group forged a relationship with renowned lighting designer David Warfel of Light Can Help You to educate the dealer base. ProSource also opened a showroom for its members in Dallas that highlights lighting design. Azione and Nationwide Marketing Group have also made headway in the space, while CEDIA and the Home Technology Association (HTA) have offered training and webinars on the subject to help dealers. 
Among the fixture manufacturers that have targeted the custom installation channel in the past few years are Environmental Lights, DMF Lighting, American Lighting with its Proluxe brand, Lutron with its Ketra brand, Onyx's mate. brand, USAI, Coastal Source, Garden Light LED, FX Luminaire, Q-Tran, Colorbeam, and WAC Lighting's AiSPiRE brand.
Meanwhile, more integrators are recognizing the need to add lighting fixtures and demos of lighting fixtures in their showrooms. According to the 2021 CE Pro State of the Industry Study, 39% of custom integration companies have showrooms. Among those, nearly half (45%) report they now sell lighting fixtures and conduct demos in their showrooms. In terms of lighting design, a remarkable 41% of integrators now report that at least one person in their company has been training in lighting design.
Click here to see more charts and information on the impact of lighting fixtures on the lighting market!
If you enjoyed this article and want to receive more valuable industry content like this, click here to sign up for our digital newsletters!