The momentum for microLED technologies has been building in the custom installation market since approximately 2018. Four years later, the recently completed CEDIA Expo 2022 show in Dallas served as the platform where microLED emerged front-and-center as the industry's new "it" technology, wowing the thousands of dealers attending the show.
At the event, companies such as Sony, LG, Samsung, Quantum Media Systems, Megapixel, and Planar showcased their respective microLED products in a range of ways. Given the rate of adoption of microLED and the anecdotal feedback of CEDIA Expo attendees it is clear the technology is poised to become a high-performance home theater option for a growing number of homeowners.
Pointing out the differences between standard LED-based products and microLED, Jason Dustal of Murideo, and an Imaging Science Foundation (ISF) certified instructor/calibrator, explains LCD technologies rely on a backlight to make light for an image. The color component of the image comes from backlight passing through the LCD structure, which makes for a bright image but can lack deep black levels, he says. MicroLED takes a much different approach that produces higher brightness levels, deeper blacks and increased levels of dynamic range for the home theater.
"MicroLED works in a different way. Each pixel is an LED. When a scene calls for a dark or black scene, each pixel can completely turn off, giving extraordinarily good dynamic range and contrast," explains Dustal. "Good dynamics also have a role in good color to give us deep, saturated color even in the darkest parts of the picture."
Why MicroLED Smart Technologies Could Beat out Projection in 2023
Dustal estimates the major reasons for microLED technologies' increased popularity has to do with the falling prices of the products and the practicality of technologies. The microLED displays typically employ modular designs that allow integrators to specify whatever size and shape screen the client wants, he notes. Over the past several years the costs of microLED displays have also fallen to support home theater installations using larger microLED products (like Samsung's The Wall) without having to deal with the logistics of two-piece projection systems.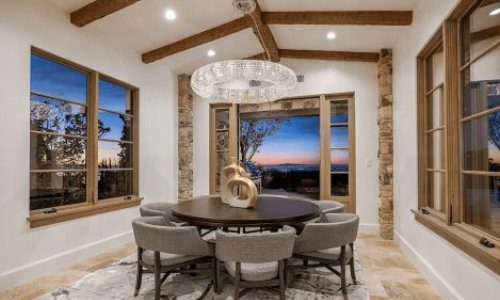 As a custom integrator, lighting is in demand. Effective communication, education and showcasing the value proposition of LED light fixtures in conjunction with integrative control systems are the keys to overcoming challenges and closing sales in this specialized market. Join us as we discuss the future of digital lighting and control with David Warfel from Light Can Help You and Patrick Laidlaw and Mark Moody from AiSPIRE.
Register Now! 
And of course the other major benefit of using microLED displays in homes for entertainment, Dustal says, is the technology produces state-of-the-art images.
"Like OLED, microLED technically has infinite dynamic range due to the LEDs [pixels] having the ability to shut off," he emphasizes. "Without getting too technical, this is similar to how OLEDs work, but OLEDs cannot get nearly as bright. Some of the brightest OLEDs are approaching 1000cdm2, while it is now common to see microLED walls easily hit 2000cdm2.
"This is good for two reasons: Better HDR performance and better performance for bright environments such as a living room with an excessive amount of ambient light or even for outdoor use. When compared to LED or miniLED, the story is similar … they cannot achieve the same black levels and do not have as much dynamic range and contrast as microLED."
Dustal foresees the residential market's continued use of these products and expects microLED products will approach the same price points as high-end projection systems at some point. Once that happens, Dustal predicts many integrators and homeowners will opt for microLED over projection when installing home theaters.
What Does the Future Hold for this Technology?
Over the next several years, he also points out, microLED displays sizes will continue to become more home friendly through improvements in features like dot pitch (or pixel pitch), which describes the proximity of one pixel to another pixel. The smaller the dot pitch, the less visible pixels become when you are sitting at certain distances.
He explains that as the dot pitch gets smaller, more pixels can be grouped together for a clearer picture at closer viewing distances, and this will help with image clarity regardless of whether integrators are assembling a 75-inch display or a 24-foot display. One other important performance-related aspect to the use of microLED displays Dustal underscores is that as the content community starts to produce 120Hz programming, microLED will be ready to display things like sports broadcasts and gaming content that will immediately take advantage of higher frame rates.
"My prediction is that in five years, microLED will continue to approach the same price point as a twopiece projection system. When this happens, more people will be open to it as an option. To add, microLED will not be limited to screen size, but wall size. The only limitation will be the system designer and customer's imagination," Dustal says.
"There are many possibilities for microLED to be more than just a TV. Imagine a wall-size piece of art, imagine being able to change wall colors in your home depending on your mood. Imagine being able to simulate your favorite vacation spot from your living room or being able to watch multiple sources on the display without the complexity of current switching systems. The possibilities are endless."
This is part of CE Pro's 'Technologies s to Watch' series. To read more about the technologies experts expect will shape the custom integration industry, click here.
If you enjoyed this article and want to receive more valuable industry content like this, click here to sign up for our digital newsletters!