For integrators seeking to up the wow factor with a unique showcase for customers in resimercial and high-end residential spaces, digital artwork displayed on ultra-large screens is certainly one way. Toward that end, LG Electronics announces it has entered into a partnership with Blackdove to deliver digital art experiences on its digital signage displays.
Through the partnership, dealers can offer clients catered visuals by integrating software and curated art from Blackdove's digital art gallery and NFT (non-fungible token) platform with LG's high-quality, customizable display solutions.
LG notes that its vibrant digital displays provide great means for art installations that integrators can pitch customers in various markets and environments including corporate lobbies, galleries, luxury residences and other public settings.
LG DVLED signage solutions offer flexibility with simple-to-install, modular, scalable designs and premium picture quality with resolutions from Full HD (1,920 x 1,080) to 8K (7,680 x 4,320), the company says.
Expected to be available in the U.S. market starting this quarter, Blackdove curation software can be bundled with LG DVLED signage products, including LG Ultimate Business Display, LG LSCA/LSCB, LG 136-inch All-in-One and fine-pitch DVLED signage to showcase the gallery's library of digital art assets.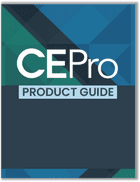 CE Pro's 2022 Product Guide showcases some of the latest and innovative solutions from manufacturers serving the custom electronics industry in a cross-section of categories.
Download the guide now!
LG & Blackdove Push Digital Art Installation Possibilities
"LG is delighted to partner with Blackdove to engage our DVLED signage customers with digital art experiences," says Dan Smith, vice president of business development, LG Business Solutions USA.
"Our alliance with Blackdove will deliver next-generation tools that enable countless new methods for creative expression. Blackdove is breaking the mold with innovative ways to obtain and display artwork using class-leading LG technologies."
Hand-picked by Blackdove's curatorial team, the selection of artworks by contemporary artists such as Jonathan McCabe, Kenneth Wayne, Meghan Cheng, Franck Lefebvre and Jamie Scott encompasses a broad range of subjects and styles for both new and experienced fans of digital art, the announcement notes.
"We are gratified to have been selected by such an extraordinary partner as LG," says Marc Billings, CEO of Blackdove. "Digital art is the first form of art in history that can be experienced natively by the whole world in an instant, giving it universal appeal. This makes possible an exponential increase in both the amount and diversity of art, as well as a path to universal access to affordable art enjoyment and ownership."
Digital art as an addition to integrators' portfolio has been in the mix for several years now, coinciding with the increasing design influence on projects particularly on the high-end residential side. Blackdove made its CEDIA Expo debut five years ago, and integrators such as AHT Global and Premiere Systems were touting its capabilities for digital art installations leading up to the Expo last year.
LG, meanwhile, has also been catering to design-minded clientele with its offerings over the past several years as it has continued to ramp up its selection of OLEDs and versatile solutions like ultra-short-throw projection.