We can all reasonably conclude that Leonardo Da Vinci was not thinking about a 16×9 horizontal TV format when he painted the Mona Lisa. Not only did TV not exist in 1503, but like almost every famous painting, the Mona Lisa is composed in a vertical format, which is why it looks so awkward to display a vertical masterpiece on a horizontal TV display… even on a framed, wall-mounted TV. Mona Lisa would not be smiling. That's where Canvia digital canvases come in.
Visible in exquisite detail from any angle, the Canvia digital canvas is equipped with the company's "artsense" technology that utilizes multiple sensors so the digital frame adjusts its images based on ambient light to create a display that looks just like a real painting, which is usually in a vertical format. What makes Canvia different from the ubiquitous "smart frame" that so many consumers bought a decade ago is its size.
Sourcing artwork from the world's most famous collections, the Canvia digital collection contains over 10,000 paintings and photographs across many genres, eras and media. The company also works with contemporary artists and photographers to provide exclusive art for integrators' clients' homes or businesses.
For integrators, the digital frames are a possible wellness solution that can be offered to clients for an affordable price of $469 to $499, depending on frame choice. Masterpieces from Van Gogh, Manet, Gauguin and others are available. Professional photos along with personal photographs can also be displayed.
Canvia's Artsense technology allows the user to change the images using the processor, an Advanced full-HD display and 16 GB of memory. The Canvia on-wall digital display connects wirelessly connects to both iOS and Android devices and includes a mobile and desktop app with tech support.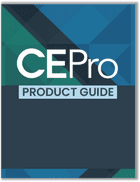 CE Pro's 2022 Product Guide showcases some of the latest and innovative solutions from manufacturers serving the custom electronics industry in a cross-section of categories.
Download the guide now!