The Neat-O! page in CE Pro's print publication often spotlights unique tech applications, super-slick home theaters, fantastic retrofit work and more.
It's also long been a showcase for efficient takeover projects and fastidious equipment rack/closet cleanups, and this submitted before-and-after work is case in point.
This Big Sky installation came full circle for Colby Rawson, who runs his one-man integration shop Montana Integrated Living out of Bozeman, Mont.
A property manager whom Rawson works with to find potential projects pointed him toward this mess of a cleanup job for a customer who, understandably, had not been enjoying the media room or getting much use out of the remote control operations.
It was a familiar installation for Rawson. "Turns out I was the project manager originally early on in the project in 2011-ish," he says. "I never got to see the end of the project — I moved on to another company."
Unreliable Network Reveals Underlying Mess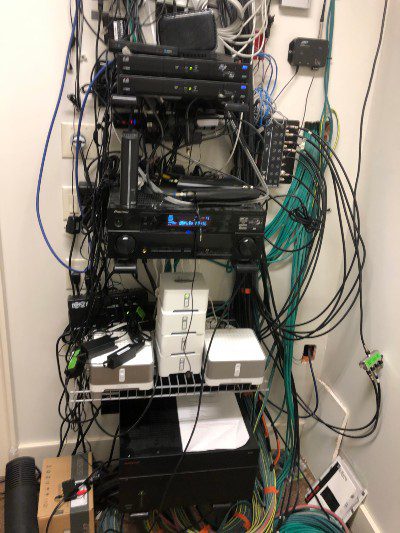 Among the custom industry changes that have occurred since the original project, today, of course, home theaters, AV systems and other technologies rely on a robust home network.
That's what Rawson originally went to the property to discuss with the homeowners, as he was told there were network issues. Then he found out why.
"As we were walking through the house, the client mentioned wanting to get the equipment room cleaned up. I had not seen it yet," Rawson recalls.
In this updated Wage & Salary Report, you'll find out results for salaried occupational categories broken down by 14 regions of the U.S. & Canada. Uncover valuable information about where your company stacks up when it comes to paying your important people by
downloading your free copy today!
"He took me into the room and my jaw dropped. I couldn't believe that they had been living with this for the last eight to nine years."
As you can see from the "before" shot, unkempt wiring spilling all over the equipment, housed out in the open on shelves, made for a less-than-ideal environment.
Successful Retrofit Rack Cleanup Project Yields Referrals
The cleanup effort took roughly four days and overall Rawson ended up doing seven days' worth of work.
He cut a low-voltage panel in the wall to house the unused wires, "then just worked my way down into a couple double-gang boxes for speakers and the Cat-6 cable."
Rawson retooled the audio system but stayed with Sonos for its simplicity and the clients were already familiar with it.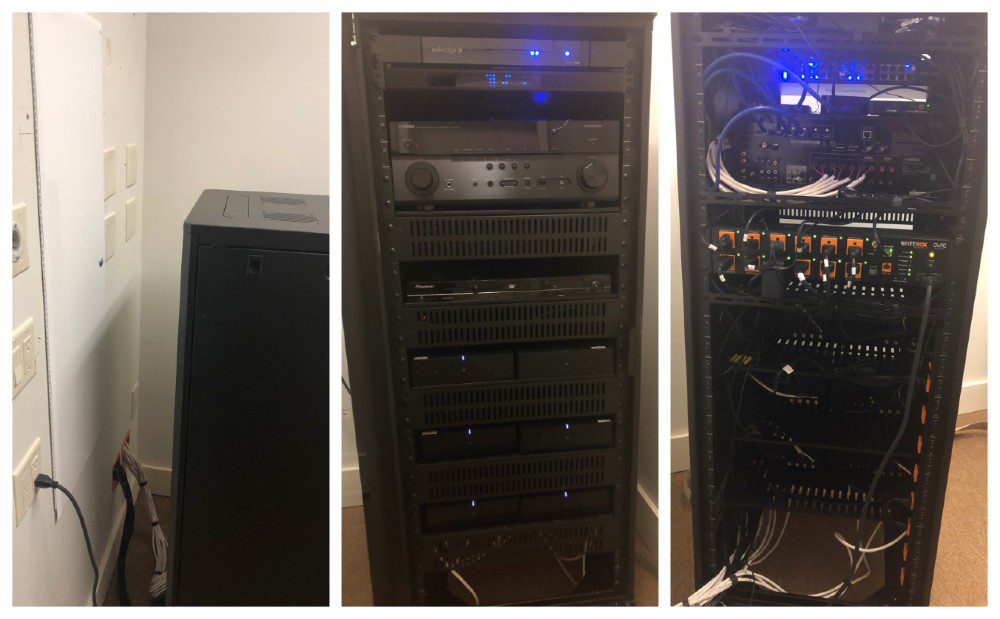 He installed a Pakedge network solution with four access points, so the entire home could be well covered. Rawson tied the tidy work together with a Strong rack from SnapAV.
Meanwhile, he retrofitted the theater room with an 85-inch Sony display that replaced a frustrating projection system, and he reprogrammed the RTI remote.
"This was such a fun project," says Rawson, adding that he's gained three referrals from it from the happy client or the property manager.
"This year takeover projects/updating projects have been 75% of my business. They work really well for a one-man company. Property managers have been my free salespeople."