In a few years we may look back and say that 2020 was the calm before the storm when it comes to the evolution of televisions, which includes 4K and 8K solutions.
At this point, UltraHD 4K technologies are mature with seemingly every manufacturer offering 4K products. These 4K TVs provide basic HDR (High Dynamic Range) capabilities via the HDR10 format, and high-performance models offer a choice of HDR formats beyond HDR10. Some of these formats include Hybrid Log Gamma (HLG), HDR10+ and Dolby Vision. 
HLG is a backwards compatible HDR format that helps to bridge the performance parameters between yesterday's SDR (standard dynamic range) and modern HDR picture technologies. Unlike, HDR10, which is a static HDR format that applies basic information to images, HDR10+ and Dolby Vision are dynamic HDR formats that continually adapt image quality based on specific image attributes. 
Moreover, in the near future, as HDMI 2.1 specifications finalize and get adopted, manufacturers in the home theater, cabling and display markets will provide products that meet those finalized HDMI 2.1 requirements to help video standards inevitably push forward. 
The Imaging Science Foundation (ISF) states that in addition to future specifications such as wider color gamuts and the 8K resolution format, higher refresh rates (120Hz) will be the next performance plateau the consumer video market embraces.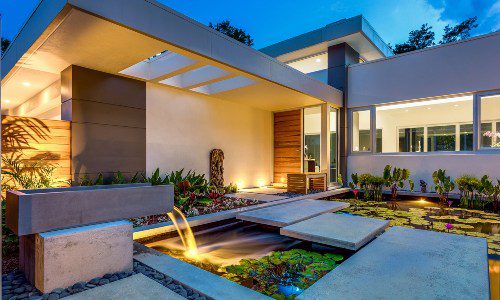 Landscape and architectural lighting create a magical and elegant ambiance for homeowners. The outdoor lighting industry has always been a phenomenal one and continues to grow in popularity. Now is the ideal time to learn more about this rapidly growing and highly profitable industry. Join our panel of esteemed lighting experts that will dive into why it's time for integrators to rethink their role in the outdoor lighting industry.
Register Now! 
OLED and Advanced LED Technologies Power 4K and 8K TV Performance
Back during the turn of the millennium, technologies such as LCD and plasma were at the center of the home video market's migration from SD (standard definition) video to HD (high definition).
Two decades later it's technologies such as LED (light-emitting diode) and OLED (organic light-emitting diodes) leading the way today for the consumer video market. 
Some of the companies that employ these display technologies include A-list manufacturers Sony, Samsung and LG. 
Video experts point out the great thing about the current state of the home video market is that many brands besides the famous manufacturers that were previously mentioned offer consumers some great value-minded 4K and 8K TVs.
Some of the companies that are providing those value purchases include TCL, Hisense and Vizio. 
It would be remiss to overlook the outdoor AV market when talking about 4K and 8K displays. Popular outdoor TV solutions that provide 4K resolutions and the ability to maintain image quality in a range of environments include displays from SunBriteTV, Peerless-AV, and Seura. 
Checking out nine of these products, click here to see some of the latest 4K and 8K TVs currently available on the market here in 2020.
If you enjoyed this article and want to receive more valuable industry content like this, click here to sign up for our digital newsletters!