One of the trendiest categories in the world of video is ultra-short throw projectors.
Over the years the primary application of short-throw projectors has primarily been in the commercial AV market and industries such as education and corporate. Recently, a new wave of ultra-short throw projectors has been developed for residential environments.
The development of ultra-short throw projectors in the consumer market supports a bigger, more impactful consumer video market trend in which the size of TV screens has consistently increased over the past several years.
The convergence of these trends brings the market to where it is now. Projection systems generally provide more value to homeowners interested in a true, big-screen system. Integrators can scale big-screen projection systems to meet a variety of price points, and they can incorporate a range of technologies that at the highest levels include 8K resolutions using products that include short throw projectors.
Traditionally the problem with projection systems is that projectors need a clear line of sight and realistically some level of ambient light control in order to maximize image quality. Today's new ultra-short throw products solve both those issues to provide big-screen home entertainment.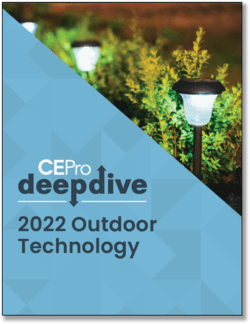 The 2023 CE Pro Outdoor Technology Deep Dive reveals unique set of impediments, including explaining pricing and interacting with outdoor-centric trades.
Get your copy now to take a "deep dive" into the trends and challenges of outdoor technology.
Download the report now!
Ultra-Short Throw Projectors Solve Traditional Projection Problems
Ultra-short throw projectors are positioned close to the screen to eliminate 10-, 12-, 15-foot image throws.
Solving the ambient light problem, today's generation of ultra-short throw products are also engineered to produce higher levels of light output to combat this problem through technologies like laser light engines.
Through the use of these new light engine technologies, manufacturers have enabled integrators the ability to install ultra-short throw projectors into a wider range of room environments, which is why these products are becoming increasingly popular.
Related content: CEDIA Expo Preview: LG on Big OLEDs, Short Throw Projectors, CI Focus
Sweetening the attractiveness of these products, some manufacturers are bundling their products with companion projection screens and even integrated audio systems.
The idea behind these bundles is to provide integrators with turnkey solutions that streamline system choices for homeowners.
It should also be pointed out that just like traditional projectors, ultra-short throw projectors also support UHD 4K resolutions and compatibility with high dynamic range formats (HDR) such as HDR10.
Take a look at the slideshow at the top of the page to see six ultra-short throw projectors from some of today's most popular video manufacturers.