Nothing delivers a true, cinema experience like a big-screen projection system, and one of the newest solutions on the market is the all-in-one Hisense Laser TV. Utilizing short-throw projection, which is quickly gaining momentum in the residential market, the Hisense Laser TV product line was developed to serve as a turnkey AV system for dealers to offer their more high-end clientele. 
If you are not familiar with Hisense, the company is an overseas-based brand that offers a range of products for homeowners such as air conditioners and refrigerators. Over the past couple of years, Hisense has aggressively entered the television market through a number of products offering the latest technologies, like Quantum Dot, 4K, HDR and Dolby Vision. 
Taking a look at the 120-inch version (the line also offers a 100-inch screen system), I analyzed the video portion of the system based on the idea that integrators would pair the system with control and their choice of audio components.
Hisense Laser TV Features and Setup
Shipping in two large boxes, the system contains a projector, an ambient light rejecting screen (ALR) and a wireless subwoofer.
Based on the size of the two boxes, particularly the screen, I think it's worth considering having the products shipped directly to homeowners' residences when ordering the product from Hisense.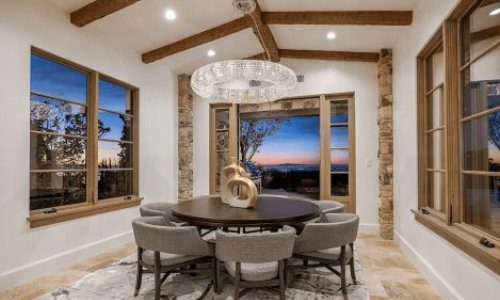 As a custom integrator, lighting is in demand. Effective communication, education and showcasing the value proposition of LED light fixtures in conjunction with integrative control systems are the keys to overcoming challenges and closing sales in this specialized market. Join us as we discuss the future of digital lighting and control with David Warfel from Light Can Help You and Patrick Laidlaw and Mark Moody from AiSPIRE.
Register Now! 
Hisense worked with Harman Kardon to develop the system's audio components. The system speakers are built into the projector and the subwoofer pairs with the speakers to form a complete audio solution.
Leaving no small detail to chance in order to compete with televisions, the system incorporates a smart TV platform that offers services such as Netflix, YouTube, Amazon Instant Video and Vudu. The system also offers voice control options using the Amazon Alexa platform.
Supporting the systems' network connectivity, Hisense provides integrators a choice between wireless and Ethernet, and the ability to support multiple source components with its four HDMI inputs.
---
Features and Quick Specs
Laser TV is a turnkey system that features a screen, a built-in audio system that includes a wireless subwoofer and a short-throw projector
Hisense offers the Laser TV system is a choice of 100- and 120-inch screen sizes
The Laser TV system incorporates streaming options that include Netflix and YouTube, and voice control options via Amazon Alexa
Hisense worked with Harman Kardon to develop the system's audio options
The projector features a laser light engine, a 4K-friendly 3840 x 2160 resolution, HDR capabilities, and an ambient light rejecting screen
---
Digging into the system's video features, the Laser TV provides 4K image compatibility through its Texas Instruments (TI) DLP-based chipset that delivers a 3840 x 2160 resolution or more than 8 million pixels. The laser light engine-based projector also produces up to 3,000 lumens of brightness, and wide color gamut capabilities with the ability to produce more than 95% of the DCI-P3 color standard. 
Moving into the setup of the system, I would highly recommend that dealers schedule a pre-visit with the client to perform a site survey before installing this system. Due to the nature of short-throw projectors and their limitations related to lens shift, the system requires a specific space to manually align with the screen.
Once the space for the system is determined, ideally the assembly of the screen should be performed by two people. Anyone that's ever assembled a screen will have some level of comfort putting the screen together and it shouldn't take too long to set up and hang.
With the screen hung on the wall, my next step was to place the projector in my 12 x 23-foot music room/entertainment room. Set about 10 inches from the floor and roughly 11 inches from the wall I was able to perfectly align the projector with the screen.
Entering the projector's setup menu was easy enough. I didn't find any issues navigating the Hisense Laser TV's various setup options in order to fine-tune the system to my liking.
After evaluating the projector's default settings, I turned off the image processing technologies because I thought they were inducing a noticeable amount of noise. I also turned up the lamp power by turning off the eco mode. Straight from the box the color accuracy looked pretty good, but I did make some small adjustments. I also made adjustments to contrast and black levels to improve the projector's dynamics.
Performance and Final Thoughts
I spent a considerable amount of time with the Hisense Laser TV over the holiday season and into early 2020.  
Before diving into my thoughts, I think it's important to remember that short-throw projectors are an application-based option that, when used properly, will provide lots of fun and entertainment for users. 
With that said, short-throw projectors, including Laser TV products, are not necessarily something that's going to replace a cinema-grade projector. 
What a short-throw projector like the Hisense Laser TV provides is a solution that is capable of producing a true, big-screen image that is bright, with punchy colors that is capable of working in a range of home environments. 
In my room, I found the Laser TV was capable of producing images that will meet the needs of most people without a second thought.
Broadcast content such as NFL football looked good, as well as TV shows such as "Evil." After my setup I didn't notice any image noise and I thought the projector's color accuracy was good, along with its white levels, which were nice and bright.
Speaking of image brightness, working in tandem with an ambient light rejecting screen allowed the Laser TV system to maintain overall picture quality regardless of whether there was ambient light present in the room or if the lights were off. 
The best-looking content I found using the Laser TV system was Ultra Blu-ray discs and movies such as "Spider-Man: Far from Home" and "Toy Story 4."
Using these discs, I saw lots of picture detail, rich colors and a solid level of image dynamics.
Watching upscaled 4K content and native 4K content streamed from my 4K Apple TV that includes "X-Files" from Amazon Instant Video was also generally a good viewing experience.
Other programs, however, such as "Witcher" from Netflix did expose one of the two performance traits that are often cited when discussing short-throw projectors.
This Netflix series features a lot of dimly lit scenes and it was these scenes that showed the projector's inability to resolve low-level detail. This is something that if you aren't looking for it, isn't really detectable, but when comparing the same scenes to my Epson Pro Cinema 6050 the amount of detail lost was noticeable.
One other thing that I think that average viewers won't notice is that short-throw projectors can hot spot, and I did see this phenomenon with the Laser TV. Image detail on the edges of the image were also slightly softer than in the middle of the image. Again, this is a trait common with short-throw projectors, but unless you're looking for it, you won't notice it.
Just to point out how the critical eye views these systems compared to most people: My wife, kids and friends watching the Laser TV never noticed these traits. My daughter's teenage friends thought the Hisense Laser TV system was "pretty cool" just to put the system into a proper perspective.
My big takeaway from using the Hisense Laser TV: it's a really great way to get a big-screen image in a space that normally couldn't host a projection system. 
Yes, there are some characteristics that are inherent with short-throw projectors that some may not like, but I found the system to provide lots of fun and that is the most important thing to me.
My recommendation is for anyone that has space limitations but desires a big screen, 4K video system, go check out the Hisense Laser TV.
---
CE Pro Verdict
Pros:
Laser TV system provides everything a user will need for a large-screen home AV system
The Laser TV delivers punchy colors and nice brightness levels to support its installation into a range of room environments
The system does not take up a lot of space to make it an ideal AV solution in environments such as condos and apartments
Cons:
The system delivers punchy colors that include nice white levels and nice overall brightness levels, but low-level image detail is not as good as high-end projection systems
The eye-protection system can be annoying because if you walk too close to the projector the system may shut down momentarily
Short-throw projection systems are growing increasingly popular and from a price perspective the Laser TV is priced higher than some of its competitors
MRSP is approximately around $10,000, depending on the model.
If you enjoyed this article and want to receive more valuable industry content like this, click here to sign up for our digital newsletters!