When the first guest family showed up at Tommy's Place in Falmouth, Mass. in July 2021, a decades-long dream finally came to life. Designed as a retreat for local Massachusetts families dealing with childhood cancer diagnoses, the Control4-automated 11-bedroom 19th-century inn on the famous island of Cape Cod offers a one-of-a-kind vacation destination for entire extended families where every turn reveals colorful splashes of whimsy and kid-friendly amusement.
From the backyard's restored 1951 fire engine, life-sized chess board, Sunbrite outdoor TV and Episode surround sound to the game room and the "stargazer" room complete with space suits, a telescope and a constellation-themed ceiling, Tim O'Connell, founder of the Tommy's Place charitable organization, has transformed the once-neglected building into a resort-level accommodation that rivals the fun and imagination of leading theme parks.
"The goal of Tommy's Place is to provide a year-round retreat where families of any means can enjoy a truly care-free week with non-stop entertainment for kids," says O'Connell.
"It's so important to let these kids be kids, and so valuable to help emotionally-stretched families make joyful memories, that I couldn't even wait for it to be fully finished before opening for our first visitors. The amount of donated labor, materials, technologies and community involvement required to bring Tommy's Place to life reflects our belief that families dealing with childhood cancer deserve a destination vacation even if they can't take the whole family to Florida or California."
Nobody knew what to expect that first week, and some of the uncertainty is by design. In the lead up to the grand opening, O'Connell intentionally avoided promotion of the home's specific toys, games and designs so each family that visits can experience the same surprise and sense of wonder as they explore the many uniquely-designed rooms. In addition to creating excitement through discovery, this approach allows the organization to make changes over time without affecting visitors' expectations or promising specific activities will be available.
Quality AV Tech Ties Tommy's Place Together
While the home's renovation and design was a years-long project, major new components were still being added just weeks before the July launch. According to local smart home technology expert Adam Zell of Boston Automations, what began as a service call to troubleshoot a TV turned into a six-week-long charitable project to outfit the entire home with donated smart home equipment from Snap One.
"I'm a regular here in Falmouth, so I knew about the Tommy's Place project and supported the mission, but once I actually stepped inside and saw how much heart had been poured into it, I felt compelled to add what I could to the experience," says Zell.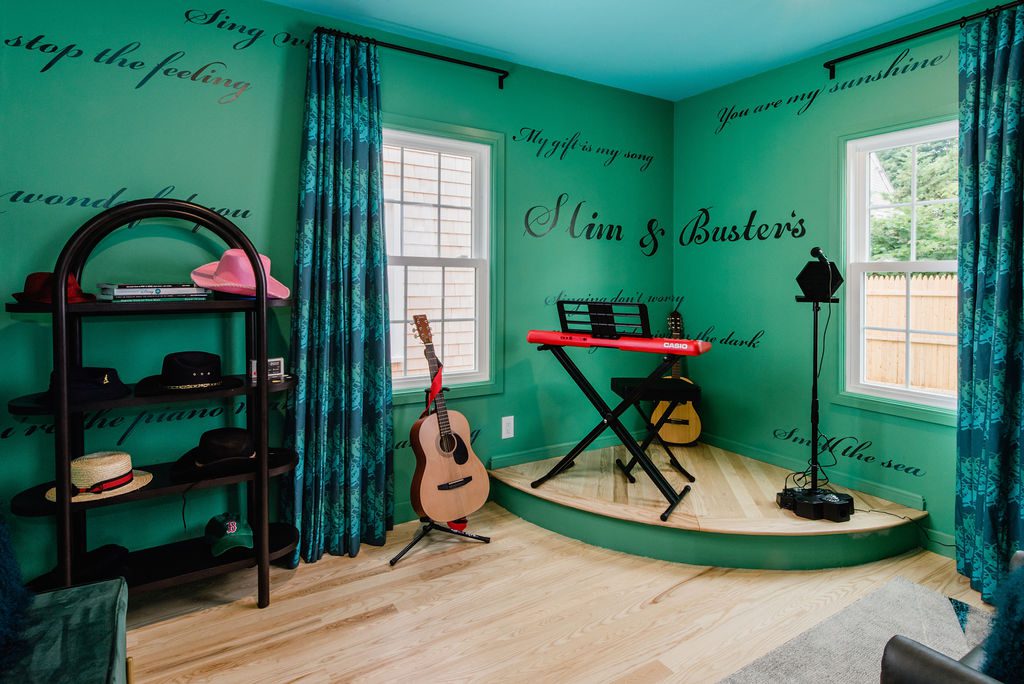 "When a family comes to Tommy's Place, they shouldn't have to worry about maintaining the property, and everything that can be a fun experience, should be. Since managing an 11-bedroom house with up to 30 people isn't on most visitors' list of fun activities, I applied my knowledge and leveraged all my professional relationships to make every activity in the home as care-free and simple as possible."
Zell spent the next six weeks sourcing product donations from manufacturers and volunteer labor from friends, resulting in a massive technological upgrade that adds to the fun. After hearing of the project, Snap One became a proud donor and Zell used the Control4 smart home system and a variety of accompanying technologies to give the home remote control of lighting, TVs, audio, electronic door locks, plus a enterprise-grade network from Access Networks so everyone can be connected whether they are in the yard or playing inside.
Design and aesthetics are front and center at Tommy's Place, with eleven interior design teams from Massachusetts participating in the redesign of the property. Creative solutions are needed when one must blend design with technology, so Tommy's Place opted to use Samsung Frame TVs in six of the rooms, with the TVs displaying slideshows of children that are fighting cancer when not in use. To help bolster the TVs, Kevin Hancock, CEO of Frame My TV, a local manufacturer out of Methuen, MA, took the design a step further by donating six custom-made Deco frames that frame the televisions like a piece of art. 
"I consider the families my guests and I want them to be able to relax the entire time they are here without needing says O'Connell. "The technologies Adam installed eliminated a lot of potential difficulties, including the reality of staying in a home with nearly 100 lighting loads. Nobody wants to walk around for 10 minutes each night to make sure the lights are off and the doors are locked, especially on vacation. With the Control4 remotes and touch panels placed throughout the home, they don't have to. A single button for 'nighttime' is all it takes."
Multiple Artists Help Give Tommy's Place a Unique Feel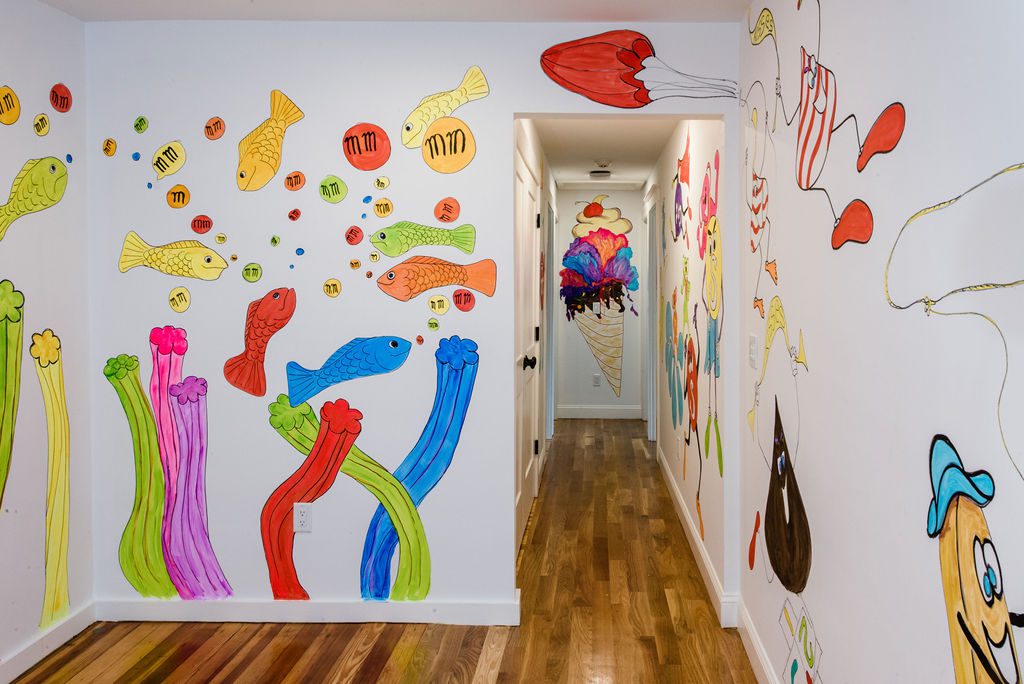 With so many unique rooms to explore and opportunity for families to split up in different areas of the property, a key concern for O'Connell was that everything electronic must work without issue and without requiring instruction. This made the Control4 system the ideal solution, because it is one of the easiest and most reliable smart home systems available, with a user interface so intuitive that most people can operate it without any training – especially kids who've grown up with technology all around them.
Each TV has a Control4 remote with a touchscreen that makes it easy to control lighting and choose video sources while offering familiar buttons for all TV functions. This extends to the backyard as well, where a 75-inch 4K SunBrite TV and Sunbrite soundbar provide a magical outdoor theater experience. The outdoor space also has its own zone in the home's multi-room audio system, featuring eight Episode landscape speakers and an in-ground burial subwoofer that can turn the yard into a party at any moment.
Tommy's Tavern, a hidden speakeasy in the back of the home, was designed to have a 19th century feel and be a place for adults to gather. The team knew that they had to make this room unique in some way, and that's when Zell remembered seeing an incredible product at CEDIA called Reflectel, a manufacturer of mirror TVs. Elizabeth Goldfeder, who is well-known in the luxury art framing world, decided to enter the custom integration industry with the launch of custom TV frames and couldn't have been happier to donate a custom-made Sony TV mirror frame. Not only is this the showpiece of Tommy's Tavern but the kids love it since they think it is a magical mirror like they've seen in Snow White.
It's hard to overstate the detail and creativity apparent in every inch of the property, which features the work of multiple artists and designers who donated their talents and time. With so much hard work involved and such high expectations for the long-term value of the property as an escape for families, Zell and O'Connell saw fit to add several Luma surveillance cameras to the security system.
Similarly, Zell installed a number of WattBox power protection devices that ensure all the expensive electronic equipment is secure from power surges and provide OvrC remote maintenance capabilities that allow him to troubleshoot minor issues from other locations, such as a router that requires a reset.
"Summer is Cape Cod's prime tourism season, but we've created such an inviting property that our first few guests told us they ended up not even doing most of their planned local adventures, and instead spent almost all their time at the home," adds O'Connell. "That's partly due to all the technology and toys the kids can play with, and it's a truly wonderful development, because it means Tommy's Place can be a year-round retreat even when the local community slows down for the winter."
Snap One's donated equipment also extends into the unseen parts of the smart home system, including Strong TV mounts and VersaBoxes and cabling from Wirepath and Binary.
As families continue to arrive each Sunday, O'Connell is marking the first successful summer for Tommy's Place. Hoping to replicate the property in other areas, and even other states, the long-term goal is to provide locally-accessible adventures and entertainment for more cancer-affected families.
Click here to see lots more photos of Tommy's Place!
If you enjoyed this article and want to receive more valuable industry content like this, click here to sign up for our digital newsletters!