Integrator NXT AV in Southern California works in the traditional residential and commercial markets, but the team also designs and installs its sophisticated solutions for luxury yachts.
When a long-standing client acquired a 100-foot yacht, NXT AV was given carte blanche to outfit it with a technology system that would work both on land and on sea.
Systems Installation Overcomes Choppy Conditions
The smart system needed to complement the yacht's other luxury amenities, and the NXT AV team specified a massive system. Anchored by automation from Savant, the solutions include enterprise-grade networking, distributed audio, lighting control, security cameras, among other customized upgrades.
Work would span the living areas, estate rooms, dining areas and the deck, to give the owner and their guests complete control.
Leveraging its experience integrating in yachts, NXT AV, an HTA Certified integrator, planned carefully to account for the extremely temperamental conditions and sometimes unpredictability of being out on the water.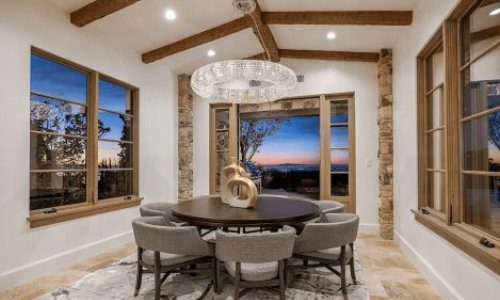 As a custom integrator, lighting is in demand. Effective communication, education and showcasing the value proposition of LED light fixtures in conjunction with integrative control systems are the keys to overcoming challenges and closing sales in this specialized market. Join us as we discuss the future of digital lighting and control with David Warfel from Light Can Help You and Patrick Laidlaw and Mark Moody from AiSPIRE.
Register Now! 
Plus, an installation of this size would be a big undertaking for a home, but the structure of a yacht presented additional integration challenges. The sleek walls and tight spaces left little room for error. Wiring and devices must be seamlessly concealed among expensive marine-grade wood, leather and veneers that can't be cut into or replaced.
On top of the wiring challenges, NXT AV had to manage the yacht's unique power environment. Any smart home project is at risk of daily spikes, sags, surges, and electrical noise caused by incoming power from the grid, and conditions in the home, like large appliances or the HVAC system. But there's added complexity on a yacht, where the power source is continuously transferred from shore power to different generator banks – a power loss at each change can disrupt the system and put devices and equipment offline.
In a typical home installation, the NXT AV team is nearby and available to service the system after the installation is completed. With this system regularly at sea and on charter, access to the smart yacht is not possible. NXT AV needed to plan for a remote management solution and a power foundation to ensure the installation's longevity and uptime.
Deploying Powerful Foundation for Smart Yacht Reliability
In Southern California, NXT AV's installations aren't typically at risk of power effects from poor grid quality, compared to other areas in the country that have frequent lightning storms. But nevertheless, they implement a power foundation as a baseline for all projects, having learned lessons from experience on the importance of power protection and remote management.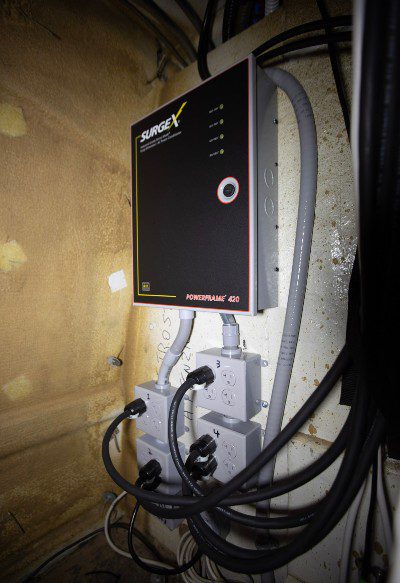 "We address the system from the power, and then we discuss what the client wants in their home," says NXT AV CEO Eli Weinkle. "It takes just one power issue to wreak havoc or destroy a product."
To automate the audio, video and lighting, NXT AV installed and programmed a Savant system, which also governs 16 zones of audio, eight video zones, and surveillance supported by an enterprise-grade Luxul network, fiber, and Cat-7. The team also CNC fabricated custom enclosures for Sonance speakers.
Meantime, a surge or power loss could cause equipment to fail and require onsite access to the yacht, which isn't always an option. To protect the custom work and prevent failure, NXT AV implemented the power foundation they typically use in homes, specially adapted for the yacht environment.
Through trial and error over the years, they learned "not all surge suppressors are created equal," says Weinkle. Eventually, NXT AV developed a formula centered on SurgeX equipment and is now deployed on every installation, enabling remote management, access and rebooting capabilities.
"From real experiences in the field, we realized the difference of SurgeX's surge elimination technology versus other suppressors in the industry," he adds.
A SurgeX PF-420, online dual-conversion Uninterruptible Power Supply (UPS) and Power Distribution Unit (PDU) combine to provide clean, reliable power, along with remote management capability so the team can manage the yacht's technology systems from anywhere.
"Boats are very complicated; you're in the middle of water so you don't have a standard power source and data connection," says Weinkle.
Simplified Technology Steers the Charter Experience
When the owner isn't enjoying a trip at sea or an afternoon dockside, the yacht is often offered as an auction item for one of their charity foundations. It also plays host to celebrities who charter it for vacations and parties, including a certain Canadian pop star who can't be named, Weinkle says.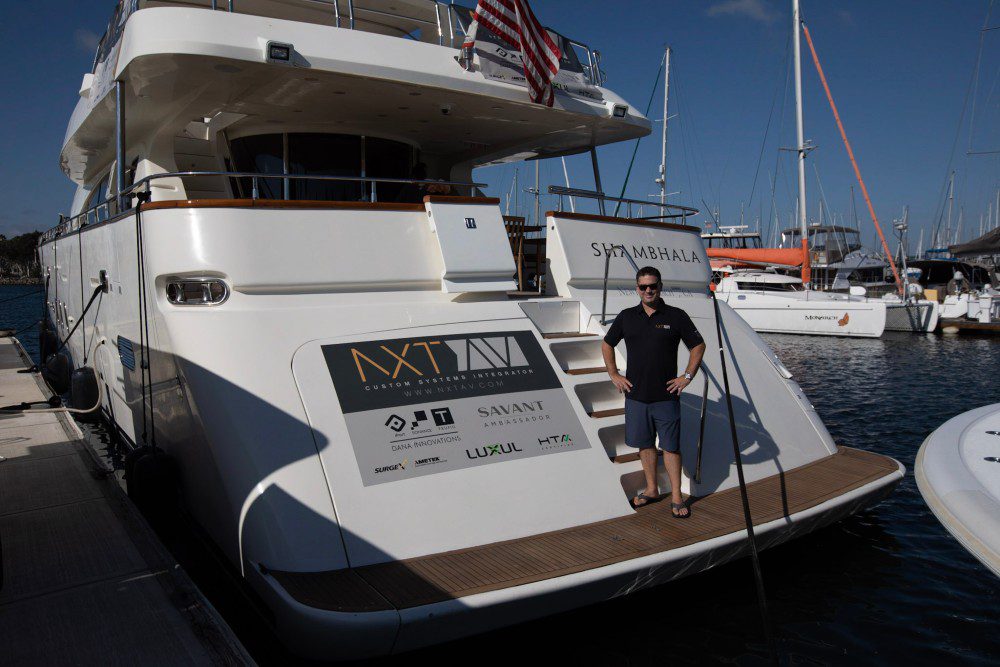 Yacht guests expect a luxurious and seamless tech experience, to complement their parties, dinners, or morning workouts. NXT AV's automation system and programming brings the yacht to life, from custom Savant DMX tunable lighting to allowing guests to pump their choice of music through every space, and offering live TV and movies via satellite and Kaleidescape movie server, anywhere in the world.
Despite the installation challenges, the system is stealthily incorporated without a wire or black box in sight, giving guests control of lights, the distributed audio systems, displays, and other features like security cameras. Or, they can kick back and relax, and the Savant system automatically handles lighting schedules, temperature adjustments, and music for guests to create ambiance in each area of the ship, whether in an estate room or out on the deck.
And with the SurgeX power foundation, the yacht's owner and guests can be assured smooth technology sailing even when running on generator power – which can be unstable – at sea or switching into power at docks around the world.
"NXT AV benefits from implementing a best practice in their home installations, where a power foundation protects the homeowner's system," says Jimmy Paschke, director of sales, SurgeX residential. "NXT AV has gone full speed ahead with the system in this yacht, and their power foundation is beefed up to handle any of the possible power challenges along the way."
If you enjoyed this article and want to receive more valuable industry content like this, click here to sign up for our digital newsletters!