Cory Reistad is the president and founder of SAV Digital Environments, an HTA-certified, Montana-based designer, manager and integrator of home and business automation solutions. He's also a real-estate developer, and his most recent project was a condominium complex in Bozeman.
As the units began to take shape as high-end, custom-appointed spaces, Reistad had the idea of putting one aside to be used as a showroom for SAV's technological offerings — from music and automation systems to lighting and shading.
Potential clients would be able to stay the night in the 1,400-square-foot, two-bedroom condo to truly experience the difference smart home technology can make in transforming their lives.
"More than just showing off the latest and greatest gadgets, we wanted to highlight the importance of blending technology with design to create a simple and elegant lifestyle," says Reistad.
"That not only meant paying close attention to furnishings and color schemes, but also integrating technology seamlessly into the space and hiding any components that didn't enhance the overall aesthetic."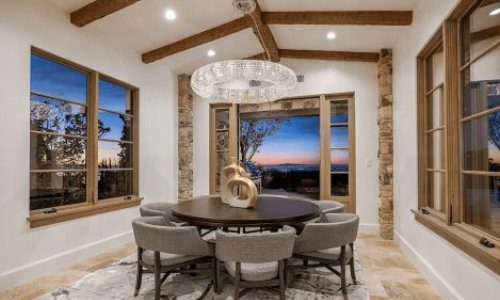 As a custom integrator, lighting is in demand. Effective communication, education and showcasing the value proposition of LED light fixtures in conjunction with integrative control systems are the keys to overcoming challenges and closing sales in this specialized market. Join us as we discuss the future of digital lighting and control with David Warfel from Light Can Help You and Patrick Laidlaw and Mark Moody from AiSPIRE.
Register Now! 
Leveraging Other Trades & Legrand Brands
To create the showroom, SAV partnered with firms including Minarik Architecture, Envi Interior Design, Earth Elements Design Center, Studio Como, and many local artisans.
For the technology side, the company required a partner that could deliver the infrastructure, network, lighting and AV systems necessary to bring the condo to life.
"One aspect of the condo we knew could really bring both sides together was lighting. So that became a major focus of this project; specifically, human-centric lighting (HCL), which we were integrating for the first time," notes Reistad.
SAV leaned on Legrand | AV Residential Solutions and its Chief, Luxul, Middle Atlantic Products, Nuvo, On-Q, QMotion, and Vantage Controls brands for the technologies as well as support in particular for HCL's steep learning curve for newcomers.
"With so many brands under one roof, Legrand | AV was the perfect choice for this project," said Michael Rossmiller, director of operations and part owner of SAV Digital Environments.
"In addition, Legrand | AV's support is second to none. We relied heavily on their product and sales teams to provide guidance in terms of product selection and how to best integrate the Legrand brands and solutions together for seamless functionality."
For potential clients staying at the condo, technology at their disposal includes a four-zone streaming audio system, with each zone featuring a Nuvo Player Portfolio P100 single-zone wireless player.
Shading is provided by QMotion's Qadvanced Intelligent System hardwired roller shades with Zigbee HA1.2, which combine high reliability with quiet operation.
Introducing Prospective Customers to HCL
Precise control over the condo's lighting is delivered by Vantage's InFusion Controller II, in combination with a Universal Dimming Module. Guests interact with the lighting system, shading and more, using EasyTouch II ScenePoint Universal Dimming Stations, and 4-inch Equinox 41 and 7-inch Equinox 73 LCD touchscreens.
The interfaces provide a sleek look that complements the condo's modern design, while providing simple, intuitive control for users. Adorne wall plates and electrical outlets are also featured throughout the condo to provide a touch of elegance and are matched to the Vantage keypad color specifications.
Vantage's solutions — in tandem with LF Illumination tunable fixtures featuring the Lumenetix araya5 light engine — allowed SAV to offer HCL in the condo, which tailors the color and character of light to support the human circadian rhythm.
Capable of mimicking the full spectrum of natural daylight, the combination of fixtures, light engines, and Vantage's InFusion system are programmed to automatically adjust lighting levels based on time and location.
Furthermore, as an element of interior design, HCL can be incorporated to improve visual acuity or accentuate artwork and architectural features.
"As an integrator, we're still in the learning stages of HCL — and there's a lot to consider when it comes to installation, programming, and control," says Rossmiller.
"Vantage's lighting design staff provided us with crucial support in the initial design stages and really helped educate us on the technology. I think that's one area that separates them from other vendors."
Adds Reistad: "We're really excited about HCL and its ability to bring the benefits of natural daylight indoors, while matching our decorative fixtures in terms of intensity, color temperature, and color rendering. It's going to be a big part of our business moving forward, and our new clients will get a first look at it here."
Integrated with Crestron, Simple for Guests
The Nuvo, QMotion, and Vantage solutions integrate seamlessly with the condo's Crestron automation system, allowing SAV to provide guests with one-touch control of their environment.
When they walk in and press the "Welcome" button on the EasyTouch keypad, relaxing background music begins playing in the living room, dining area, master suite, and master bedroom.
The shades automatically roll up and the lighting sets the mood for that time of day — brighter in the morning with a more dramatic mood setting in the evening featuring lower color temperature and intensity.
A special "Turn-Down" scene in the master bedroom lowers the lights as dusk sets in, creating an effect similar to what you might find in a high-end hotel.
All three systems can be conveniently controlled using the Vantage touchscreens and EasyTouch II Dimming Stations, or the Equinox app.
Technology Backbone Hard at Work
While the condo's lighting, AV, and shading systems might get more attention, SAV can also demonstrate how its infrastructure and networking solutions work behind the scenes to bring everything together. Chief, On-Q, and Middle Atlantic infrastructure products are providing a solid foundation for the condo's technology.
Components are housed in the Middle Atlantic Slim 5 series rack frame system, featuring single-space RSH Custom Rackshelfs for non-rackmount components and anodized aluminum blank panels to fill in gaps. Middle Atlantic's Premium+ PDU with RackLink allows for remote management of components, while a Select Series UPS backup system ensures their uptime in the event of a power outage.
Displays in the condo are mounted nearly flush to the wall with Chief's Thinstall Series fixed mounts, which offer a low 1.5-inch profile and extend up to 25 inches.
On-Q is providing the recessed metal enclosures located behind the displays, in addition to HDMI, AV, and patch cables. Cables and cords are protected, routed, and organized by Middle Atlantic's PCD series of plastic cable ducts.
Meanwhile, Luxul's Epic 3 AC31000 dual-band Gigabit router is at the heart of the network. It features integrated Roam Assist technology for seamless Wi-Fi roaming; Domotz technology for remote management; and Router Limits Internet content management.
In addition, Luxul's AMS-2624P AV series 26-port/24 POE+ Gigabit managed switch provides advanced management, VLAN, and security capabilities, while making it simple to expand the network with PoE-enabled devices.
"We've just wrapped up the condo and it's been a big hit," says Reistad. "Our clients — who are coming from 60 or 70 miles away — stay here overnight and experience this amazing space. It gets them really excited to discuss ideas for their new homes.
"Without the support of Legrand | AV, I think this would be a pretty static space. … It's evident when you walk in and press that button and see the positive impact these products have made here. It makes it comfortable and peaceful. It makes it home."
If you enjoyed this article and want to receive more valuable industry content like this, click here to sign up for our digital newsletters!