When Keith Yates Design (KYD) came across a potential client with a passion for films and concert videos, as well as a love of all things Mediterranean, he decided to draw inspiration from the landscape around him in Northern California to create a truly one-of-a-kind home theater space that earned his company a 2021 Mark of Excellence Award for the Home Theater/Media Room of the Year.
With his client's self-professed love of film and desire to entertain guests several times a year, Yates decided that adding a dedicated theater complex that is accessible from the interior as well as the home's outdoor entertainment area would be the perfect fit.
Drawing on his shared taste in Mediterranean design and his annual trips to Italy, Yates started by sketching a roughly 850-square-foot, 18-seat theater that rather than lean on the hard-edged planes prominent in director screening rooms, instead took influence from hilltop villas of Northern Italy, with their rhythmically-arranged chestnut columns, arches, plinths and friezes. The client loved the design, so KYD got started planning the AV system.
In the end, Yates' final design called for 28 professional Meyer Sound loudspeakers and subwoofers, inspired by the clients' social/business circles, which include tech-savvy staff at Lucasfilm's Skywalker Ranch campus nearby, where many rooms, from the Stag Theater to small edit suites, recently upgraded to Meyer Sound.
This choice fortified the client's confidence that even their most discriminating guests would be stunned to experience Skywalker quality sound in a residential setting. KYD opted for a suite of speakers that includes three active Acheron Designer LCRs, three X400-C active LCR subwoofers, two Dual-24 LFE main subs built into custom chambers in the baffle wall, 10 HMS-5 side surrounds plus two more in the back, and 10 additional HMS-5 speakers in the ceiling.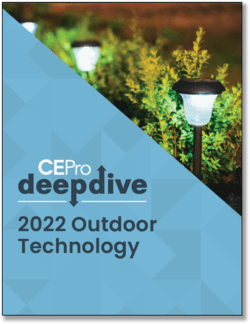 The 2023 CE Pro Outdoor Technology Deep Dive reveals unique set of impediments, including explaining pricing and interacting with outdoor-centric trades.
Get your copy now to take a "deep dive" into the trends and challenges of outdoor technology.
Download the report now!
Trinnov Audio and Dolby Atmos Help Boost Home Theater Performance
At the AV system's heart is a powerful Trinnov Altitude 32 pre-pro, whose decoding of Dolby Atmos and other immersive formats is executed in software, not hardware, offering a clean, fast, free download-to-upgrade path. A SpeakerPower SP2-12000 power amp delivers 2×6000 watts.
On the video side, Yates decided to go with a Sony VPL-VW5000ES to beam images onto a Stewart Filmscreen 4-way Ultramatte 130 microperf 192 x 90-inch screenwall.
To aid with lighting and control, Crestron automation and Lutron lighting were implemented, and family and guests can relax in any of 12 Cineak Fortuny theater recliners or six Hancock & Moore Station leather swivel chairs.
Assisting on the extensive KYD project were general contractor Martin Diego of Diego Brothers Construction, AV and control integrator Geoff Franklin of The Projection Room, and millwork fabricator Charlie Feist of Feist Cabinets.