As an integrator, it's understandable to try and upsell your customers into solutions that include all of the latest fancy features that manufacturers put into them. But integrators can prove their value sometimes by going the opposite route and focusing on simplicity to ensure the customer doesn't need a PhD to enjoy their smart home.
Take integration client Jodi Shamaley, who is no stranger to living in a smart home. She's been doing it for 15 years, enjoying life with centralized smart home systems in two prior homes. Installed by Brilliant AV, of Costa Mesa, Calif., the high-end systems were from reputable manufacturers and offered the standard fare of smart home features … and then some.
It was the "and then some" that didn't sit quite right with Shamaley for her new home. It's not that the features weren't impressively designed or implemented, "I just found that I didn't use some of those 'extras' very often," she admits. Enough said.
For Some Smart Home Clients, Less Is More
With Shamaley's comment in mind, Steve Stary, VP of sales for Brilliant AV, took a completely different approach the third time around with his long-standing client.
In the customer's contemporary 3,000-square-foot home, Stary "… followed Jodi's request for a more basic, simpler smart home solution that could be easily installed without having to rip into walls to install more wiring or introduce several new types of control devices into her living spaces," he says.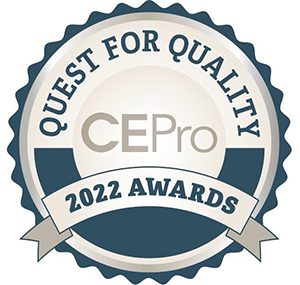 CE Pro urges integrators to recognize their suppliers that go above and beyond to deliver premium support and service. Cast your vote today to recognize the services (not the products) from your favorite manufacturers and distributors.
Cast your vote today!
"It was a minimalist approach which suited the clean, contemporary design of my home," Shamaley adds. "In a home like this, and a lifestyle like mine, less is definitely more."
So Stary eschewed integration tradition with the customary single, centralized smart home system in favor of IoT devices.
Controlling Things Her Way
Not that Brilliant AV skimped on quality.
The integrator incorporated premium products from leading brands, including Sonos Amps to integrate with the existing whole-house audio speakers, and Sonos Beam 5.1 systems to connect to 65-inch Samsung Frame TVs pulling entertainment content from Apple TV streaming media players.
To these entertainment systems Brilliant AV added smart home devices including Nest thermostats, a Ring doorbell and Ring surveillance cameras, Lutron RA2 Select lighting and battery-powered shading, and a monitored security system powered by Alarm.com.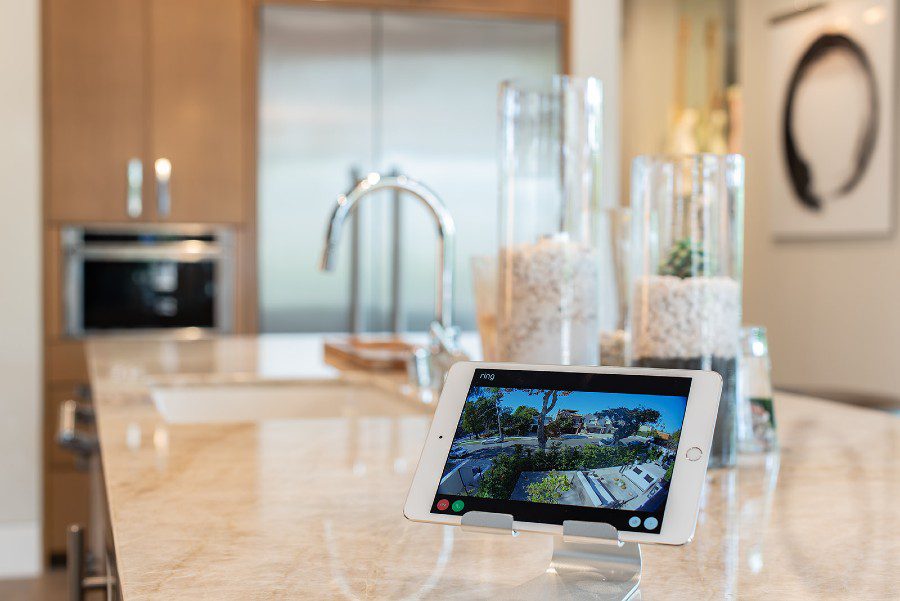 Each product installed comes with a companion app to facilitate control, which Shamaley prefers over traditional proprietary keypads, touchpanels and handheld remotes.
"I don't even need a remote control, anymore," Shamaley remarks. "I can just grab my iPad and hop on the control page that Brilliant AV designed for me and quickly access whatever control app I need at the time."
Saying Goodbye to Smart Home 'Clutter'
For some scenarios, multiple devices were integrated into a single app experience, like using the Alarm.com app to disarm the security alarm, activate Lutron dimmers, and adjust the Nest thermostat. Brilliant AV also integrated Sonos music with the Lutron system lighting.
From decorator-friendly wall-mounted keypads throughout the home, Shamaley can engage lighting scenes and adjust the music at the same time.
"Other integrations are possible, too," says Stary. "For example, we could eventually add an Amazon Alexa assistant and Jodi would be able to control everything in her house by voice."
For now, though, a year after Brilliant AV installed and configured the IoT devices, Shamaley is happy with the way the technology works.
"It's been extremely reliable," she says. "These products operate flawlessly thanks to an amazing Wi-Fi system with plenty of wireless access points installed by Steve and his crew. Plus, there's none of the clutter that used to interfere with the décor of my other smart homes. In my other homes I needed large racks of equipment. Here, I have no rack at all."
IoT Solutions Affordable & Easy to Install
By sticking with basic features and a wire-free installation, Brilliant AV was able to offer Shamaley a home technology package that cost a fraction of her previous bells-and-whistles systems … for a loyal customer who can tell all of her friends about what the integrator did to simplify her home's technology.
"This 'decentralized' setup does everything she wanted it to do, and we were able to install it quickly and efficiently without having to tear into walls or engage in complex programming," Stary says.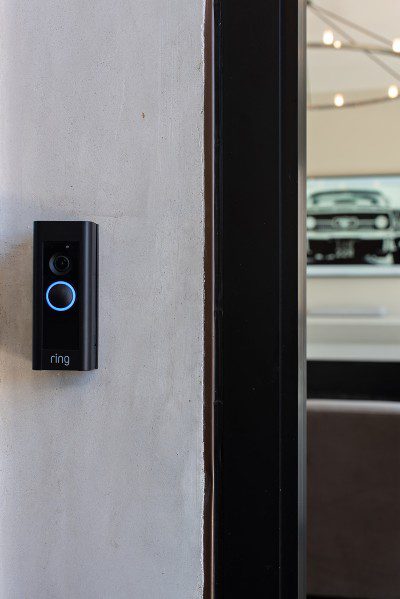 Granted, most of the products in Shamaley's smart home can be purchased by homeowners themselves, but the trick is getting them all to work together flawlessly. That's where the expertise and value of an integrator comes into play. The team at Brilliant AV was able to execute their professional design and integration skills in a whole new way, creating refreshingly simple, affordable, and user-friendly home control solutions.
When it comes to today's smart home, it's really about simplicity.
"As integrators, we can get stuck or mired in our own idea of what 'best practices' entail and make things overly complex and making technology a bit like an untrained dog — fun to play with but a little embarrassing when your friends come over," Stary says.
"In this case, it was about taking what the homeowner wanted and helping them make it the very best that it can be. Because it's just wrong if your smart home adds complexity to your life."