'Works with Bose' Enables Whole New Era of Home System Integration
Works with Bose program partners with top brands like Amazon, Google, Control4, Crestron and more to provide integrators a way to offer streaming services, voice control and more from homeowners' Bose systems.
Content from our Sponsor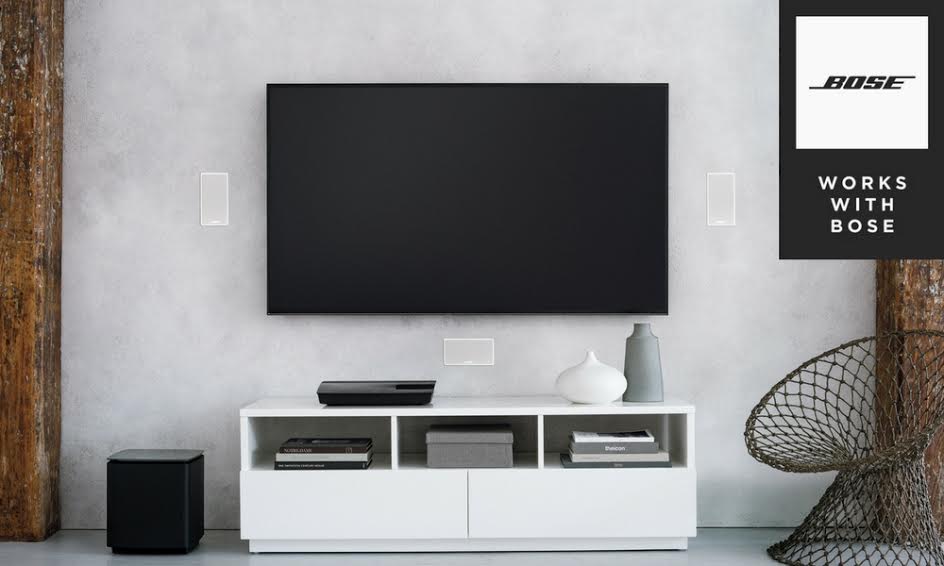 The most notable audio company in the industry is now working hand-in-hand with the world's most recognized technology companies. Sound significant? Well, it is. Bose, through its Works with Bose program, is working with companies ranging from Amazon, Google and Samsung Smart Things, to Control4, Crestron, RTI, URC, Key Digital, and Elan to ensure functionality between its A/V solutions and their control systems.
Bose's recent moves, like building Amazon Alexa voice control into its products, aim to help integrators take advantage of the growing market for smart speakers and it underscores its commitment to software development.
According to research from Parks Associates, 53 percent of U.S. broadband homes that own a smart home device also own a smart speaker with personal assistant functionality. The research also finds that, over the past year alone, ownership of smart speakers with intelligent personal assistants has just about doubled.
Driving the interest in these products is the advancing ease of use they provide, coupled by a growing list of smart-home products. These smart products offer homeowners unprecedented convenience to operate everything from thermostats and lighting systems to A/V systems via simple voice commands.
Beyond the high-profile voice control options Bose is providing its dealers, the Framingham, Mass.-based company is constantly adding a wealth of traditional control options to its already versatile feature set through its Works with Bose partner program.
Underscoring Bose's commitment to integrate into a variety of home automation and control systems, Adrian Eiben, business unit manager at Bose, says the company has been working diligently with manufacturers across the professional installation market to add control flexibility to its home theater products.
Works with Bose Prioritizes Software Development
Arguably the highest profile alliance Bose has formed as part of its Works with Bose program is its Amazon partnership. Powered by a new API, Bose is providing Alexa integration to allow the Alexa family of products to complement its array of A/V solutions. The newly available Bose Alexa skill provides integrators and their clients with the ability to control Bose SoundTouch products via Amazon Alexa voice commands.
Moreover, through its 3PDA developer's alliance with Amazon, Bose will expand its Alexa functionality to offer users more control options over the course of the immediate future.
Looking at some of the functions currently available using Amazon Alexa-enabled products, including the Echo Dot, the Echo Plus, the Echo Spot and the Echo Show, homeowners can ask, "Alexa, ask Bose to play preset one."
Homeowners can also ask Alexa direct commands for specific rooms within a multiroom A/V system. For example, "Alexa, ask Bose what's playing in the kitchen?" Or, "Alexa, ask Bose to play preset two in the living room."
Other examples of available functions using the new Bose Alexa Skill include:
Power On/Off: "Alexa, ask Bose to turn on in the living room."
Play/Pause/Skip: "Alexa, ask Bose to skip to the next track."
Volume Up/Down: "Alexa, ask Bose to turn the volume up."
Play a Preset: "Alexa, ask Bose to play preset three."
Query What is Currently Playing in a Room: "Alexa, ask Bose what is playing in the bedroom?"
Play Everywhere: "Alexa, ask Bose to play everywhere."
Play in a Specific Room: "Alexa, ask Bose to play preset one in the kitchen."
Additionally, updated SoundTouch Control platform drivers from Bose leverage the company's A4V (Audio for Video) product-specific capabilities to improve the user experience via specific Bose icons and interface elements, including SoundTouch presets, now playing information and audio mode selection. Bose offers drivers for Control 4, URC, RTI, Crestron, Elan G and AMX.
All of the drivers except for AMX are available for download on the Janus Technology website now. The AMX driver is coming soon.
After listening to dealer feedback, Bose engineered its state-of-the-art API to include the functionality integrators asked for to improve the user experience of its SoundTouch enabled home theater products. Eliminating the need for third-party apps, users now have integrated options for full video switching, source selection, discrete on/off and more.
Addressing its core and best-known value to consumers, Bose through its software development is bringing an easier to use streaming audio experience to its line of products.
Partnering with the most popular streaming companies in music, Bose offers Spotify, Amazon Music, Deezer, iHeart Radio, TuneIn, SiriusXM and Pandora as integrated audio options.
Homeowners can now browse music services and set presets directly from their Bose app. Users can also make their own custom stations from Pandora, and set playlists with nothing but songs from their favorite bands.
Staying ahead of market trends, the Works with Bose partner program facilitates an integrated experience with cooperating partners. The company's efforts to incorporate control functionality into its products are highlighted by a strong list of professional installation control partners, including AMX, Control4, Crestron, Elan, Key Digital, RTI, URC, and Samsung's SmartThings platform, as well as an extensive list streaming service partners, including Pandora, Spotify, Deezer and TuneIn, and Bluetooth options that include Alexa capabilities.