It's been a while since custom integrators could get "energized" about a new equipment category. But residential energy storage could "spark" a whole new wave of enthusiasm, along with high profits and recurring monthly revenue (RMR), among integrators.
The newest entrant into the space is Sonnen, a 10-year-old Germany-based maker of high-end residential energy storage systems. The company's technology is widespread in Europe, serving nearly 30,000 homes, the company claims. Sonnen stuck its toe in the custom electronics channel at last year's CEDIA Expo, but is going full force at this year's show with a new product dubbed EcoLinx.
"Utilities have very little knowledge of the custom integration channel. We are trying to bring that knowledge to them."
— Blake Richetta, Sonnen
Targeted specifically at home-tech pros, EcoLinx is a complete energy storage system, including battery and inverter, available with third-party smart home automation control capabilities. But Sonnen's offering is not just a high-margin battery pack for dealers to install. Using software, Sonnen gives integrators the ability to bundle clients' homes together to create Virtual Power Plants (VPP), and then sell the cumulative stored energy back to the utility company to earn RMR.
Decentralization, Decarbonization and Digitization
According to Blake Richetta, senior vice president at Sonnen, the time is ripe for the smart energy market to take off.
"The reality is that the power grid must become more decentralized, more decarbonized, and more digitalized," he says of the grid's "three D's."
Decentralization is the need to move away from a power grid that moves electrons from a power plant hundreds of miles over wires to individual homes. This antiquated system was created over 100 years ago, and is universally deemed to be inefficient and expensive.
"From a scientific perspective, [the antiquated power grid] is literally bonkers from an efficiency standpoint," exclaims Richetta. The other reality of decentralization is that utilities are not going to build new coal burning power plants in the U.S., not to mention the high cost for the transmission infrastructure.
"Today, in the world of renewable energy, it is very feasible to have hundreds, thousands, or tens of thousands of little power nodes all over the place that produce energy," says Richetta, who previously worked at Lutron for many years and had a stint at Tesla.
That decentralization leads to the need for decarbonization.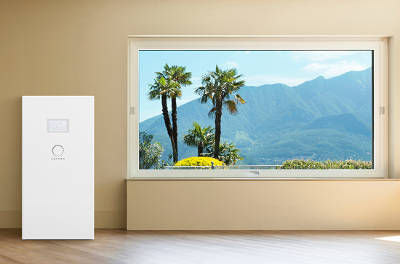 "When you decentralize, you are also decarbonizing, which of course is very important for the future of humanity," says Richetta.
Finally, the electrical grid needs digitalization, which means dynamic intelligence so the grid can be more efficient and more nimble. To understand the "nimble" aspect, a little background on power grid generation is helpful.
The power grid is made up of three types of power plants:
Base Load — active all the time supplying the same amount of power.
Immediate Load — always on, but power output fluctuates based on demand.
Peaker Plants — smaller, faster and more versatile plants that can be fired up in 15 minutes to accommodate peak load periods, unfortunately contributing to carbon emissions in the process.
RMR from VPPs
Sonnen was developed 10 years ago by Christoph Osterman and Torsten Steifenhofer in Wildpoldsried, a small German village of 1,800 people. Today, power generation is that village's biggest business. Wildpoldsried produces seven times more energy than it uses. In the village, Sonnen piloted and perfected its energy storage "hive" topology that bundles multiple batteries together to create a "Virtual Power Plant."
A hive is, in essence, an energy-storage system that feeds power back to the grid to enable the utility to "flatten" its load curve using "grid mode shifting" and demand response. Today, German homes account for about two-thirds of the 30,000 Sonnen systems deployed throughout Europe, according to Richetta. He says the proliferation has allowed the utility company to decommission two Peaker Plants in Germany.
"A big, inefficient power grid is expensive to operate. Also, the utility companies have a cataclysmic problem: they are diametrically opposed to the solar industry," says Richetta. "They do not look at the solar industry as a long-term solution to their grid. They see solar as renegade in many ways because it is not closely controlled in an intelligent fashion by the utility. Solar does its own thing. … Solar ends up actually hurting the grid. It's a huge problem for the grid because it sends power back to the grid whenever it wants, often when the grid does not need the power. So utility companies are inspired to use technology like Sonnen's because it actually gives them control over solar."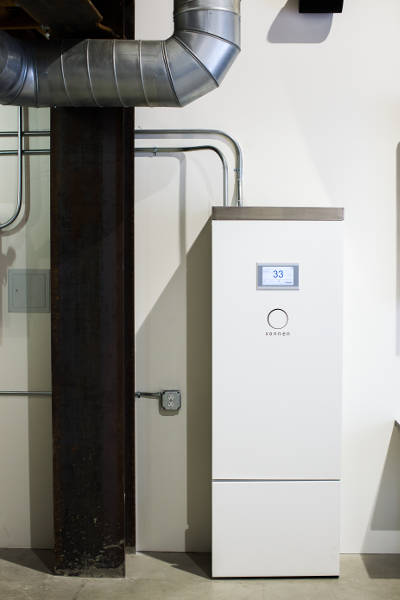 That's where custom integrators fit into the picture. Integrators are already installing control devices in homes that control lighting, HVAC, A/V and other power-using systems. Those control systems can be beneficial to utilities when combined with an energy storage system or a Virtual Power Plant on a larger scale.
"But utilities have very little knowledge of the custom integration channel," says Richetta. "We are trying to bring that knowledge to them."
Sonnen is conducting educational road trips across the U.S. speaking to utilities about smart home systems and how they can work with the utility.
'Big Deal' for Survival of Custom Channel
There's no reason to wait until the utilities come around, however. High-end integrators can sell Sonnen systems today, counting on the "emotional connection to energy independence, energy security, bulletproof solar systems, and carbon-neutral living," says Richetta. "All the things integrators talk about with their clients are unbelievably important to the future of the smart grid."
Already, Sonnen has signed a deal with homebuilder Mandalay Homes to build the first U.S. "Sonnen Community" in Northern Arizona. The 2,900 homes will all have Sonnen batteries and solar panels, and will be unified together to create a Virtual Power Plant.
Richetta adds that the company is currently in negotiations for another 18,000 master-plan community homes in the U.S. In these Sonnen Communities, the builder/developer is creating VPPs to earn RMR as an energy storage site for the local utility.
That same unique RMR business model is what makes Sonnen a unique energy opportunity for integrators. The EcoLinx product due to launch at CEDIA Expo in September consists of an inverter, automatic power transfer switch, and a powerful central processor with an API for creating integration drivers. Sonnen has Crestron and Control4 drivers in development, and is looking at integrating with the Josh.ai voice control interface.
"This is transformative and disruptive," comments Richetta. "Imagine where smart energy automation will be in 20 years for the custom installation channel. This is a big deal for the survival of the CEDIA channel."
EcoLinx Installation, Pricing, Margin
To install Sonnen, an integrator must have a high-voltage electrical license or partner with an electrician. Installation of a Sonnen EcoLinx generally takes less than one day — longer if the loads need to be rewired to create protected circuits that will be powered during a power outage. Generally, unless the homeowner is super wealthy, clients will realize they only need to power certain important loads (freezers, refrigerator, etc.) from the battery during an outage.
Once an integrator has successfully installed at least 50 Sonnen systems, he can create a VPP. The homes don't have to be in close proximity to one another; the only requirement is that they all have to be using the same electrical utility company. EcoLinx will have a longer warranty and longer battery life than Sonnen's other energy storage systems.
Other Players in Residential Energy Storage Systems
Sonnen is not the only company aimed at the channel. While big boys like Tesla are pursuing other business models, ​RoseWater Energy Group has been tugging away at integrators for several years now hoping to gain some steam for the market. Recently, the company signed on with the Home Technology Specialists of America (HTSA) buying group.
Enphase, which facilitates community-wide energy aggregation like Sonnen's virtual power plants, has been successful in Europe and Asia and has now moved into the U.S. like Sonnen.
At CES 2018, a new company called Watts Battery demonstrated a novel approach to the category, with modular, intelligent storage units that can be stacked or split up. Take one on the road for a camping trip, for example.
EcoLinx offers10kWh of energy capacity and 8kW of continuous power output capacity. This unit has a 10,000 cycle, 10-year warranty and retains nearly 80 percent of its original charge during its lifetime. It has an MSRP of $25,000. Dealer margins are generous.
Richetta says, "We are not the cheapest energy storage system, but we are the best. The integrator will be responsible for a lot of the programming and a lot of the interfacing between the utility and the Sonnen software. Then, the integrator would receive payments for Software as a Service (SaaS) indefinitely from the utility for the usage of the VPP," explains Richetta.
Sonnen has set up a one-day full certification training program that integrators must pass in order to install a system.
Why target the custom installation channel versus solar panel contractors?
"The solar channel and solar contractors have a very big limitation… they are selling based on the idea of savings of the electric bill," Richetta says. "Their primary message does not include energy independence, carbon-neutral living, or state-of-the-art smart home automation. They are door-knockers in many cases. That is not how you sell a smart energy storage system. That is why the custom installation channel is so interesting to us."
He adds, "Integrators are excellent at design, system design, programming, interoperability, and how to introduce and train customers on their new smart clean energy lifestyle."
If you enjoyed this article and want to receive more valuable industry content like this, click here to sign up for our digital newsletters!