Long before "smart home" became mainstream, custom integrators created homes that were highly intelligent through sophisticated automation programming that tied together various products and systems. Thoughtfully and skillfully orchestrated scenes set the stage for the everyday activities of homeowners, typically at a premium price tag.
Fast forward to today, and many now consider a smart home one in which they can ask Alexa to do something, often through a smart speaker.
While everyone in the custom channel knows it's not that simple, the path to a smarter home has certainly become more attainable for a wider range of prospective customers.
Automation platforms have changed over the past decade, helping integrators attract customers that still need advanced systems to command large-scale residences but also offering solutions to those who may be getting a foot in the door of a smart home without breaking the budget … and with room to scale upward should the opportunity arise.
The good news for integrators (and manufacturers) is no matter how you cut it, the smart home control business is definitely thriving in the custom installation channel — both at the high end and the low end of the market, as more options than ever abound for interfaces and connected devices/systems to control.
The first-ever CE Pro Smart Home Deep Dive Study revealed some interesting data in terms of the numbers of interfaces and placement, pricing, margin, manhours, and brand preference.
Installations and Pricing

The typical custom installation company will install 25 smart home control systems in 2019. While 25 is the median, there are a chunk of dealers who focus on a few, high-end products, while others are playing the volume game.
The data shows that 32% of integrators install fewer than 10 control systems per year. On the flip side, 14% of custom integration companies installed more than 100 control systems in 2018.
Surveyed earlier this year for the Smart Home Deep Dive, responding integrators were also bullish about their smart home control prospects for 2019.
According to the study, 61% of integrators believe their smart home installation business will grow this year. Just over one-third (36%), think business will be flat, while 3% think control system installations will drop this year.
Pricing

From a cost standpoint, the average installation price for a smart home control system in 2018 was $27,720.
That lofty average shows that the high end is still the primary wheelhouse for integrators; however, entry-level smart home control installations are also strong.
In all, one in four installations is less than $5,000, while 31% are less than $10,000. In a signal that price pressures are in play, two in three integrators do not think they will be able to increase their prices in 2019.
Number of Interfaces/Controlled Devices
The types of interfaces used in a smart home project have become quite diverse. The average smart home system consists of 25 separate interface devices, including keypads, light switches, mobile phones, voice modules and touchpanels.
In all, those 25 interfaces are controlling an average of 43 total devices, including individual light fixtures, shades, printers, thermostats, loudspeakers, surveillance cameras, displays and more.
About one in five (19%) smart home projects has fewer than 10 devices controlled, while 5% of smart homes have more than 100 devices being controlled.
Subsystems and Interface Placement
Logically, connecting a smart home control system to the home network/router is the most common "subsystem," although the network might truly be better defined as an infrastructure item than a subsystem.
Multiroom audio is the most frequently controlled true "subsystem," with 69% of smart home projects controlling distributed audio.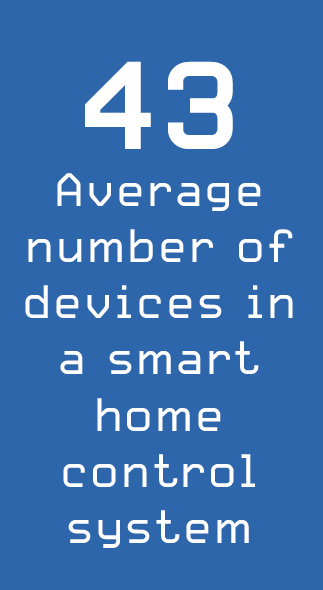 In order, the remaining subsystems commanded by a centralized controller are security/ surveillance (53%), lighting (52%), climate/thermostat (49%), multiroom video/ TV displays (45%), motorized shades (31%), and voice control speakers (28%).
Interface Placement

Some interfaces are placed in certain locations because that is where the technology exists, while others are placed in areas due to convenience, such as for entry/exit to the home.
The media room/den is the No. 1 room where an interface is located. That makes sense since that is going to be the most likely room with a TV display and audio.
Master suites, outdoor entertainment spaces and secondary bedrooms are also high on the location list, likely due to the concentration of technology there. However, kitchens, mudroom/entry, garage, laundry room and bathroom are likely locations due to convenience.
Profit Margin, Brand Preference, and Voice Control
In general, integrators aim for profit margins over 30%, and it is no different in the smart home arena. The average profit margin for a smart home installation (including equipment and labor) is 33%.
About 12% of integrators report that they earn less than 15% profit on those jobs.
Brand Preference
The study also asked integrators to select their most-preferred control brand. The results are a mix of smart home controllers and security-based systems.
The top ten companies are as follows:
Control4
Lutron
Crestron
2GIG
Alarm.com
Alula
DSC/Johnson Controls
Elan/Nortek
AMX
Savant
Voice Control
Amazon Alexa is by far the dominant voice control platform in the channel, preferred by 71% of home-tech integrators surveyed.
Up-and-coming channel-centric platform Josh.ai had a remarkable showing in the poll, with 17% of respondents calling it their preferred brand of voice control.
Google Assistant (8%) and Apple Siri (4%) barely registered a blip
[The voice control section has been edited to reflect a more accurate interpretation of the findings. 5/6/2019]
If you enjoyed this article and want to receive more valuable industry content like this, click here to sign up for our digital newsletters!