Usually when someone says a phrase like, "back in the day" they are inferring that something used to better. When it comes to whole-house audio, it's unlikely anyone would ever prefix a conversation about these systems by saying, "back in the day."
The reason why that conversation will never happen is that whole-house audio systems have evolved, and now thanks to the maturation of wireless technologies and the explosion of streaming media, today's systems far surpass those systems of yesteryear.
A Trip Down Whole-House Audio Memory Lane
Looking back at the evolution of the whole-house audio category, Joe de Jesus, product manager, custom installation, Lenbrook, recalls the difficulties of installing that previous generation of systems and says today's systems are much more dealer friendly.
"The constraints we had to work with in the early days of distributed audio came on several fronts. First and most obvious was the cable runs from media to amplification, to control of volume to speakers was a considerable challenge with very little latitude. Cable distances alone made for a fairly defined envelope of what could be accomplished at a price," he comments.
"The level of creativity which early designers and installers exhibited was exciting, but in some cases pride swallowing. When things went wrong, they were extremely expensive to rectify if at all possible.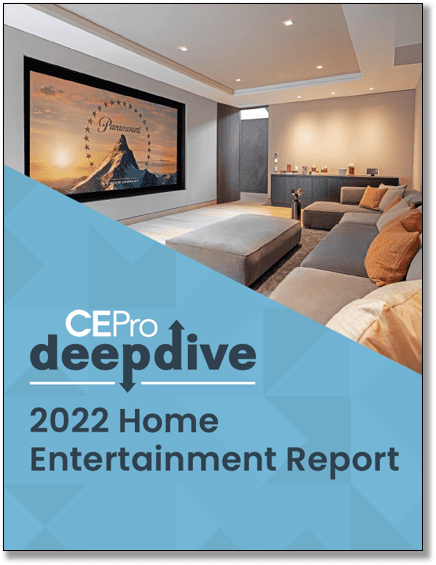 The home entertainment category is especially susceptible to the supply chain crisis because there are so many individual components required. Despite that ongoing problem, the once-forgotten "home theater" category continued its strong comeback in 2021 likely driven by the ongoing house-bound public due to the COVID-19 pandemic.
Download your copy today!
"The second constraint was how a customer interacted with the system, the way one chose the content; chose the zone and affected the volume often meant touching the source itself, hitting a speaker switcher and then going to a volume pot on a wall. It seems like something from the dark ages, but we worked with what we had," says de Jesus.
Related: Lenbrook's BluOS—The Making of a Wireless Audio Platform
"The third factor was the content itself. With the exception of an external feed from a tuner of some sort [FM, satellite], the content you listened to resided within the walls of your home in some physical format. The external feeds meant sitting back and listening to what the station had to offer without any control of the content itself.
"One had more control over the content you owned but it was limited and required housekeeping. I remember the days of guys loading 300-disc CD changers and hoping for the best," says de Jesus.
"From the manufacturing side, we are now able to create a single product which contains search functions, media and zone management, amplification and even the speakers themselves in one tidy easy to use package."
— Joe de Jesus, Lenbrook
By the early to mid-2000s, whole-house audio systems began to technologically progress through the advent of matrix amplifiers, network advancements, and the introduction of the Apple iPod as a source component.
de Jesus says matrix amplifiers made zone management easier, and the iPod made content access easy for mainstream music listeners. Network advancements he says, however, have made the biggest difference in helping to facilitate the adoption of whole-house audio.
"In my opinion, the home network has completely changed the rules of the game. Now we have the ability to access content from a variety of sources both internal and external, as well manage each zone from the comfort of our couch with a couple of touches to our smartphone," emphasizes de Jesus.
"Take that one step further, and we can see a not too distant future where voice control adds a different means of reliable interface. From the manufacturing side, we are now able to create a single product which contains search functions, media and zone management, amplification and even the speakers themselves in one tidy easy to use package. Just add network access and away you go."
Modern Systems Deliver Reliability
A big reason why home networking has become popular over the past decade plus has been the rapid development of wireless networking technologies.
Over the past several years the networking industry has developed the 802.11b, 802.11g and 802.11n formats, which all represented an increase in reliability and speed. More recently, 802.11ac and now 802.11ax offer even faster speeds, more support for bigger networks, and improved network coverage.
"Certainly the ease of use has made distributed audio open to a much larger demographic. User experience is a central focus of our company,"
— Joe de Jesus, Lenbrook
The result of the improvements made to wireless networking technologies is that home networks and wireless products that include audio components are more reliable than ever before.
Pointing out some of the elements that are not as well publicized that are also related to the growth in popularity of wireless A/V entertainment, de Jesus says the reliability of wireless enables a range of system designs that include mixing wired and wireless products.
Coinciding with the maturation of wireless networking technologies, de Jesus stresses user interface designs have also improved.
"Certainly the ease of use has made distributed audio open to a much larger demographic. User experience is a central focus of our company," he comments.
"Creating an intuitive interface, which allows a customer to surf through the most popular functions like searches, playlists, zones, group zones are not as easy as it looks. We have the ability to build an incredible level of details and versatility into our system, but the question becomes, 'how much is enough.'
"At what point does sophistication becomes complication. I want to be able to hand my tablet to my technophic aunt with little to no instruction, leave the room and be confident that she will be listening to the music she wants in the room that she wants with no addition help from me," de Jesus says.
Products like his company's BluOS platform support users that own Apple iOS, Android, Apple OSX, and PC products to allow them to utilize their favorite computing products as interface solutions.
In addition, voice control provides another layer of control that wasn't available with previous generations of whole-house audio products.
Whole-House Audio Capable of Delivering Audiophile Performance Levels
Regardless of how modern systems are controlled, the intuitiveness of today's modern interfaces enables homeowners to access their favorite streaming services. These services are much more convenient to use than legacy solutions such as CD players, radio and even vinyl.
De Jesus says digitally stored music and streaming services organize content in a manner that is conducive to daily use and they provide instantaneous access.
"In the early days of accessing music files and track information was less than user-friendly, but progress was made and metadata has improved dramatically. The only downside to the change from physical media to content on a hard drive is the unfortunate belief that content could either be good or easy to access," recalls de Jesus.
de Jesus continues:
"People loved the idea of accessing hundreds of songs from something they could carry around in their pocket, but [they] came to believe that basic MP3 quality was the best they could hope for. Although we have made great progress in making high-resolution content easily accessible, it is not a widely known fact. Many people still believe the best they could hope for is CD quality. This kind of binary thinking is unfortunate, but it presents an incredible opportunity. Our BluOS platform proves that you can have both—and in a variety of applications. We are capable of delivering high-resolution music wirelessly with a very easy-to-use interface. If our partners can explain, educate and demonstrate how good distributed audio can be to their customers we all stand to create a situation where we can offer the client something, which they didn't know was possible and thus be rewarded. Conversely, it is hard to sell a better speaker or a better amplifier when you don't have source material stringent enough to show the differences between good, better and best."
Taking a closer look at the BluOS platform, Lenbrook designed the operating system from the ground up to serve the installation community as a flexible whole-house audio solution that could deliver high-resolution audio to multiple zones.
The proprietary platform backbones whole-house audio products from Lenbrook's NAD and Bluesound brands, and these products utilize speaker designs from Lenbrook's PSB brand and its founder Paul Barton.
The BluOS operating system includes Apple AirPlay2 wireless streaming, support for high-resolution 24-bit/192kHz WAV, FLAC and ALAC files, aptX Bluetooth streaming, and the ability to play MQA high-resolution audio files.
Validating the BluOS's feature set as a system engineered specifically for custom installation is the inclusion of third-party control integration with brands such as Control4, Crestron, Elan, Lutron, RTI and others.
Combining all of these audio options along with the control capabilities offered by BluOS, Lenbrook developed the operating system to adapt to any home application without sacrificing sound quality to provide users with a premium audio solution.
To learn more about how BluOS can help integrators, on Wednesday December 12 at 11 a.m. EST, de Jesus and his colleague Andrew Haines, partnerships, development & BluOS product manager, Lenbrook International, will conduct a webinar in conjunction with CE Pro that elaborates on the benefits of a modern whole-house audio system in an interactive forum.
---
---
Summarizing the Dec. 12 discussion, de Jesus says that any dealer that would like to bolster their revenues through the sales of whole-house audio systems should investigate the advantages of the BluOS platform.
"Integrators are always interested in having products or solutions, which allow for great latitude in design, consistency in performance, clean and cost-efficient deployment, and last, but not least—product support they can rely on. Lenbrook's greatest strength is having a vast amount of insight into optimizing these aspects from its experience with our main brands: NAD, Bluesound and PSB," adds de Jesus.
"We are constantly refining our products and support systems to make us the best possible partners we can be to the integrator. The path is long and there are many rivers to cross.
"We do not have all the answers, but we have some very smart and dedicated people who get up every day and try to make us more relevant to our clients. It is an ongoing task because the nature of our business is one of constant change. Lenbrook's decades of experience with a wide array of product offerings is the great value to our partners."