When the Marshall Wildfire roared down from the foothills west of Louisville, Colo., just before New Year's 2022, more than 1,000 homes were destroyed—including that of Louie Delaware, founder and president of the Living in Place Institute, an entity that promotes accessible, healthy, safe homes designed to meet people's needs as they age or confront other challenges in life.
Now that home, one of dozens that were destroyed in a custom area called The Enclave, is poised to come back as a showplace for the newest design features and technologies that could give residents those capabilities. Construction on the Living In Place Institute Idea Home is expected to start this spring, with completion in 2024.
"The fire is an ongoing tragedy that reverberates today," says Delaware, who had founded the institute in 2013. "For my family and me, it encouraged a resolve to have something positive emerge from that experience, literally a phoenix that rises from the ashes to create good for the wider population."
The Idea Home will be held open to the public after completion next year and will be used for a series of workshops and professional events, before his family moves back in, Delaware adds. The Living In Place Institute is making plans for a similar Idea Home in Rochester, N.Y., and is recruiting homebuilders to show the idea in their own model homes for new communities.
KBIS, IBS Event Helps LIPI Connect with Suppliers
Earlier this month Delaware and his Living In Place team were in Las Vegas at the Design + Construction Week Show, a mega-exhibition of products and technologies for 110,000 builders and design professionals attending the annual National Association of Home Builders (NAHB) and National Kitchen+Bath Association (NKBA) conventions.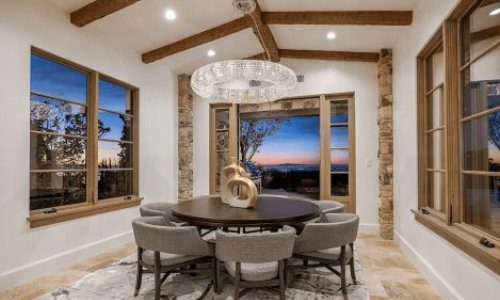 As a custom integrator, lighting is in demand. Effective communication, education and showcasing the value proposition of LED light fixtures in conjunction with integrative control systems are the keys to overcoming challenges and closing sales in this specialized market. Join us as we discuss the future of digital lighting and control with David Warfel from Light Can Help You and Patrick Laidlaw and Mark Moody from AiSPIRE.
Register Now! 
Plans for the Idea Home are far enough along that Delaware discussed its many advantages with the builders, designers and architects at the show who are creating the nation's next generation of homes and apartments. The Living In Place Institute certifies professionals through training programs to apply its standards to new construction and home remodels via a 16-hour on-line course.
The first feature of that Idea Home is that no steps will be required to get into the home, without any thresholds, not just from the street level to the interior, but also to bedrooms and baths. "Over the past decade, Denver has seen a wave of ranch style homes arrive for the market of age-55-plus buyers, but few of them show anything close to zero-step entries, and multilevel designs are even more challenged," says Delaware. "Garage entries to mudroom entries and other spaces on newer homes often show five or more steps, a test for anyone in the 25% of our population that has a physical challenge."
Delaware notes that according to studies, an overwhelming number of older residents intend to age in place rather than move to specially built senior housing, and many already report facing issues of access in their current accommodations.
"Anybody who at some point will use a wheelchair, walker, crutches or a can will have big problems coping with the plans now being created for that market," he says. The Idea Home will show zero-step entries from street and garage and will have chases or other spaces where elevators or lifts can be installed if needed for transport between levels.
But access between levels is just the start of what will be shown. Delaware and other professionals at the Living In Place Institute also focus on the needs of younger families coping with kids with autism and other developmental disabilities, and of people facing a crisis after an accident or with the onset of an illness or cognitive disability.
The Idea Home will have features for coping with a wide range of those eventualities, Delaware notes. Electrical connections, appliances and cabinetry will be installed to be accessible to people with challenges reaching up or down. Lighting will be designed to help people who lose some vision capabilities as they age, or who face challenges with glare associated with some cognitive disorders. Safety and smart home technology will be evident everywhere in the home.
Denver-Based ListenUp to Tackle Integrations in Idea Home
Tim Coonce of Niwot-based Porchfront Homes has been selected as builder on the project and has already been selected to rebuild a number of other Boulder County homes destroyed in the fire. John Danielian of Danielian Associates of Irvine, Calif., is creating the architectural design. Delaware is also working with two National Kitchen and Bath Association Certified Master Kitchen and Bath Designers, Maria Stapperfenne and Barbara Barton, on the kitchen, baths and other key areas of the home, each a Certified Living In Place Professional, through Delaware's company the Living In Place Institute. According to Delaware, Denver-based integrator ListenUp will do the smart home technology.
Robert August, internationally recognized residential marketing expert and a National Association of Home Builders Hall of Fame member who designed and led numbers of Parade of Homes and other idea home events in Denver, some of which drew over 125,000 visitors, is producer and director of The Living In Place Idea Home project.
Delaware and his team are now at work on specifications and are already partnering with Windows, Caregiver Smart Solutions, Delos Living, Delta/Brizo, Hunter Douglas, LG Appliances, Mitsubishi Electric, QuickDrain, Panasonic Vent Fans, REC Solar, Rev-A-Shelf, Seachrome, Signature Kitchens Suite, Span, Steamist, SWIDGET, TOTO Toilets, Tresco Lighting, and many other partners on incorporating products that have Living In Place features.
"The Living In Place Institute Idea Home will demonstrate our priorities for future housing, with the goal of creating living spaces that are accessible, healthy, safe, secure, beautiful, functional and connected," says Dani Polidor, Vice President Sales & Marketing at the Living In Place Institute. "This is the way all homes should be built." Groundbreaking on the home is expected soon. The Living In Place Institute is actively seeking other makers of home safety and accessibility products as partners on the Idea Home.
If you enjoyed this article and want to receive more valuable industry content like this, click here to sign up for our digital newsletters!