Take Time to Hang Out in CEDIA Expo Virtual Forums & Lounges
For the CEDIA Expo Virtual Experience, attendees can network and chat about a variety of matters in special Forum and Lounge areas.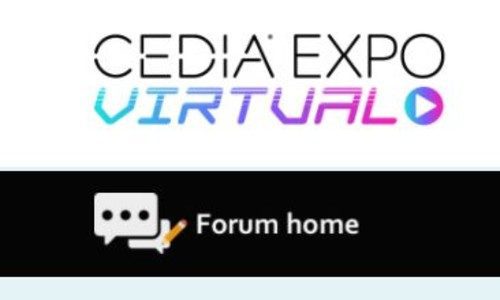 You might not be able to bump into old friends and colleagues, or grab a beer with a group of integrators after a long day on the CEDIA Expo show floor, but the CEDIA Expo Virtual Experience still has several ways to network and hang out with your peers.
As part of the CEDIA Expo Virtual platform, when attendees aren't checking out exhibitor booths or education sessions, they are encouraged to head over and spend some time in the Forums and Social Networking Lounge areas that have been created for networking and idea sharing.
Both spots have seen their share of attendee activity during CEDIA Expo Virtual so far, so if you have some time before the event comes to a close, give them a look, add your knowledge and opinions, and have some fun!
CEDIA Expo Virtual Forum Topics
Job Board: Looking for top talent to add to your team? Use this forum to discuss potential job openings in your residential, commercial or security installation company.
Software Selection: Selecting the right software for proposal writing, accounting, communications, project management, inventory control, and payroll can make or break your company. Integrators can participate in this forum and discuss their experience with various software programs. Feeder question: What is your experience using single-solution, purpose-built software versus using a turnkey all-in-one software solution?
COVID-19 Operations: Share ideas and advice at CEDIA Expo Virtual on what has worked (and what has not worked) for your company operations during COVID-19, such as work-from-home setups, furloughs, effective PPE administration, client interaction, etc. Feeder question: How much more time on the jobsite are you spending due to COVID-19 precautions and did you change your labor estimates due to it? If so, by how much?
Lighting Fixture Business: Are you thinking about or have you already jumped into the low-voltage lighting fixture business? Use this forum to share ideas and lessons learned from selling and installing lighting fixtures, and to discuss which fixture suppliers you are using and why. Feeder question: How have you handled your partnerships with electricians now that you are doing lighting fixtures? What is the structure of your business deal with electricians for the fixture margin or installation cost?
Problems with HDMI 2.1 & 8K: Questions abound regarding the HDMI 2.1 spec and 8K. With limited 8K content, are you even deploying HDMI 2.1 topology now or waiting? Use this forum to discuss how you are "futureproofing" your installations today for the 8K future. Feeder question: Are you deploying 8K receivers or is it best to bypass the AVR and go directly from the source to the display? How are you showcasing 8K displays in your showroom, and has it helped your 4K sales?
Wellness Market Solutions/Showrooms: Circadian rhythm lighting, natural light control, indoor air quality, water purification, soundscaping and aromatherapy have entered the lexicon of the custom installation market. Here, share how you have positioned your company to offer wellness solutions. Feeder question: What have you done in your showroom or on your website to showcase wellness solutions?
2021 Outlook/Predictions: No one could have predicted how disruptive 2020 has become. Home theater, streaming media, audio, video, security/surveillance, wellness, home networks/home offices, and voice control have all been boosted, while the commercial market has taken a hit. Which are here to stay? Put on your Johnny Carson Carnac the Magnificent turban and make your predictions. Feeder question: What the heck will 2021 look like? Which markets do you see rising and which will fall next year (and why)?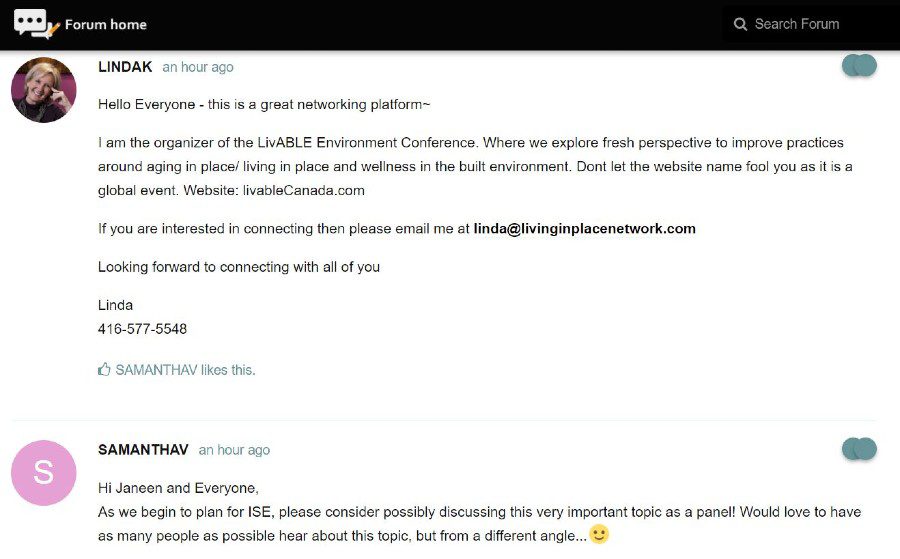 Resimercial Market Solutions: Home offices are hot and look to be strong for the foreseeable future. What products have you found are best suited to bring "resimercial" solutions to your clients for video teleconferencing, networks, and unified communications. Additionally, esports gaming continues to surge in popularity, especially as competitions gained national TV coverage while live pro sporting events were halted during COVID-19. Feeder question: Have you created any home office or esports/gaming packages for residential clients? If so, what are they?
Home Theater/Streaming Solutions: The pandemic has increased in-home streaming music listening by 30%. Pay-TV on-demand has risen dramatically. Both these trends have given rise to demand for improved audio and video in the home. How are you taking advantage of the increased demand? Feeder question: Will day-and-date streaming services become more in demand and how are you presenting those to your customers?
Developing Service Agreements: Dealers report that clients are less patient due to the pandemic, which has put stress on service departments. Use this forum to discuss some service agreement solutions that are working for your operation. Feeder question: What is your typical service agreement like and how has it changed due to COVID-19?
Social Networking Lounge Topics
Operations — Learn from peers the latest tips on operational efficiency, from hiring/firing and incentives to training, sales, documentation, and more during CEDIA Expo Virtual.
Marketing — Discuss how you and your colleagues are conducting virtual sales presentations, using social media to connect with clients during COVID-19, added a CRM system, or changed your website to be more responsive.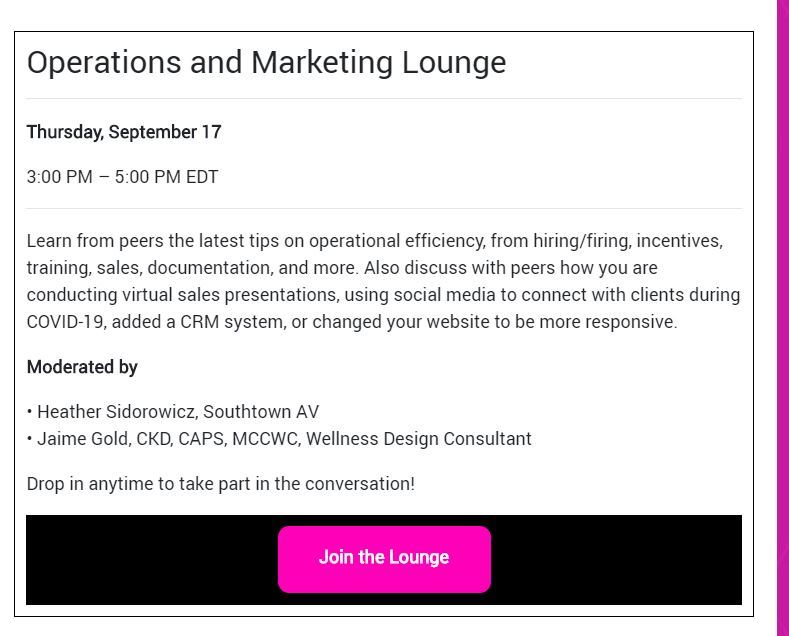 Technical — Anything is on the table: from HDR video to HDBaseT, HDMI 2.1, lighting, motorized shades, network configuration, cybersecurity, video surveillance, home controls, voice control, room acoustics, calibration, and more.
Designer/Builder Relationships — Designers and builders are more attuned to smart home technology than ever before. Discuss model home programs, shared client meeting structure, options/amenities selection, kitchen and bath technology, and other trade-adjacent topics.