It's no secret that a lot of custom integration owners came into the industry with knowledge and passion for AV first and business acumen second.
But with today's comprehensive business management software solutions, demonstrated all over the place at CEDIA Expo 2019, Joe Audiovisual can look like a Harvard Business School graduate.
There are end-to-end software solutions that take companies from sales to system design to project completion; there's third-party management of customer engagement; cloud-based solutions and apps allowing integrators to more easily manage tasks. We even included virtual reality home theater design software.
All the A/V and automation at the Expo were exciting to see as usual; however, some of the most valuable booth visits for integrators were with the array of companies focused on the operational side of their business. Here's a sampling of the software solutions highlighted at CEDIA Expo 2019 in Denver.
ProjX360 Aims to Streamline Processes, Propel Profits
Software provider ProjX360 continues to bolster the capabilities of its business management solutions portfolio. The company shows a road map on its website that integrators can check to see what's coming next in terms of updates. Earlier this year, for instance, ProjX360 rolled out inventory management system as it continues its goal to provide a full end-to-end SaaS solution for integrators.

Total Tech Summit is where the integration industry elite gather. It's your chance to build rock solid industry connections to grow your firm and advance your career. We invite you to apply today for a free trip to join us in Orlando October 26-28, 2022.
Apply now!
At CEDIA Expo 2019, CEO Doug Greenwald, a 25-year veteran of the custom integration industry, conducted thorough demonstrations of ProjX360's abundant capabilities for all phases of a project, from the sales pipeline to the proposal creation to project management and services. Users can come up with checklists to follow during the project, and have threaded conversations within the application so technicians and sales can review any notes, resolve any questions, etc., more immediately.
Consider the type of regiment a salesperson can establish to become more organized and efficient using ProjX360. "During the sales process, the salespeople can create activities for themselves," Greenwald says.
"Follow-up calls; follow-up emails; you can see what's been completed and what hasn't been; they can check items off as they do finish. And if they have a deadline or a calendar activity, they get an email called the daily rundown, which is basically a list of the agenda for that day so things don't fall through the cracks."
Broadly Broadens Your Customer Engagement Reach
Broadly helps integrators do follow up on every customer so they'll post rave reviews about them on the usual channels such as Google, Yelp and Facebook. The company also acts as an intermediary when someone posts a negative review, so the integrator can resolve the issue before bad word-of-mouth spreads.
"Customer's not happy, we alert the business so they can work it out with the customer one-on-one," explains Broadly small business consultant Luke Kim.
The software application provider offers a webchat platform to act as a similar go-between so customers can get responses or know that their inquiries are going to the integrator, and the integrator doesn't need to constantly monitor the chat.
"This audience is on the go, they're out at a job or in between jobs – this tosses the conversation to the app," says director of marketing Laura Nelson. "What's really cool is this is an omnichannel inbox with two-way text messaging."
The integrator can interact with Broadly to stay on top of customer engagement and convey replies; when messages are sent back to the customer, they can even come with an integrator logo too.
Jetbuilt Project Management 2.0 Makes Everything Jell Better
The company focused CEDIA Expo 2019 on its Project Management 2.0 update, which features a management task list to create an enhanced visualization of steps, conversation, photos and documents between project managers and technicians.
Users can comment on individual tasks from the desktop software or with the JetbuiltGO app, available for Android and iPhone devices, enabling two-way communication between sales managers, engineers, project managers and technicians in the field.
As a task is created, users can create notes and upload photos, documents and drawings. A project manager can optionally require a photo in order to complete a task, enabling a visual verification where techs need to send pictures of their rack wiring or a wall-mounted flat panel, for instance, which certainly comes in handy when PMs want to ensure work is not only completed but done properly.
"The automation of project management for A/V is really what we're excited about right now," says Paul Dexter, CEO, Jetbuilt. "Our estimating software platform has really been embraced for providing a lot of high-scale estimating, budgeting and quoting, but now Project Management 2.0 is bringing things kind of a full-circle."
Jetbuilt used feedback over a year of Project Management "light" beta testing, says Dexter, to implement commonly requested features like calendar and schedule syncing with various platforms from Apple, Google and Microsoft, for example.
Simply Reliable Adds to smartOFFICE's Project Workflow Intelligence
Simply Reliable has lived up to its name by giving integrators a suite of solutions in its smartOFFICE Enterprise Business Workflow software. At CEDIA Expo 2019, the company showcased its recent Inventory Management addition and in particular was introducing booth visitors to the time tracking functionalities.
They add to Simply Reliable's circle of processes that includes: accounting integration, CRM, proposals & change orders, invoicing, purchasing, scheduling, service and work orders, inventory management, reporting and time tracking.
The time tracking addresses and segments time personnel spends at the office, to and from a job, at the jobsite, etc., so hours are accountable and not squandered. A work order tracker can enlist checklists to mark off when tasks are completed and produce a bill of materials from products installed. Notes can be used to for back-and-forth communications in-house, with the ability to send and mark up images so things are completed as ordered.
"Basically the idea is to send an image note – over here is a really bad looking wiring install, I'm going to take my picture of it," says Simply Reliable CEO/president Tom Coffin, snapping an image on his phone to use in the mobile app.
"I'm going to use that photo and I'm going to mark that photo up. So I can do text or draw and that picture is instantly available via the cloud from smartOFFICE – so say it's a picture of a rack and someone comes in and says, 'This is horrible,' and sends it over to the boss; the boss has lots of good pictures of racks, so he sends one back and the technician says, 'Oh, so this is what it's supposed to look like,'" Coffin quips.
The company also rolled out its TruWIP (true work in progress) that lets integrators tie metrics, inventory tracking, labor rates and more to get real-time revenue insights on a job and better understand the health of their business.
D-Tools, ADI Team Up for Cloud Catalog, Pricing Access

D-Tools announced that ADI Global Distribution will provide real-time dealer pricing from the D-Tools Cloud environment. Building on 20 years' experience in providing tools and resources that help integrators be more efficient and effective, D-Tools Cloud is an easy-to-deploy web-based SaaS application that guides users through managing sales prospects, quoting, system design, and procurement.
The integration of ADI's vast online product catalog and pricing into D-Tools Cloud allows integrators to deliver quick and accurate quotes to clients, according to the company. Additionally, D-Tools Cloud users can generate multimedia proposals "that enable a level of unprecedented client engagement."
The relationship provides the following valuable benefits to ADI's customers: Instantaneously and significantly expands the quantity of products with dealer cost available to D-Tools Cloud users; direct connection to ADI for access to real-time, dealer-specific pricing through the D-Tools Cloud library; and a friction-free and highly efficient sales process – real-time proposal generation, e-sign capabilities, mobile payment processing.
STX Labs Touts Total Solution from Combined Forces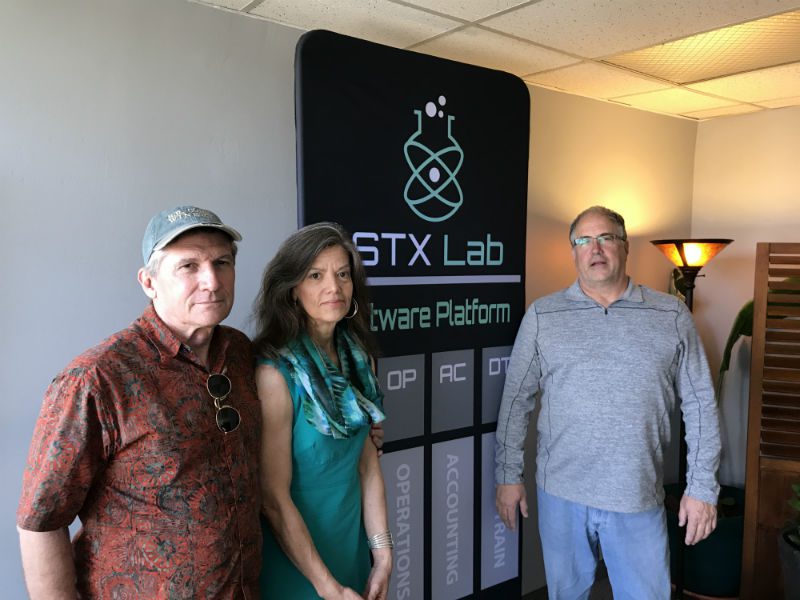 STX Lab was born out of two leading software brands that have united: Salez Toolz and ePonti.
"We had been exhibiting at CEDIA Expo with ePonti and Bill Battaglia for many years," remarks Susan Sipe, one of the three principals of STX Lab, along with Mark Sipe and Battaglia. "Bill already had a great operations app that I have always admired. Then between Mark and I we had a bid and design app. So between Bill's operations app and our sales app, we had a total solution, especially when you include all of our experience with QuickBooks."
At CEDIA Expo, STX Lab showed how its client-facing sales software can guide integrators and homeowners through the entire sales and design process via selected packages, floor plans, select room location buttons for every device, and more. The software allows the dealer to import data, generate custom reports, outline budgets and payment schedules, and it all auto saves to the cloud.
The STX Labs operations software handles leads, project milestones, service calls, quality control, billing, communication, field access, job costing, punch lists, scheduling, purchase order and more.
simPRO Makes Strong First Impression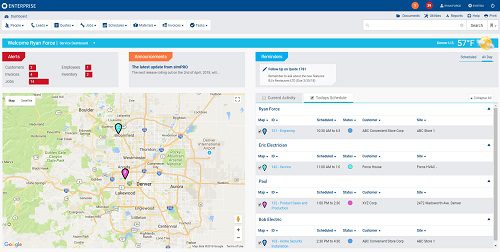 simPRO U.S. made its CEDIA Expo debut with a splash. The Australian company, which has its U.S. headquarters in nearby Boulder, Colo., is a cloud-based end-to-end solution that is already deeply embedded in markets such as HVAC, solar, electrical and security.
"The workflows are all very similar," says Glenn Nott, president of simPRO U.S. "They all have nuances but the workflows of all those industries are pretty much the same."
Nott identifies some of the key functions of simPRO as: Accurate estimating; simple scheduling; real-time job costing; instant invoicing; and in-depth reporting.
Turnkey software solutions like simPRO are gaining favor among integrators, who in the past have relied on single-purpose pieces of software that often do not communicate with each other. That means integrators often have to double input certain items, opening up the possibility for mistakes. Nott says the previous complaints of "slow" cloud-based software are in the past with today's super-fast Internet speeds.
Modus VR Puts More Design Power into Integrators' Hands
While not a business management software, Modus VR literally had integrators turning heads at CEDIA Expo with its unique home theater design solution. Integrators donned headsets for a demo video of several minutes that walked them through how they and their customer could be looking at a VR, 3D display of a room while adding in technology and furnishings and making adjustments on the fly, in real-time.
Since last year's Expo, the company has updated its software to provide more flexibility and options than ever before, including an updated CAD export workflow, options for new virtual finishes and materials, support for new Windows Mixed Reality headsets, and improved organization of the virtual object library. Interested booth visitors moved on to a more extensive hands-on experience following the demo video, in which they learned how easy VR is for design as Modus VR founder Ken Brueck attempted to eliminate potential reluctance.
The company has been tailoring changes to the product based largely on integrator feedback over the year it has been in the market.
"We push out updates about every one-to-two months and virtually all of it is in direct response to either customer feedback or customer pains that we see or trends in the market," says Brueck. "We're in constant contact with our customers.
"It's not face to face, it's headset to headset," he adds about some of that contact, which takes place in the VR realm. "Because of that, we're more aware of the projects they're working on than most other people are because we are in the client's room with the dealer."